Highest Paying Medical Jobs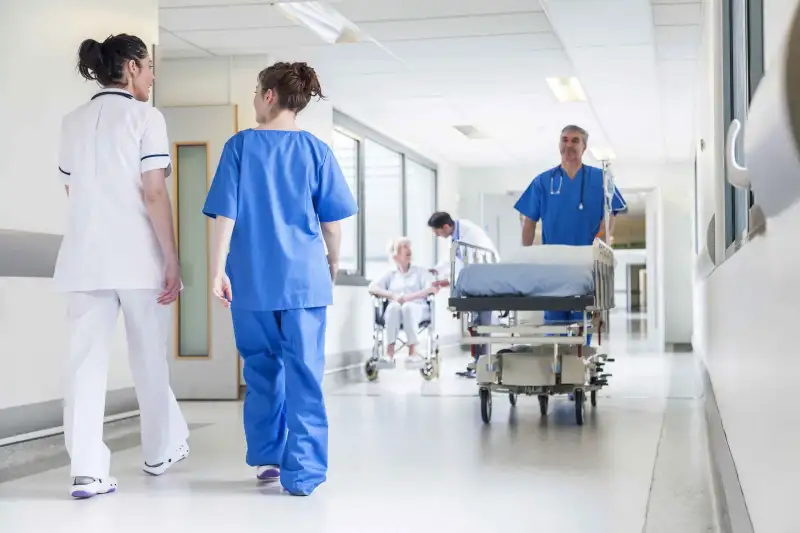 *Content includes branded mentions of our sponsor ZipRecruiter.
Not only is the medical field one of the most prestigious and highest paying industries in the country, but medical professionals are also in high demand.
Healthcare employment is growing faster than the average for all fields. Additionally, according to ZipRecruiter data, even positions that require only an associate's degree — such as radiation therapist — can make over $80,000 per year.
Here are our picks for the top medical jobs based on compensation.
Our Top 7 Picks for the Highest Paying Medical Jobs
Radiation therapist
Radiation therapists are healthcare workers who treat patients with cancer or other serious diseases by administering radiation. Generally, radiation therapists work in an outpatient healthcare facility, physician's office or hospital. The compensation varies, but the median salary for radiation therapists in the US was $82,790 per year or $39.80 per hour in May 2021.
You can become a radiation therapist with an associate's degree in radiation therapy, though some therapists hold bachelor's degrees. Radiation therapists must also be licensed or certified to work in their state. Almost all states require applicants to pass a national certification exam before working as radiation therapists.
Physical therapist
Physical therapists work with patients to help them manage their pain and regain the range of motion lost due to an injury or chronic health condition. These medical professionals use various tools including stretches, exercises, equipment and patient education to achieve patients' treatment goals.
To become a physical therapist, you'll need a Doctor of Physical Therapy (DPT) degree and a physical therapy license in your state. You'll be well compensated for this schooling — in May 2021, the median annual salary for physical therapists in the U.S. was $95,620.
Nurse midwife
The median wage for nurse midwives in the U.S. in May 2021 was $112,830 per year or $54.24 per hour. Nurse midwives in the top 90th percentile earned $166,170 or more annually.
These healthcare providers specialize in reproductive health, including — but not limited to — childbirth. Nurse midwives provide prenatal and postpartum patient care, assisting new parents while they give birth and offering education on infant care and breastfeeding.
To become a nurse midwife, you must acquire a nursing degree and become a registered nurse by passing the licensing exam. Nurse midwives will then need to pursue further education in the form of either a Doctor of Nursing Practice degree (DNP) or a Master of Science in Nursing (MSN). The final step is to pass the American Midwifery Certification Board (AMCB) certification exam. Becoming a nurse midwife requires six to eight years of higher education.
Surgical technologist
Anyone interested in a career in medical technology may want to consider becoming a surgical technologist, also known as an operating room technician. These medical professionals assist with surgical operations by completing the following tasks:
Preparing operating rooms
Readying patients for surgery and bringing them to the operating room
Sterilizing and setting up surgical equipment
Passing surgeons sterile instruments and supplies
Counting surgical supplies to prevent foreign objects from remaining in patients
Surgical technologists play a vital role in the surgical process. In May 2021, the median yearly wage for surgical technologists was $48,530. To become a surgical technologist, you will typically need an associate's degree or certificate in surgical technology.
Vascular surgeon
Surgery is a lucrative field, and vascular surgeons — that is, surgeons that specialize on arteries and veins — earn one of the highest medical job salaries. Vascular surgeons earn a median wage equal to or greater than $208,000 annually, but this high salary comes with similarly high education requirements.
To become a vascular surgeon, you must complete both a bachelor's degree and a medical degree which generally takes eight years. After completing medical schooling, vascular surgeons must complete a year-long internship, followed by residency programs lasting between five and seven years. The final piece of your training is a fellowship program specializing in vascular surgery, which lasts two to three years.
In terms of certifications, a vascular surgeon is a doctor, meaning you must complete the U.S. Medical Licensing Examination (USMLE) to get your state license. You'll also have to be board-certified in vascular surgery, passing a two-part vascular surgery exam.
Nuclear medicine technologist
Nuclear medicine technologists prepare and administer radioactive drugs for medical imaging. They must carefully follow safety procedures to protect the patient and themselves from excess radiation exposure. Though physicians are responsible for diagnosis, nuclear medicine technologists operate the imaging equipment and keep records of the procedures. Then, they must safely dispose of all radiological (and potentially radioactive) materials.
Generally, nuclear medicine technologists work in hospitals, but they can also work in imaging clinics, doctors' offices or diagnostic labs. Most employers don't require any education beyond an associate's degree. However, depending on your state, you may need to become certified or licensed. Given these education requirements, being a nuclear medicine technologist pays very well. The median yearly wage for nuclear medicine technologists was $78,760 in May 2021.
Occupational therapist
Occupational therapists are medical professionals who help patients with fine motor skills — skills related to using the small muscles in their hands and wrists. Fine motor skills are essential to daily activities like getting dressed, eating, writing and using technology. Occupational therapists work with patients with injuries, disabilities, illnesses or other conditions that make it more difficult to complete these activities.
When a patient visits an occupational therapist (OT), the OT will ask the patient about the activities that are meaningful to them. The next step is to develop a treatment plan incorporating those activities to restore fine motor function and help them gain or regain independence. Occupational therapists often work in hospitals or occupational therapy offices. Other settings where occupational therapists work include nursing homes, home health services and schools.
To become an occupational therapist, you'll generally need a master's degree. You'll also need an occupational therapist license to practice in your state. The time spent on this education pays off, though. In May 2021, occupational therapists received a median yearly pay of $85,570.
Highest Paying Medical Jobs Guide
Jobs in the medical field can be rewarding — both financially and emotionally — but there's still a lot that people don't know about this field. This guide to the highest paying medical jobs can help you understand and narrow your career path options.
What does the medical field consist of?
The medical field is a wide and varied field that includes clinical, technical and administrative roles. Because there are so many different types of medicine, you can choose a specialty that appeals to you or doesn't require as much higher education. Some popular careers in the medical field include registered nurse, physical therapist, pharmacist, pediatrician, surgeon and health administrator.
Types of medical jobs
While people often think of medical careers in terms of popular jobs like nurses and doctors, you can also have a medical director job, medical billing job, medical sonographer job or even a medical consultant job.
Requirements for a medical job
The requirements for each medical job are different. Some medical jobs do not require lengthy college education while others require doctoral or professional degrees and additional licenses and certifications. Medical career colleges can offer more information on the relevant educational requirements for medical jobs requiring degrees.
How to find the highest-paying medical jobs
If you're interested in finding the highest paying medical jobs, you can start by searching terms like "medicine" and "healthcare industry" on job search sites, such as Zip Recruiter, and then sorting by highest to lowest pay. The limitation of this strategy is that employers don't always post the most accurate salary ranges on their job listings.
You may do some job searching and be interested in finding out how much a job pays exactly. In that case, you can look up jobs posted in Colorado or New York — regardless of where you are located — since employers there are required by law to make salary information readily available. If you find a high-paying medical job you want to apply for, make sure you read more about how to write a cover letter for a job and how to prepare for an interview to give yourself the best chance of success.
Highest Paying Medical Jobs FAQ
How many medical jobs are available?
The U.S. Bureau of Labor Statistics (BLS) predicts that there will be 1.9 million medical job openings each year between 2021 and 2031 to replace healthcare workers who leave their jobs permanently. In addition to these job openings meant to replace workers that left, the BLS estimates there will be 2 million new healthcare jobs over the next decade.
What is the easiest job to get in the medical field?
If you don't have a degree, you can still begin a medical career without going back to school. While many jobs in the medical field require extensive education and training, some are a little easier to get. For example, you can become a phlebotomist who draws blood for diagnostic tests and analysis with just a high school diploma and on-the-job training. Some states require phlebotomists to be certified, but not all do. Phlebotomy is often seen as an entry-level medical job and had a median annual wage of $37,380 in May 2021. Other jobs in the medical field you can get without a bachelor's degree include medical transcriptionist, radiology technician, physical therapy assistant and medical secretary.
How stable are medical jobs?
The BLS projects that employment in the medical field will grow 13 percent between 2021 and 2031, which is much faster than the average growth across all occupations in the U.S. Because of this high projected growth, medical jobs are some of the most stable jobs. Organizations in healthcare services will need to hire more qualified medical professionals, making it easier for professionals in this field to find and keep medical jobs.
Is a job in the medical field a good career path?
Many people consider the medical field a strong career path because of the predicted growth in the demand for healthcare services in the next decade. Careers in this field offer job security, stability and better-than-average pay. The median annual wages for healthcare practitioners and other technical occupations in the medical field were higher than for all occupations in 2021.
Summary of Money's Highest Paying Medical Jobs
To determine the highest paying jobs in the medical field, we looked at data from the U.S. Bureau of Labor Statistics on healthcare occupations. We compared data on the median annual wages in each healthcare occupation and selected some of the top jobs with the highest annual wages, including some careers that aren't as commonly talked about.
Summary of Money's Highest Paying Medical Jobs