In-N-Out Burger's Lynsi Snyder Is the Best Female CEO in America, According to an Analysis of More Than a Million Glassdoor Reviews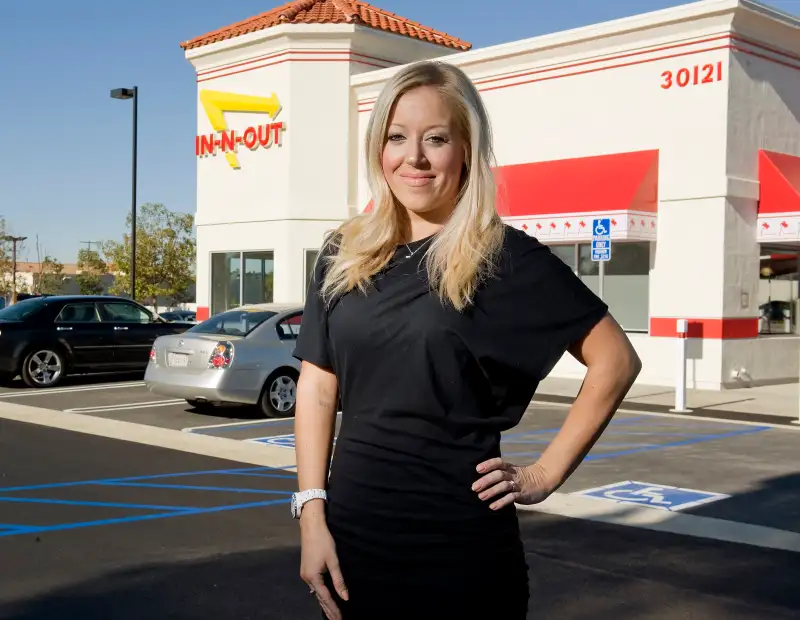 As the sole heir to a beloved multi-billion dollar burger franchise, In-N-Out President and CEO Lynsi Snyder was born into a blueprint for success — but that doesn't mean she's taking her inheritance lightly.
At 37 years old, Snyder is the highest-rated female CEO in the U.S., according to Glassdoor's Employees' Choice Awards for the Top CEOs in 2019. Her 99% approval rating (up 2% from 2018), earned her the top spot among female CEOs in the U.S., as well as restaurant CEOs in the U.S. Overall, she's ranked #3, following software company VMware's Patrick Gelsinger and supermarket chain H E B's Charles C. Butt.
The accolade is courtesy of her own employees, who voluntarily shared their input on things like leadership, work environment, and CEO job performance via Glassdoor's company review survey. To be considered, CEOs had to have received a minimum of 100 approval ratings and 100 senior management ratings on Glassdoor's website between May 2018 and May 2019. Over a million CEO ratings were submitted to the site during that period of time, and In-N-Out's proved to be among the best.
Unlike most fast food chains, the company offers strong on-the-job training with growth opportunities, provides excellent benefits for both part-time and full-time workers, and pays its employees an average $13/hour ($4 more than most), with managers making an easy six-figure salary.
It's this top-to-bottom care and attention that gets In-N-Out so much positive feedback, from cooks, cashiers, and higher-level employees alike.
"Phenomenal First Job OR Management Position," one former employee wrote.
"People are genuine, intelligent, diverse, hard working, honest, and overall good human beings," wrote a manager in Baldwin Park, CA — the location of the first In-N-Out Burger. "The leaders are amazing mentors who focus on serving others, and simply love all people."
There are the occasional naysayers of course, but the general consensus is that Snyder has maintained a great work atmosphere over the years. This is the fourth year in a row she's been on the list since she became President and CEO in 2010, and the second year in a row that she's cracked the top 10.
"Whatever his or her career goals might be, my hope is that anyone who spends time as an In-N-Out Associate finds the experience valuable," she said in an interview with Glassdoor last year.
Digital First Media via Getty Im
Snyder's Recipe for Success
Snyder is notoriously private, but over the years a few details about her life have emerged, painting a portrait of a woman who is resilient in the face of overwhelming stress and adversity — characteristics any young CEO should have at their disposal.
For starters, the young billionaire says she's almost been abducted twice: Once when she was 17 and in high school, and once when she was 24 — the year her grandmother passed away, leaving her to be the sole heir to the franchise. At the time of the second attempt, she was working management at an In-N-Out and reportedly ran across the highway in order to escape, fearing she was a target for abduction.
She's also a thrill seeker on her own, dabbling in adrenaline pumping sports like amateur boxing and drag racing. Her late father got her into the latter, taking her to the racetrack when she was just a toddler.
Her father died when she was 17, and in a rare interview with a Christian media group, she said that she attributes her born again Christianity to this loss, and to the time she spent dealing with the repercussions of her subsequent relationships: Four marriages, the first of which happened when she was 18. Today, she's married to her fourth husband, and has four children in total.
Surprisingly, her first job wasn't at In-N-Out, but at a dentist's office, where she worked as a receptionist for her father's friend ...and her current job is the result of a series of family tragedies.
When her grandfather died of lung cancer in 1976, her uncle took over the family business. He ran the company for almost two decades, before he died in a plane crash in 1993, leaving her father to take the reins. Just six years later, her father overdosed on prescription drugs. He was divorced at the time and Lynsi was only 17, so his mother and In-N-Out co-founder Esther Snyder stepped in. When she passed away in 2006, she left Mark Taylor (Lynsi's brother-in-law and VP of Operations at the time) in charge. And four years later, Lynsi took over the role of President and CEO as the only remaining heir.
Decades later, In-N-Out still has a cult following, but she won't take all the credit for that.
"There's a lot of loyal fans, but I think we're a loyal company," she said in an interview with Good Day L.A. in December. "I don't do this alone. I do this with an amazing team. So that Glassdoor rating doesn't point to me, it points to a team of people."