See How Many of Your Co-Workers Think It Would be Easy to Get a New Job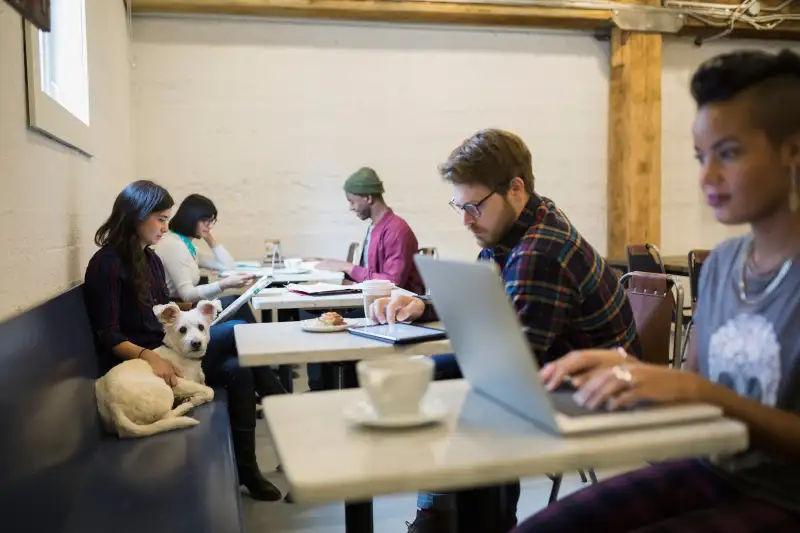 It's a mixed bag for workers and job seekers these days. About two in five said they think it's harder to find a job today than a year ago, but one in five said it's easier, according to recruiting software company Jobvite's annual Job Seeker Nation Study.
Compared to a few years ago, that's a marked improvement: When Jobvite asked Americans in a 2012 survey how they felt about their job prospects, 61% — more than three in five — said it was tougher, and a mere 13% said it was easier. About half of respondents said that they were satisfied with their current jobs but were open to switching employers, and 44% said they were optimistic about their employment prospects in the future. Younger workers, especially, were more likely to be on the move: More than two in five of those under 30 said they expect to stay in a job just one to three years.
While workers' sense of job satisfaction and security might be improving lately, benefits are still elusive. Just 33% of all respondents in the new survey said they have access to a company retirement plan. Only 43% have health insurance provided by their employers, and for adults under 30, only 29% have health insurance through work. More than half of those with kids have never taken parental leave, including 52% of women. Among those who did take parental leave, nearly 90% took less than 12 weeks.
With benefits scarce, it's perhaps not surprising that job seekers are relying on themselves more. Gig-economy participation is growing, Jobvite reported, with about one in five respondents saying they've worked gig-type jobs, including driving for Uber or completing chores for people via services like TaskRabbit. Among those who do, more than half consider this stringing together of one-off gigs to be their full-time work. Younger workers were more likely to report working in the gig economy, with the practice peaking among workers in their 30s.
Read next: 6 Words You Want in Your Job Title, and 3 You Really Don't
As much as we hear about job-hopping millennials and the gig economy taking over, though, there are still a lot of people who are in their jobs for the long haul: 45% stay at one job for more than 10 years, and another 22% stick around for at least half a decade.