How Much Are Super Bowl Rings Worth? We Asked a 'Pawn Star'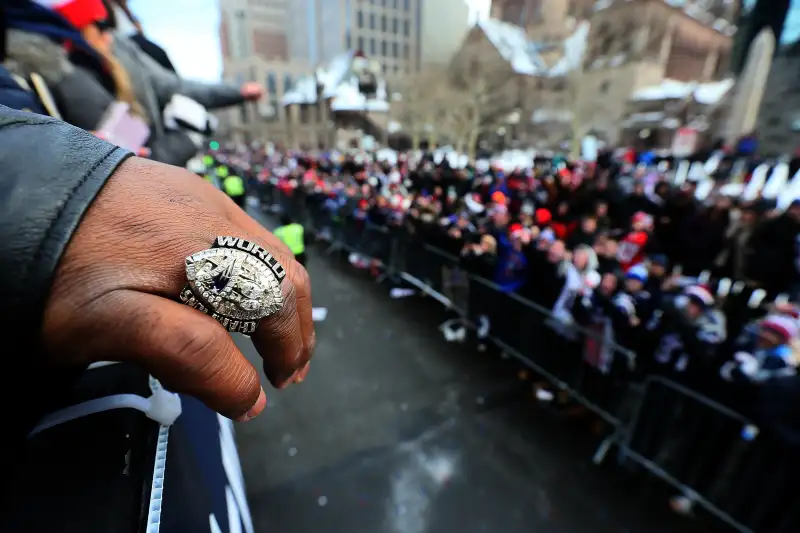 Stan Grossfeld - Boston Globe via Getty Images
Winning Super Bowl teams rarely reveal how much their rings are worth, but it's clear the celebratory bling is valuable.
Regardless of whether the New England Patriots win a record-breaking sixth Super Bowl or the Philadelphia Eagles win their first ever Super Bowl, one thing is for sure — this year's winning team's players will emerge dripping in diamonds.
"Rings owned by almost any Patriots player from any year can bring in $40,000 to $50,000," Rick Harrison, star of the reality TV series Pawn Stars and co-owner of the World Famous Gold & Silver Pawn Shop in Las Vegas, told Money.
"Even a [ring from a] Pats benchwarmer can go for that much," he said. "Players and teams with large followings go for the most, and they keep getting bigger and bigger."
Anyone except for Patriots quarterback Tom Brady, that is. Harrison estimates that one of Brady's rings would easily sell for at least $250,000.
But no matter what the design, these rings are priceless, said Chris Poitras, a vice president at Jostens, an American memorabilia company that traditionally crafts Super Bowl rings. Jostens has produced 33 rings to date, including the first-ever Super Bowl ring for Vince Lombardi.
"To put a value on these rings is not possible," Poitras said. "We're trying to tell the story of the entire season and bring the history of those franchises to life in a once-in-a-lifetime ring. Our job is try to articulate everything that happened in the year and do it in gold and diamonds."
Every ring is hand-crafted one by one and personalized for every player with their name and number. Owners, coaches and the team's entire staff from PR to marketing teams receive personalized rings as well. The Patriots requested 150 rings last year for their organization, Poitras said.
While the rings received by employees in the team's organization are usually less extravagant versions of the players' rings, the trend in recent years has been for NFL ownership to be very generous with their staffs, Poitras said.
The value of the ring depends on multiple factors including size and quality of the stones and the metals used.
While the Patriots have never officially confirmed how much each of theirs rings cost, the team's 2015 ring has been valued at $36,500 and has 205 diamonds. But the Patriot's 2017 ring had even more gems, featuring 283 diamonds to pay tribute to the biggest comeback in Super Bowl history. The diamonds symbolize the score at the time of their comeback, when they were down 28-3 to the Atlanta Falcons in the third quarter.
That 2017 ring is the "largest" championship ever made, Poitras added. Jostens produced 14 sample rings before the Patriots ownership staff, coaching staff and players all agreed on the final design.