Everything a New College Grad Needs to Know About Choosing Health Coverage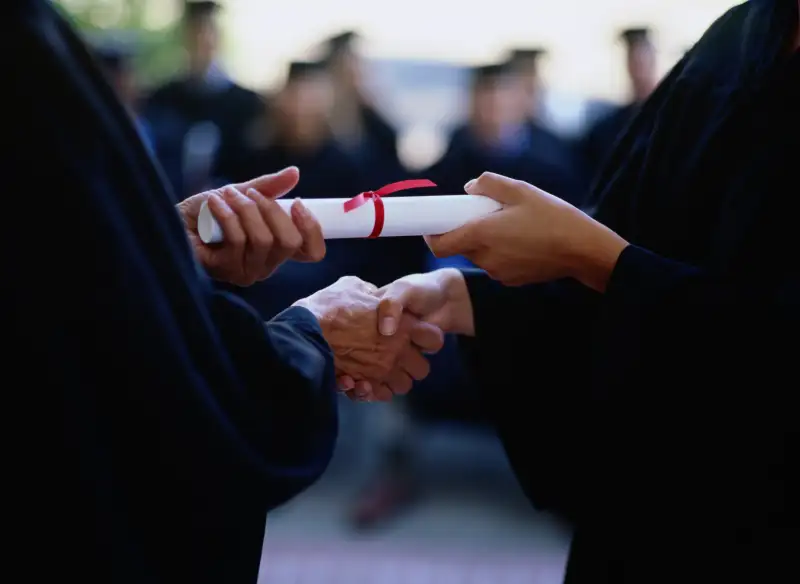 Chad Baker/Jason Reed/Ryan McVay—Getty Images
Graduating from college is almost always accompanied by uncertainty about the future, making one question his or her choices over the past four years. Did I skip too many classes? Why didn't I study engineering like mom and dad suggested? And how will I ever afford a house after spending all of my money on avocado toast?
Then there are the less existential—but no less important—questions to consider, like what to include on your resumé and how to go about about choosing health insurance.
We can't solve your avocado toast addiction, but we can break down your health insurance options. If you're graduating this year, here's what you need to know.
Stay on Your Parents' Plan
Young people are allowed to stay on their parents' insurance plan until the age of 26, which gives many grads some wiggle room before branching out on their own. Talk to your parents about whether or not this is an option for you.
Employer-sponsored coverage is generally much more comprehensive (and affordable) than coverage on the individual market. As long as you're under 26, you can stay on your parents' plan even if you are offered coverage through your own job, which could save you more than $1,000 per year in premium costs.
A few things to keep in mind: If you're moving away from home, you may want to consider a different option. Doctors and hospitals in your area may not be covered under your parents' network, particularly if they live in a different state, leading to higher out-of-pocket costs. If you're staying on, call the insurer or check out their provider information on their website.
And then there's the privacy factor—you may not want your parents to be able to access your health information, which they can do.
Sign Up for Your Employer's Plan
If you're trading your dorm room for the board room, be sure to check out your employer's health insurance options. These should be outlined for you when you start working, and you typically have 30 days to sign up for a plan.
Also consider contributing to a Health Savings Account or a Flexible Spending Account. And see if your company offers wellness programs that could potentially lower premium costs (though, again, you'll want to consider the privacy ramifications).
The average single enrollee paid about $1,255 per year in premiums with employer-based coverage, according to the latest data from the Kaiser Family Foundation.
Check Out the Individual Market/ACA Exchanges
If you don't get insurance through your employer, start researching your individual market options on healthcare.gov.
One important aspect about coverage via the Affordable Care Act is that you may be able to receive financial aid to help you foot your monthly bill. People earning between 100 to 400% of the federal poverty level (around $12,000 to $47,000 for an individual) qualify for a subsidy from the government.
"It's a great option, especially if you're working part time or thinking of going back to school," says Erin Hemlin, of the Young Invincibles, a non-profit that helps young people with issues like health care and education.
But keep in mind that if you under-estimate your income when you're signing up for insurance, you'll need to repay part of your subsidy come tax season. And if your parents still claim you as a dependent, you'll need to input the entire household income, so check with them about that.
If you don't qualify for a subsidy, consider the so-called Catastrophic plans, available at healthcare.gov. These worst-case scenario plans have cheaper premiums, but much higher deductibles (for 2017, it's $7,150). If you do end up needing care, you'll pay a lot out-of-pocket.
Open enrollment is over for 2017, so make sure to see if you qualify for a special enrollment period.
Hemlin notes that even with all the uncertainty about the future of the Affordable Care Act, the coverage is still worth signing up for. "It doesn't have to be a big scary commitment, " she says. "You can get marketplace coverage for the three to six months before you land a job and keep it for however long you need it."
Sign Up for Medicaid
If staying on your parents' plan just isn't an option and you don't yet have a job, then you may be able to sign up for Medicaid. As the Kaiser Family Foundation notes, enrolling in Medicaid means you won't pay a premium, but care could be more restricted.
Additionally, those earning up to 138% of the federal poverty level (about $16,000) may also qualify for Medicaid, depending on the state you live in (31 states and D.C. have expanded Medicaid coverage since the passage of the ACA). You can enroll in Medicaid through healthcare.gov.