How to Create a Better Career Page to Attract Talent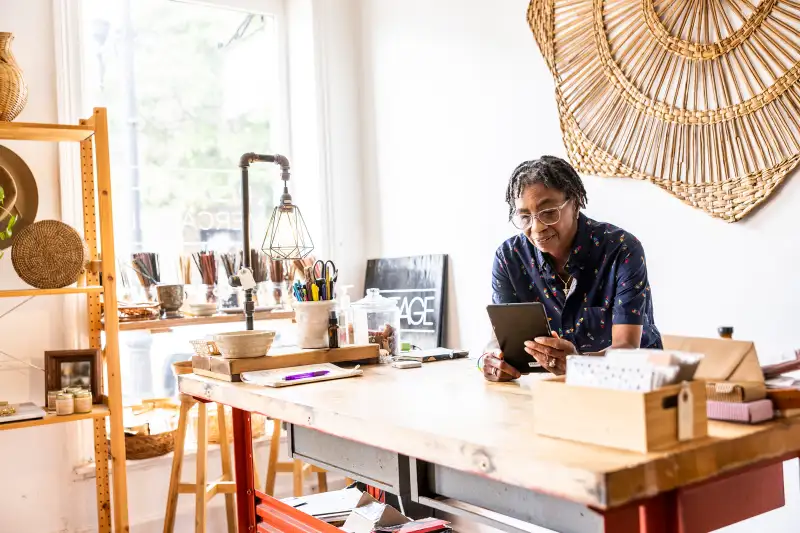 *Content includes branded mentions of our sponsor ZipRecruiter.
Attracting the right talent can make or break a company. It's why optimizing your company's career page is so essential. The days of paper job applications are long past, and while many job searchers start their journey on third-party providers like Craigslist and job aggregator websites like ZipRecruiter or Monster, they often finish it on a company's website.
After all, if a job seeker finds a job opening intriguing enough to apply for, they'll usually want to learn more about the company they'd be working for. Third-party platforms may be great for spreading awareness about an open position, but they can't compete with the depth provided by a company's career page.
To that end, we've created the following guide to help you enhance your company's career page. Continue reading to learn how to write a job posting and how to find employees for your business.
What exactly is a career page?
A career page is a webpage hosted on a company's website that advertises current job openings. Career pages may also contain key information about the company, such as its core values and mission statement. Other information commonly hosted on career pages includes:
Diversity and sustainability initiatives
FAQs related to the hiring process
Videos and photos of the workplace and staff
Career pages should be open and enticing. Prospective employees should leave your company's career page enthused and informed about your workplace. Don't assume job applicants will know how your company works and what its hiring needs are. Instead, feed interested candidates vital information about your business through your website career page.
How to create the best career page on your website
The first step in creating a solid career page for your company's website is considering the user interface (UI) and user experience (UX). UI and UX refer to how individuals interact with online systems. Good UI/UX will enable applicants to quickly access important information about your company and the roles you're looking to fill. It will also help candidates easily locate and apply for the positions best suited to their talents.
If you feel like that all sounds confusing or you don't know where to start, the good news is you don't need to create your career page website from scratch. Instead, you can use a template to assist with your career page design. We also recommend you do some sleuthing and find competitor examples you think work, to help you choose the best features for your company career page.
Make sure your career page is user-friendly
More than 90% of online job applications go unfinished, due to the high number of steps and unnecessary roadblocks. A clunky or unnecessarily difficult application process will serve as a deterrent to well-qualified job seekers. Test out your process yourself, and see how long it takes you to complete. If it feels clunky or time-wasting, that's good information to know and fix.
Use the following tips to build a top-tier career landing page.
Make sure it's easy to navigate
Easy navigability is a feature of UX design and an important way to help users find what they're looking for. Whether that's open positions or important company culture information, a well-designed webpage will drive down the dreaded "bounce rate," which is the percentage of users who quickly leave a webpage after arrival.
Websites with solid navigation features have a clean layout that's free of clutter. Not only will this make your website more aesthetically pleasing, it will also convey a professional image. Many job seekers find poorly designed websites off-putting and indicative of a poorly run business.
Use SEO strategies to help it show up in search results
Embracing search engine optimization (SEO) strategies will help your company's career page rise to the top of Google's search engine results page when job searchers use relevant keywords. SEO refers to the practice of creating digital content that interacts positively with search engine algorithms to boost a website's ranking on the search engine results page for major search engines like Google, Yahoo and Bing.
Effective SEO strategies include:
Using strategic keywords in your content
Employing formatting best practices
Optimizing content length
You can uncover strategic keywords related to your content by using a search tool like Semrush or Ahrefs. Formatting best practices include using relevant and helpful headings and subheadings, using bullet points and avoiding large blocks of text. Search engines tend to favor longer content — up to a point. If the information on the page isn't useful, is repetitive or seems like keyword stuffing, Google may penalize you.
In any case, don't fret too much if your careers page doesn't turn up in the search results. As long as it's easy to find on your webpage, and the application process is user-friendly, you should be able to attract top talent.
Optimize your career page's look and feel
An effective career information home page should marry an attractive presentation with key facts and company information. Consider the following four factors when designing your company's career page.
Keep your branding consistent
From McDonald's to Apple, successful businesses recognize the importance of maintaining a consistent brand image. Inconsistent branding can lead to confusion about your company, its values, and its culture. Branding encompasses everything from your choice of color palette to the ethos you emphasize when attracting candidates.
For example, if you're a white shoe law firm looking to attract top-notch legal talent, you may opt for a sleek, modern approach to your website. Your testimonials would likely discuss your staffing's expertise and credentials, feature difficult cases you've won, and highlight the high net-worth clients you've represented. By contrast, a small law firm that deals mainly with DUI cases in a blue-collar area might favor a simpler approach.
Regardless of your branding, ensuring that every aspect of your business's career page remains in line with your brand's ethos is essential.
Share your company values and mission
According to a June 2022 survey, 56% of job seekers wouldn't apply to a company that doesn't share their values. From diversity and inclusion to environmental sustainability to plain old kindness and empathy, people want to work for companies that align with their beliefs on social, political and interpersonal issues that are important to them.
Create a short yet informative mission statement that effectively relays your company's core values. If you can, provide evidence of how you live these values. A brief fact page containing a bullet point list of the principles your organization upholds can also help to attract candidates who are the right fit for your company.
Provide a concise (yet intriguing) company description
To effectively compete for talent, it's vital to share a concise description of your company and its operations. Intrigue job applicants by highlighting the aspects of your company that make it stand apart from the competition. Have you won awards within its industry? Do you provide a differentiated service or use a proprietary software system?
Candidates care about more than competitive salaries and interesting responsibilities. As we said above, they want to work for a business that aligns with their values. Dynamic companies that favor innovation and growth will attract top-flight workers who want to operate in an environment where they can make a difference.
Include real experiences and testimonials from your current employees
Job seekers love hearing what current employees have to say about their workplace. And they would prefer to hear it straight from the horse's mouth. Testimonials show job seekers that your workplace celebrates its staff.
For testimonials, you can use either video or written blurbs. Keep them concise and centered. Applicants likely won't sit through a five-minute monologue. Instead, focus on soundbites that paint an accurate and attractive picture of your business. Focus on testimonials that highlight positive attributes of your company, such as the ability to make an impact, workplace autonomy and career growth.
Align your career page's content with its purpose
The first step to achieving a goal is defining it. If you want to fill a job position, it's essential to carefully define the scope of responsibilities, the pay band and benefits. Some employers use a bait-and-switch approach to filling job vacancies by misrepresenting the job's title, duties and/or compensation. The thinking goes that by doing so, they'll increase the pool of applicants, thus leading to a better-qualified candidate.
In reality, these tactics tend to have the opposite effect. Both candidates and interviewers become frustrated by their misaligned expectations. Job-seekers are likelier to leave negative online reviews due to feeling they've wasted valuable time. To avoid this outcome, adhere to the following advice when writing your job postings.
Create detailed and enticing job postings
Learning how to write a detailed job posting is important, as it lets job seekers know immediately if the position is a good fit, and help with the self-sorting process. Poorly written or vague job descriptions will have the opposite impact, deterring qualified candidates.
While you shouldn't lie or downplay a job's difficulties, it's also important to make your job descriptions enticing. Job seekers want to be excited about the positions they're applying for. Your career page job description should highlight the core responsibilities, development opportunities and how the job will let them have an impact — it might be helpful to use a template such as the ones found here.
In particular, job candidates for entry-level and junior positions want to know how a job opportunity will help them grow professionally. Offering details about how the position can help applicants climb the career ladder will help to attract bright and ambitious young workers.
Demonstrate pay transparency
The recent trend in pay transparency legislation has helped job applicants make more informed decisions about the roles they're applying for. Even if you don't live in a city or state with pay transparency laws, you should still provide a pay band on your job posting. Job seekers don't want to feel they're wasting their time by applying for a job that might not pay them what they're looking for.
By demonstrating pay transparency, you're showing job seekers that your company values its employees. No one likes to play the guessing game, and no one wants to get to the end of the interviewing process only to be lowballed. Pay transparency helps to align expectations on both sides of the table.
Mention any and all benefits and perks
Compensation extends way beyond salary. When evaluating potential roles, job seekers give added weight to jobs with added benefits like health insurance for themselves and their families, 401(k) match programs and generous sick leave policies. While many employers announce free coffee or tea in the breakroom and an attractive open office layout as benefits, most workers aren't very attracted by these "perks."
On the other hand, generous parental leave, remote work or flexible hours, four-day workweeks, and paid self-care or mental health days are some of the highest-valued benefits, according to a 2022 survey of 10,000 employees in Europe and the United States.
Remember, your company is competing for candidates with other firms. You want to make the most enticing offer possible.
Simplify the application process
Qualified candidates may be deterred by an overly long or complex application process. Cast a wider net and snag more top applicants by cutting down on the number of steps in your recruitment process. Don't let your company contribute to the more than 90% of abandoned job applications figure we discussed earlier.
Need more help? Check out our guides to the best recruiting software and how to find a recruiter.
Why an effective career page is so important
A business is nothing without its workers. An effective career page will help you attract the right talent to grow your business. Use your job page to effectively communicate the resources and growth opportunities available to potential candidates. Help your future team members learn more about your core values and how they can become leaders in your field.
A career page for your website will help you connect with the communities your business serves. Job seekers can learn important details about your business, the open position and your company's core values.
Make your career page stand out
Don't let another day pass you by — revamp your career page to stand out from the competition. Create a unified theme for your company's career page to communicate your brand effectively. Provide detailed job descriptions outlining the role's duties and expectations, and entice job seekers with competitive compensation packages and the opportunity to make a difference.
Now that you know how to attract strong candidates check out our comprehensive guide on how to hire employees to complete the next step in your talent acquisition process.