How To Write The Best Company Memos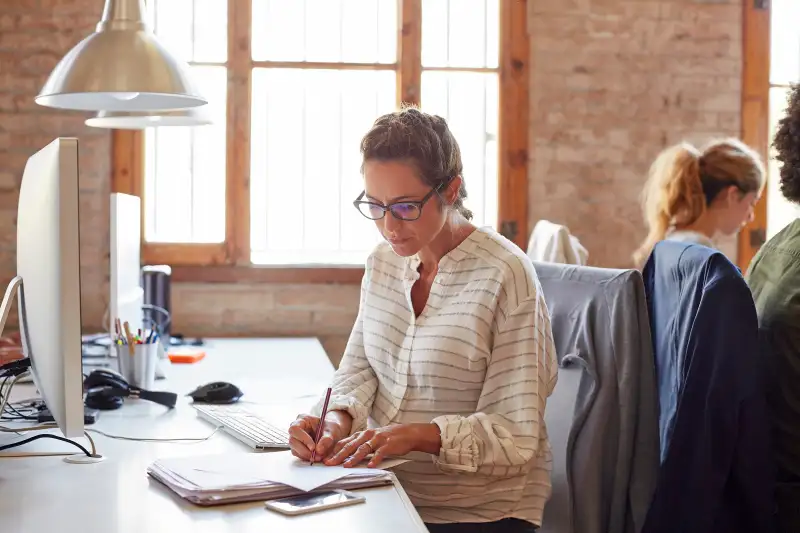 *Content includes branded mentions of our sponsor ZipRecruiter.
Writing effective memos is a useful skill that all business professionals should have. Many companies that use job posting sites like ZipRecruiter look at a candidate's effective writing skills as a big plus. A well-crafted memo can communicate information in a clear and concise manner to co-workers or external parties alike, whether you are a new employee or an experienced manager.
In this article, we will discuss what a company memo is, its importance and the necessary steps you need to follow to write an effective one. We will also provide tips for developing a memo that conveys your message directly and effectively.
What are company memos?
A memorandum or memo is a concise document detailing important news or information that can be used to communicate an internal message, that is, to employees within a company. Company memos can also be used to communicate information to external parties, especially to long-time clients, freelancers or independent contract workers.
Typically, memos follow a particular format that emphasizes brevity and clarity. Compared to other forms of correspondence, memos may seem abrupt or cold, because they generally don't include a greeting or farewell and, if they do, those sections are kept brief and to the point.This lack of personal warmth reflects a memo's purpose: they are not letters or conventional e-mails but more like news alerts.
For example, if your company has updated key business policies, a memo would be an appropriate format for sharing this information. Because of their direct nature, people are less likely to ignore or misunderstand a memo than an unclear email.
Memos begin by clearly identifying four things:
The recipient
The sender
The date
The memo's purpose
The body of a memo often uses an inverted pyramid style of writing similar to what many journalists favor. This writing style places the most important information at the top of the message, with less vital details lower down.
Even within this definition of what a memo is, you may still encounter variations on it. For example, department memos may inform staff about important news around the office, such as the status of a broken printer or details about an upcoming company party. But a company-wide memo shares information that impacts the entire company, such as changes in leadership or ownership.
Why are company memos important?
Company memos provide a way to communicate critical information to all employees in an efficient manner. Memos inform company employees of changes, updates and deadlines related to their jobs, as well as providing specific instructions that need to be followed.
Memos also help to keep everyone on the same page. Employees can be informed of overall company goals, expectations, targets and campaigns. For example, people in leadership and management positions can use memos to provide feedback and guidance to whole departments.
Steps for writing an effective company memo
When writing a memo, you should bear in mind that your company's memo format might differ from other companies' formats. Don't blindly copy memo examples that come from other institutions because the purpose and structure of the document might not be adequate for your company. Also make sure that your memo follows internal guidelines such as printing it on company letterhead.
Here are some other tips you can follow:
Use the subject line to convey your main message
The most common way to start a memo involves using a subject line that conveys your primary message succinctly but with all the necessary details. For example, if you're organizing your company's holiday party, you shouldn't start your memo with a subject line that reads, "Upcoming holiday party." Instead, you would be better off writing, "Come celebrate our company-wide holiday party at 6 pm this Friday in the staff room".
The first subject line only gives the barest amount of information. Meanwhile, the second subject line includes specific details like the time, date and location of the event.
Include a header section
A header goes at the very top of your memo. It informs your reader about crucial information relating to the memo and should include the following four pieces of information:
TO: This section will let the recipient know who the memo is intended for. It should include the names of everyone addressed. If you send the memo to a group of people, such as a department, you can simply put the department name in this field.
FROM: Write your name here, and job title if necessary.
DATE: Include the month, day and year of the current date.
SUBJECT: Write a brief, one-sentence summary of the memo's contents.
Include a greeting, but don't go overboard
You should always include a short, polite greeting at the very beginning of your memo. This could be something as simple as, "Hey, team. I hope this finds you all well." Aim for a tone somewhere between formal and conversational but be sure to refrain from excessive niceties. Even if you include a short greeting, you should then dive directly into the matter at hand and not tiptoe around the information.
Focus on the main point in the introduction
Memos are meant to convey a single piece of important information. Just as you would place your thesis statement at the beginning of a college essay, so should you place your main idea in the memo's introduction. Often referred to as the executive summary, this introductory statement should eschew greetings and fluff and focus on making your primary point.
Go into detail in the body of the memo
Now that you have expressed the memo's main point, you can use the rest of the copy to elaborate. This section typically spans one to two paragraphs and should include the information that is strictly necessary.
To go back to our earlier example about the holiday party, this section might include relevant details such as menu options, the guest policy and when the event will end.
Provide action items if needed
Action items describe any next steps the recipient should take. For example, a memo about scheduled elevator maintenance may end by requesting that staff members use the service elevator or take the stairs.
However, if your memo is primarily informational in nature, then you might end with a generic action item like "We hope you'll take this information under consideration" or "Please reach out if you have any questions or concerns."
Sum up with a closing statement
Finish your memo with a closing statement, a one- or two-sentence section that effectively summarizes the main point of your memo, perhaps repeating or rephrasing your subject line.
Do not introduce any new information in this section. Psychological research shows that people remember an event's beginning and end better than the middle portion. By placing your most important information at both the beginning and end of your memo, you're working to ensure that your audience walks away with the information they need.
Additional tips
Follow these tips to help you craft the perfect memo.
Be concise, don't beat around the bush
A well-written memo should be straightforward and concise. Memos should only contain the information you need to share and avoid details that don't directly relate to the matter. Relevant but bulky information can be attached to the memo as a Word or Excel file.
Keep the tone positive
An upbeat tone in your memo can make it more accessible and agreeable for your employees to read and understand. An overly negative tone can distract from the content of your message, ultimately working against you. This doesn't mean you have to pad your memo with unnecessary fluff but you can keep it positive and practical at the same time.
When writing, the words you use and the order in which you use them can subtly make something sound positive or negative. For instance, if a project's deadline has been moved up, making it so you can't take a vacation during that time, you might say, "Please note that you will not be able to schedule any vacation time during this period." Even though it's polite, it carries a negative tone. A more positive way to phrase this would be, "Please note that all vacation requests must be made after the project deadline."
Ensure you proofread
In a business context, it's important to make sure the memo is free from typos, spelling and grammar mistakes. An error-riddled memo reflects poorly on you and will also detract from the memo's message.
Before you send out a memo, set it aside for a moment. Review it later with fresh eyes to catch anything you might have missed. You should also run it through a spellcheck and consider asking a colleague to glance at the memo before you send it out.
Use a business memo template if needed
If your company does not have a standardized memo format, consider using a free business memo template. You can find many high-quality examples by searching online or on your word processing program of choice.
Summary of How to Write the Best Company Memos
Writing a solid memo doesn't have to be hard and, when mastered, can be the deciding factor when a company is choosing among candidates that have answered their job posting.
The most important thing to remember when writing a memo is that your message should be clear and precise. Maintain a positive tone, but don't pad your message with fluff. By following these steps and keeping our tips in mind, you will master the art of memo writing.