How to Become a Better Manager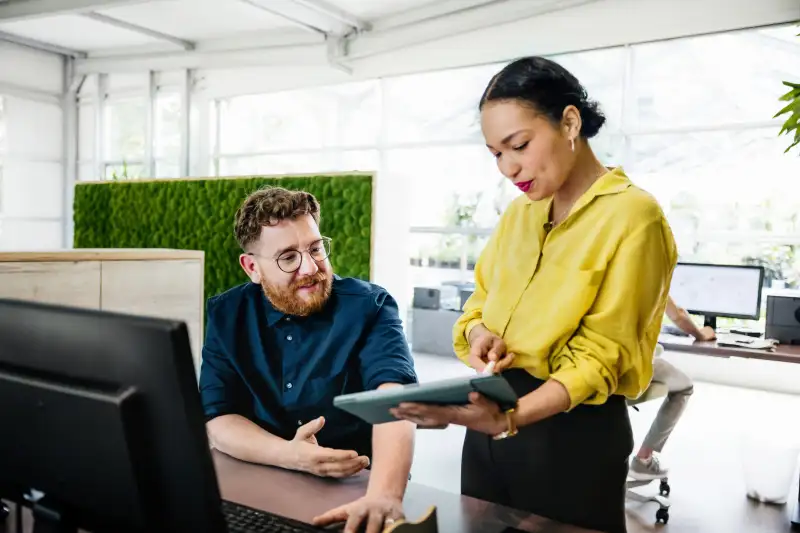 *Content includes branded mentions of our sponsor ZipRecruiter.
Managing employees can be a difficult and overwhelming task, especially if you haven't developed those specific skills. As a business leader, you need to apply the correct strategies and techniques to manage and motivate your team to reach new heights of success.
You also need to surround yourself with capable employees who have the ability to take the next step and become effective managers in their own right. Using ZipRecruiter can help you reach the top available talent so you can reach your business goals.
The following guide explains what it means to be a good manager and how to improve your management skills as well as providing helpful tips for an effective management style.
What does it mean to be a successful manager?
Part of being a successful manager is to empower their teams to be their best selves by setting high-level goals, monitoring progress and making strategic decisions.
Successful managers also take responsibility for their actions and are not quick to assign blame when things don't pan out. Instead, they ask how they can improve their decision-making to create better outcomes in the future.
To become a better manager, you should critically self-evaluate your current managerial skill level. Ask for feedback from your own manager or other senior staff, learn about different leadership styles and understand how you can best support your employees.
In addition, good managers show employees that their hard work is appreciated. This can be done in many ways, from a simple thank you to a positive performance review and even with monetary bonuses.
Why is it important to be a good manager?
Poor management can sink otherwise successful companies. Managers should provide their direct reports with guidance and encouragement to avoid lapses in productivity. Managers are also critical in setting goals, monitoring key metrics and providing critical support to keep projects on track. This can lead to increased sales numbers, more efficient processes, happier staff members and more successful companies.
How to develop a more effective management style
Developing a more effective management style can help you to lead your organization to success. The following are suggestions for how to become a better manager.
Create an environment that makes employees feel safe coming to you
Persistently stressful situations sit near the top of reasons for leaving a job. When employees dread coming in to work each day, it's usually accompanied by a decline in work quality and a greater likelihood that they'll quit. You can prevent costly turnover and enhance work quality by creating a safe environment for your employees. You can also look for great candidates by posting your job on a site such as ZipRecruiter.
Having an open-door policy helps build trust between employees and managers. The policy makes you more approachable which in turn gives employees the confidence to speak out about workplace issues. Managers who listen to and accept constructive feedback are more likely to have employees that feel comfortable and safe.
Learn how to communicate well and consistently
Solid communication is one of the keys to being a good manager. Be accessible and use communication tools like Slack or email to stay in touch with your team throughout the day. If your team hasn't gone fully remote, prioritize regular, in-person interactions with your team members..
Consider checking in with each team member personally at least once a week. For many people, daily check-ups equal micro-management. On the other hand, if you're only communicating one-on-one with your direct reports during their annual performance review, you're missing out on critical opportunities to foster professional growth.
Get to know your employees more personally
One of the most important things a manager can do is build a personal connection with their employees. Workers want to be heard and valued and not feel like just another cog in the machine. Taking a friendly interest in your employees' hobbies, education and home life can lead to a better professional relationship. Of course, it's always important to know the boundaries and not overstep them.
In fact, some employees might find sharing their personal lives with their boss a little off-putting. However, you can still retain professional boundaries while humanizing your employees and learning about what makes them tick.
Motivate them with the right incentives
Incentives matter, but the types of incentives you're offering matter even more. In some industries, money can have a powerful impact on workplace productivity. Tying compensation to performance drives salespeople to close more deals, benefiting both themselves and their company.
However, in other industries and career fields, different incentives may help you get the most out of your employees. For example, in many creative fields, such as graphic design, employees value autonomy and input in the creative process.
Make sure to understand what your employees value and that way you can choose the right incentives to motivate them.
Lead employees to success by prioritizing their growth
One of your core job functions as a manager is to facilitate the growth of your subordinates. You can help in that process by getting your direct reports the proper resources and training to develop their skills and advance in their careers.
As a manager, you know your employee's strengths and weaknesses as well as their personal and career goals. Work with them to develop a plan and guide them along. Every successful individual has fond memories of a teacher, mentor or manager who helped them develop their skills and confidence. Make your team shine by being that person for your direct reports.
Introduce SMART goals
Goal-setting ranks near the top of essential management skills. You can set more effective goals for your team with the SMART method:
Specific: Use specific numbers to set clearly defined goals. For example, don't make your goal to increase sales in the next quarter but instead aim to boost sales revenue by 20%. That's specific, actionable and measurable.
Measurable: Make your goals measurable so you can assess with numbers your success and progress.
Attainable: Pie-in-the-sky numbers might boost your team initially, but they will quickly lead to burnout. Motivate your team with reachable targets.
Relevant: Your goals should align closely with your team's core function. Team members will quickly abandon goals concerned with peripheral job duties.
Time-bound: Set hard deadlines. Fuzzy deadlines lead to meandering work, spiraling costs and low efficiency.
Become a better listener
Regardless of your leadership style, active listening remains an important soft skill and one that will help with employee engagement. Not only does listening make your subordinates feel valued, but it can also provide critical information from their perspective.
Actively listen to get the most out of your conversations. That way, you acknowledge the speaker and make them feel heard, making them more likely to provide additional (and often valuable) information. Active listeners also ask clarifying questions to better understand what is being said.
Listening is an underrated skill set that can yield results beyond regular, day-to-day operations. It's also a critical part of how to interview someone.
Acknowledge and celebrate both company and individual employee wins
Employees love to celebrate their wins because it provides them with a feeling of accomplishment. It also builds positive mental associations between their job, the company and hard work, which can translate to increased motivation and focus at work.
You should also celebrate the organization you work for. People enjoy feeling that their contributions matter in the overall success of the company.
Pinpoint and work on your own weak spots
Identifying and strengthening your weak areas is vital to being a good manager. Honest and critical self-assessment will help you recognize aspects of your management style that could be improved.
For example, perhaps you're a poor delegator. If you hoard important tasks for yourself because you don't trust your team to accomplish them, eventually you'll end up burnt out and with a team that can't handle core responsibilities.
Instead, focus on your team's long-term success by parceling out tasks to team members equitably. Provide your direct reports with the training and support they need to excel in their duties.
Other common managerial weak spots include:
Not providing proactive feedback
Failing to set clear expectations
Poor communication
Stiff or overly rigid processes
Manage with positivity and integrity
Employees can pick up on and mirror your attitude. If you show a positive attitude and enthusiasm for your work, your team will be more willing to go the extra mile and persevere when challenged.
Employees pay attention to and care deeply about the integrity of the person they work for. Dishonesty at the top can destroy worker confidence and cause top performers to look for opportunities elsewhere. Conversely, individuals who manage with integrity will cultivate loyalty from their team members.
Give honest but positive feedback
Workers cannot improve without honest feedback, which lets them know what they're doing well and what aspects of their work need improvement. Some managers take honest feedback too far, however, using it as an excuse to belittle their direct reports. Others feel that employees should put up with insensitive statements.
Negative feedback causes employees to disengage from their tasks. Many workers lose motivation after being subjected to harsh criticism. A good manager will foster success by turning their critiques into growth opportunities.
When providing feedback, don't dwell too much on negative feelings. Simply address the problem then engage in an earnest discussion about what the employee can do to fix it and what you can do to help. Remember, the focus should be on the solution, not the problem.
Remember that you're all human
Whether you're the vice president or an entry-level worker, at the end of the day, we're all human. Always be mindful of the way you treat your direct reports. Don't let an employee's lapse in performance or a mistake negatively influence your view of them as a person. When in doubt, follow the golden rule and treat others as you'd like to be treated.
Become a better manager with the right guidance
In management, sometimes top performers find themselves asked to take on duties that have nothing to do with their existing skill sets. Fortunately, formal management training exists to help managers become more effective. This ongoing process helps leaders motivate employees, align team and organizational goals and enhance workplace efficiency.