Here's What to Say to Score a Free Hotel Upgrade, According to Industry Insiders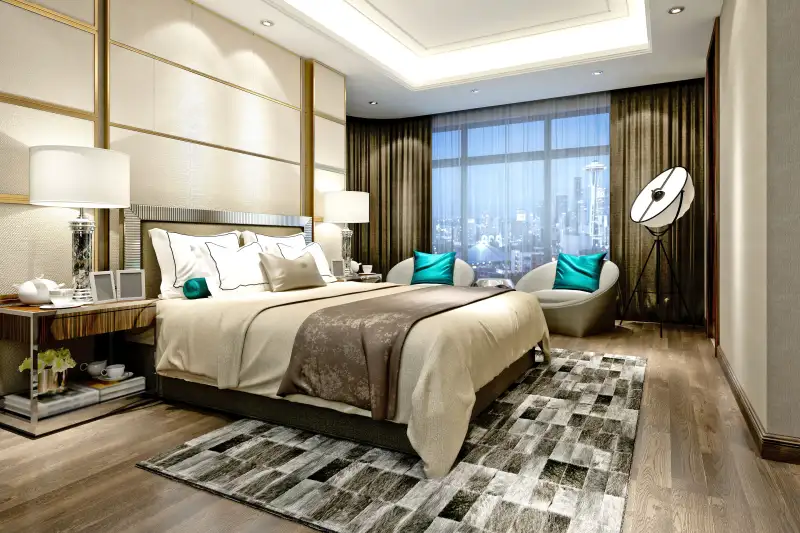 The free hotel room upgrade is a mysterious, elusive perk. It can arrive for seemingly no reason at all: You might check in to your hotel only to find your king bedroom transformed to a suite at the click of a button.
But there's a behind-the-scenes logic to the upgrade game—and it can be mastered. Depending on room availability, your own history with a business, or your fluidity with sweet-talking, a hotel can often decide to give you nicer digs for your upcoming stay.
We talked to insiders in the hotel industry to discover exactly how you should attempt to score that free hotel room upgrade. Follow this advice, and you'll be much more likely to live the sweeter hotel life.
1. Be a (nice) hotel regular.
Perks, naturally, come first to those who already have a relationship with a specific hotel or hotel brand (like, say, Marriott, Hilton, Starwood, or one of the smaller players like Ace Hotel). It pays to find a hospitality company that speaks to you and caters to your interests, whether you're traveling on business trips or leisurely getaways or both—because, generally, it's in their best interest to take better care of you.
"If a client is a repeat guest and there is an upgrade available, hotels will upgrade as a thank-you to the guest for being a loyal customer," says Nina Libby, vice president of marketing for Caldera House, a luxury ski resort is Jackson Hole, Wyoming.
Shaking hands and making your way around the lobby helps, too.
"Get to know the staff by asking for their names and where they are from, writing reviews, complimenting them for jobs well done, tips not required," says Bob Rauch, chairman and CEO of RAR Hospitality. "You will be remembered on your next visit."
"Treating the staff well goes a long way," Libby concurs. "And ask to meet the general manager. Get friendly with the GM and get a business card so the next time you come around, you can reach out directly to the GM and maybe get upgraded."
2. Ask when you book. (If that doesn't work, ask again at check-in.)
Don't wait until you arrive at the hotel to try and finagle your way to a better room.
"Ask for an upgrade before checking in," perhaps a few days in advance, Libby recommends. "I'd say be polite, try to think about what would incentivize the hotel to want to upgrade you. Is it booking another room? Booking another trip? Are you a repeat customer already? Is it a special occasion?"
Bring up any of the above when you book your room. (Getting a direct line to the GM could also help.)
If that doesn't do the trick, flash your widest smile at the front desk and hope for the best. "I've also seen [asking] work at check-in," Libby adds.
3. Get lucky with your timing.
It's tough to plan for this one, but hotels do offer upgrades based on their inventory at the moment. If you're taking up a reservation in a sold-out block of regular rooms, you may get the figurative kick upstairs.
"Sometimes if a hotel is running low on availability and has a request for an entry-level room type, they may upgrade an existing reservation to make a room available for a [new] guest inquiring," Libby explains.
It also doesn't hurt to hit up a hotel when business is slow—often that's Sunday or midweek. Avoid holidays if you're seeking an upgrade. If inventory is wide open and the staff is feeling lax, a quick inquiry when checking in might be enough to get you a better room.
4. Join an exclusive program.
There are hundreds of hotel loyalty clubs and point systems across the world. Occasionally, when wielded right, certain programs will open the doors to a nicer stay for no extra cost.
"Some hotel programs require that the hotel provide a guest an upgrade if available at check-in," Libby says. "An example of this is the American Express Fine Hotels & Resorts" customer booking system.
5. Check out a new, boutique hotel.
The new kids on the block are nearly always more eager to please. That can work in your favor, especially if you spot a recently opened hotel that you want to check out.
"Try one of the new hotels in town," Rauch says. "The staff is excited to show you around and that is a great time to say, 'Any chance I can get a suite for the price of a room?' Hotels want to earn new accounts and get great reviews to build their reputation."
Libby adds that "boutique, independently owned hotels are more likely to upgrade because they offer a more personalized service over big-box and chain hotels."
6. Definitely don't be a bad guy.
Getting stern with customer service might work in some situations—like, say, if you're facing a huge issue. But asking for a favor is not a problem. And talking your way into a suite upgrade won't happen if you're a jerk.
"Avoid being rude or using any type of language about leaving a negative review," Libby says. "It's not going to work."