The Government Shutdown Is Causing Airport Delays Today. Here Are the Cities Affected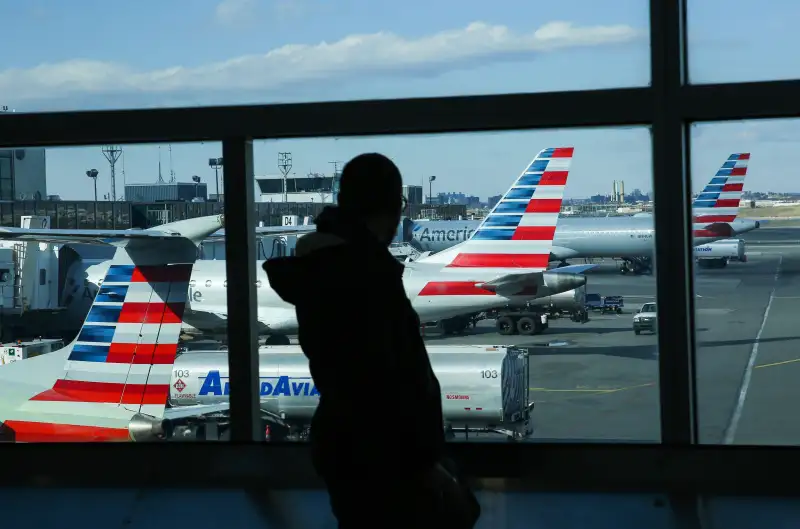 Kena Betancur—AFP/Getty Images
President Trump just announced that the government shutdown would end for three weeks while his administration and Congress renegotiate a border deal — but the longest government shutdown in history created a new rippling effect today. There's been a recent shortage of air traffic controllers, according to the Federal Aviation Administration, leading to a number of flight delays across the Northeast.
While you may not be one of thousands of furloughed employees in the shutdown, you've almost certainly dealt with the nuisance of flight delays. The snag illuminates how the shutdown is impacting people beyond the inner workings of the US government. Here's what to know about what airports are being affected.
What Airports Are Being Affected
The flight delays have occurred along the Eastern Seaboard, reaching as far north as Boston. But so far they have only led to the closing off of flights at one airport. LaGuardia in New York City, already well-known for its congestion thanks to construction, halted arriving flights from other cities because it was inundated with planes taking off and landing on a weekday morning. Delays on flights into LaGuardia have averaged almost an hour and a half, the F.A.A. told The New York Times.
But other airports have been affected. At least four major airports have experienced flight delays as a result of shutdown-related staffing issues, according to USA Today. In addition to LaGuardia, an F.A.A. flight delay map showed significant departure delays in Philadelphia and Newark, New Jersey on Friday morning. Issues have since eased in Philadelphia but cropped up in Atlanta, the world's busiest airport. Problems have reportedly also been alleviated somewhat at LaGuardia as of Friday.
But if you're trying to make it into or catch a flight at LaGuardia, Newark, Philadelphia, or Atlanta, you may have to deal with a slowdown. And it's possible you might find delays at other airports as well.
The F.A.A. has listed "staffing" as the root of the problem. There's been an uptick in air traffic controllers calling in sick amid the government shutdown. The agency has consequently made moves to slow down the rates of departures in an effort not to exceed its capabilities.
"We have experienced a slight increase in sick leave at two facilities," a spokesman for the F.A.A. said in a statement. "We've mitigated the impact by augmenting staffing, rerouting traffic, and increasing spacing between aircraft when needed. The results have been minimal impacts to efficiency while maintaining consistent levels of safety in the national airspace system. The public can monitor air traffic at fly.faa.gov and they should check with airline carriers for more information."
Air traffic controllers have been working without pay since December 22 and received paychecks showing $0. The National Air Traffic Controllers Association union has warned that the situation harms the safety of air travel in the country.
White House Press Secretary Sarah Huckabee Sanders said that President Trump had been briefed on airport delays, noting, "we are monitoring the ongoing delays at some airports. We are in regular contact with officials at the Department of Transportation and the F.A.A."