Asking These 5 Questions Can Instantly Upgrade Your In-Flight Experience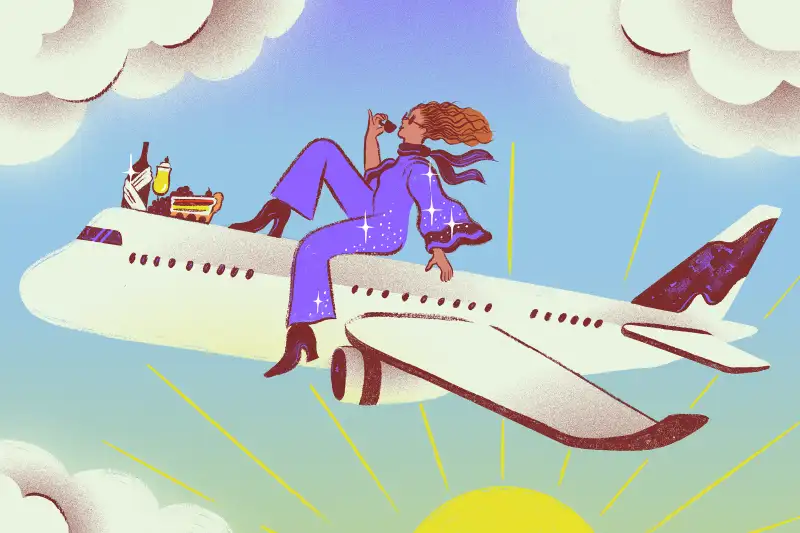 Illustration by Cynthia Kittler
I didn't see it coming: I was flying back to Los Angeles from New York City on my favorite airline, when a small delay snowballed into a multi-hour annoyance.
But that wasn't the surprising part. The real shocker came when — completely unprompted — JetBlue emailed me and other passengers to let us know that we would each be receiving a $75 travel credit as an apology for failing expectations. This small token made the hectic experience sting a little less — and also ensured that I would keep flying with the airline (which, from their perspective, is the whole point).
We're all familiar with the hassles and sometimes dizzying headaches of flying. But you might not realize how much is actually in your control, depending on your circumstances and your approach. Since my JetBlue experience, I've started asking more questions and reaped some rewards.
Here's a rundown of things to keep in mind and bring up during your next flight. You might be able to save some money, gain some perks, or just make your experience at 30,000 feet a little less bumpy. But the main thing to remember is: Always, always, always be polite.
"Are there any empty aisle seats?"
Surely someone out there prefers the middle seat on an airplane, but I've never met them. Fliers generally take these seats only when there's little else left.
But as long as your flight isn't sold out, there's one clever trick to sneaking your way into a more ideal location, whether that's a window or aisle seat, a row with an empty seat next to you, or something farther up on the jet.
Simply flash a smile and make small talk with the closest flight attendant, and then ask if there's another, less cramped seating option. They'll generally wait until just before or after takeoff to be sure (no-shows are your friend), but they'll often help you out in finding a prime spot.
"Why didn't I get the ______ service I paid for?"
Most flight tickets come with numerous built-in commodities, from free peanuts or chips to (hopefully) a personal TV screen with featured movies or overhead luggage space.
But naturally, things can go awry, so whenever something does, gently broach your concern with staff.
I've had bags checked for free (at a time when few airlines offer free checked luggage anymore) when there's no space on a sold-out plane upon boarding. (Airline staff sometimes announce that they'll check baggage without a charge when they know this dilemma is imminent.) While you might spend some time at the baggage carousel, you also won't have to deal with lugging your bag through a crowded airport.
And I have a friend who received her own travel credit on JetBlue when her TV was on the fritz — a personal DirecTV pipeline, again, being one of the reasons you might opt to spend more flying JetBlue.
"What can you do about this delay?"
The truth is that the staff members you interact with before, during, or after a flight have very little control over what causes a delay — these often come down to pilot scheduling, bad weather, or some other issue.
But that doesn't mean they can't find solutions.
No one wants to be that person screaming at the front of the help desk line about how they're going to miss Thanksgiving dinner. If you're in a panicky mood because of an extended and seemingly inexplicable delay, ride it out — and then gently bring up a possible remedy with whomever in the vicinity is willing to hear you out.
Nicely asking, "Is there anything you can do about this delay?" could result in you getting a travel voucher, a pile of rewards points, a cash offering, or even a free bump to first class. That's actually the only way I've ever flown first class, following a wearying layover in Dallas/Fort Worth. No, I never would've paid for it, and yes, it was fabulous.
"I'm a loyal customer who had a poor experience. How can you help?"
If there's no way to fix a problem while boarding or during your flight, there's always a fallback plan.
Airlines are used to fielding complaints (especially on Twitter!), and as long as you're courteous and explain your gratitude for their service or your longtime customer status while also filing a factual grievance, they generally operate like cable conglomerates: They will slash your rate. Reminding them of your loyalty will help, and you can even bring this up mid-flight with WiFi. Just try not to sound too grouchy.
"How are you feeling?"
This one is meta, but especially on a flight, attendants relish genuine interaction with passengers. It makes them feel appreciated, and like the rest of us, they can get bored and restless and don't always love their coworkers hovering next to them.
As you drift through the plane to use the bathroom (excuse me, lavatory), make a point of chatting with attendants about where they're based, what they're doing in the next city, whether they're as annoyed about the turbulence as you (they are). After simply treating people like human beings and having a friendly conversation, I've had attendants overlook charges for food and drink on flights a number of times. Because at the end of the day, we all crave a bit of humanity while flying.