You Can Still Sneak in One Last Vacation This Summer. Here Are 6 Ways to Do It Cheaply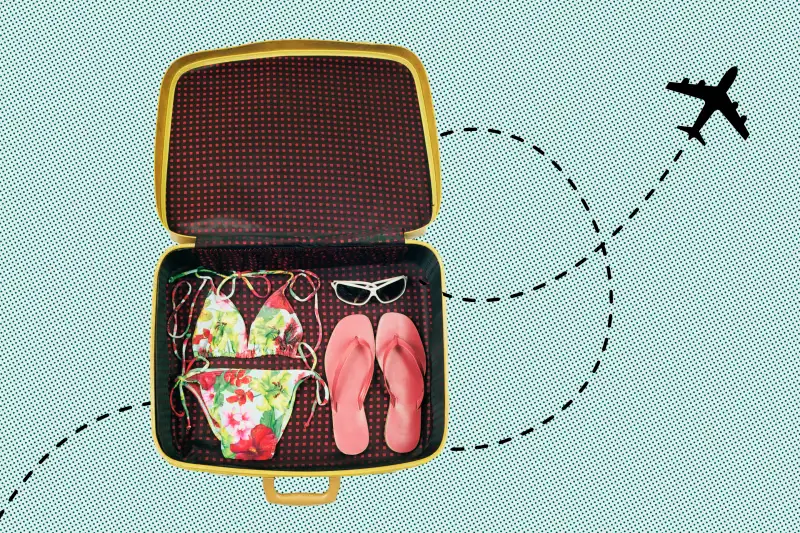 Photo illustration by Laura Geiser;Justin Hutchinson/Getty Images
Those late dog days of summer can be filled with a low-key dread: First, will the A.C. go out? But also, have I run out of time to go somewhere beautiful and get away from business as usual?
The answer is no. You've still got time — and a trip is probably more reasonable than you think. Summer getaways neither need to be extravagant nor hugely expensive. Whether you head to a major city or a quiet oasis, there are plenty of sneaky treasures to find. Why not go for it before everyone hunkers down for fall and winter? You don't want those vacation days to lapse.
The real trick to planning a late-summer trip is to be strategic not only about where you go, but how and when you get there — plus, what you do after you're there. Here is some expert advice to fulfill your getaway fantasy.
Justin Hutchinson/Getty Images (2)
Avoid places known as summer destinations.
A hard and fast rule of traveling during the summer months: Just about everyone is on the move, which can make it pricier than at other times. One key way to outsmart this reality is by detouring to somewhere that's not known or hyped as a summer hotspot — what's known as traveling off-season rather than during peak season. In other words, idyllic summer vistas should be tabled for now.
Miami is a perfect reprieve from most of the U.S. during winter, while in August the humidity is enough to scare away some people. But if you don't mind a little sweat while you tan and drink mojitos, there's no more cost-effective time to visit South Florida.
Go when other people aren't.
In addition to the seasonality of tourism, it's crucial to think about the cost you'll bear based on the exact dates that you're traveling. Business-oriented hotels in urban hubs of commerce tend to actually be less busy during the weekend (personally I love to check in to a Hilton Embassy Suites once the corporate conferences have deserted), while you might have better luck at a more resort-like establishment in the middle of the week when there's a dry spell of vacationers.
Similarly, many online flight-booking services now let you easily see what the potential cost difference is if you simply shift over your departure or arrival date by one day.
Book now — right now.
If you're contemplating a flight for late summer, you should snag one while it still makes financial sense. Travel site Skyscanner recently reported that the optimal time to book a domestic flight is two to three weeks out, while international flights are better reserved one to two months before you jet off. However, if you're renting a car or taking a train instead of taking to the skies, you may not have to commit so early.
Try a new hotel or one you already have a relationship with.
The cost of traveling often pales in comparison to the rates of staying in a proper hotel once you get to your destination, especially if you want one with nice amenities. There are sly ways to manipulate the situation: First off, if you're a regular customer of a particular hotel or hotel group, that is always the easiest way to snag perks, including a free room upgrade. "If a client is a repeat guest and there is an upgrade available, hotels will upgrade as a thank-you to the guest for being a loyal customer," says Nina Libby, vice president of marketing for Caldera House, a luxury ski resort in Jackson Hole, Wyoming. Meanwhile, if no old haunts speak to you, go for a new, boutique hotel. They want your repeat business and will likely aim even higher to please.
Or skip the hotel altogether.
Hotels come with high price tags in part because they provide services like around-the-clock room service that you simply won't find while couch-surfing. But without totally slumming it, you can find wonderful apartments and homes to stay in — all by yourself — on services like Airbnb and Vrbo (there are a number of other competitors out there these days). Entire homes for two guests in the Santa Monica area of Los Angeles can be had for just over $100 a night, while a stay in the hip local Viceroy hotel by the beach will demand north of $300 per night.
Talk to the locals.
The cost of getting and staying somewhere certainly takes up much of the travel-planning anxiety, but that shouldn't be your only priority. The ultimate secret to unlocking the best things to eat, drink, and otherwise enjoy in a town or city you're visiting is simple but underutilized: Avoid businesses designed to up-charge tourists, frequently located on the most convenient stretches close to where visitors stay and generally blaring their signage.
Instead, find a quaint, nice (but not too nice) nearby coffee shop or bar that looks well-populated with happy patrons. Buy something to drink and politely chat up your server. Ask them what they like to do in the neighborhood, and take notes. I've done this in many locations and received extensive recommendations written on the backs of receipts. You'll be amazed how much more you get out of your travel experience — for far less cash than you planned.