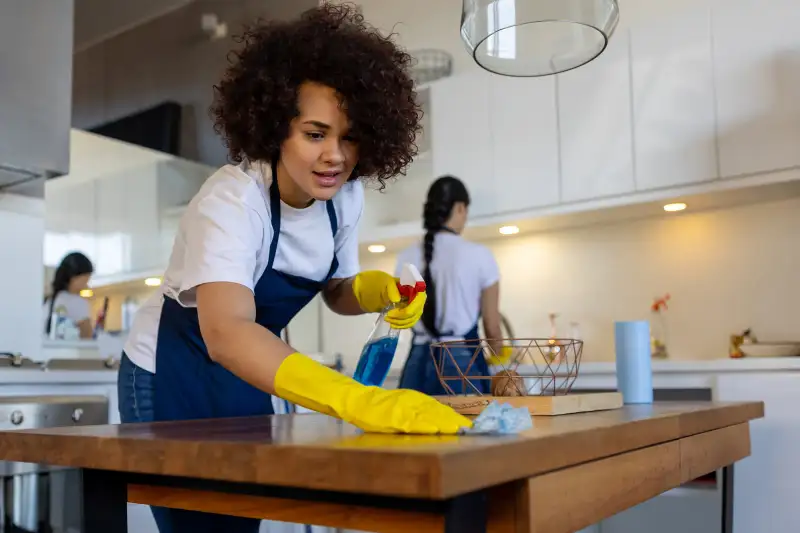 When hiring someone for a position that requires trust, such as a housekeeper, research is really important. This means taking the time to carefully screen potential candidates so you and your family are protected from the risks of hiring the wrong person.
Besides ensuring their personality and values align with yours, you should also perform a background check on the candidates and talk to their references. This will give you a better idea of how they have done similar jobs in the past and help you make a better hiring decision.
The following article covers everything you need to know before hiring a housekeeper, including where to find candidates. On that note, if you're searching for a trustworthy employee — regardless of the position — job posting site ZipRecruiter can help you narrow your options through its Resume Database and candidate screening tools.
Why is finding a trustworthy house cleaner important?
Finding a trustworthy house cleaner can give your peace of mind and ensure the safety of your property and family. And this, of course, entails research.
If you go with an independent contractor, conduct background checks, read reviews from previous clients and find out how long they've been in this line of work.
While hiring through an agency is often more reliable, you should still inquire about their vetting and hiring process. Contact one of the agency's representatives and have them answer questions and concerns you may have about the candidate's professionalism, ethics, experience and background.
How do you find the best house cleaning service?
There are a lot of factors to consider when choosing the right house cleaning service, including cost, services offered, reliability and trustworthiness.
With this in mind, it's important to research, read reviews and interview candidates to find the right person or persons for the job.
Below are some tips on how to find a reliable housekeeper.
Determine if you want an independent cleaner or cleaning company
Deciding whether you need the services of self-employed cleaners or larger cleaning companies depends on the job's scope.
For a one-time deep clean or occasional help with small projects, an independent cleaner may be more cost-effective. This can also give you more control over their schedule and the materials they use.
On the other hand, hiring a professional cleaning company gives you access to experienced professionals with the right equipment to get larger jobs done in shorter time frames. The downsides are that these services cost more and you may not have the same scheduling options.
Ultimately, the right option will depend on your budget and needs.
Get referrals and check online reviews
When looking for the perfect maid or housekeeper, getting personal referrals from your friends and family is the best place to start. See if anyone can recommend a trustworthy and highly skilled individual to fill the role.
Whether hiring an independent contractor or an agency, you should also read online reviews. Reading customer feedback can give you insight into a candidate's timeliness, work ethic and attention to detail, which are all essential qualities of a housekeeper.
Begin interviewing your top picks
Interviewing candidates allows you to assess their problem-solving skills and compatibility with your family. To remain impartial when interviewing for a housekeeping position, prepare a standardized set of questions.
During the interview, ask about time management, how they handle challenging tasks, their expectations for the role, communication style and proficiency with cleaning tools and appliances.
It's also crucial to gauge the level of interest a candidate shows during the interview. Enthusiastic candidates who ask questions demonstrate their genuine interest in the position.
Always thank candidates for their time at the end of the interview.
Discuss fees and costs
When interviewing a potential housekeeper, ask about their hourly rate and any additional costs. Typically, housekeepers charge an hourly rate but may apply additional fees for tasks that require more work or weren't contemplated in the original agreement.
According to ZipRecruiter, the average national salary for a housekeeper in the United States is around $14 per hour. This estimate aligns with data from the Bureau of Labor Statistics, which states hourly rates for maids and housekeeping cleaners range between $10 and $20 per hour.
However, actual costs will depend on the housekeeper's experience and the services they offer as well as the size and scope of the cleaning project. Additional costs often include cleaning supplies and travel fees, so ask for a clear cost breakdown before hiring a housekeeper.
Determine who provides the supplies
Cleaning supplies include basic items like mops, brooms and vacuum cleaners as well as materials like microfiber cloths and rubber gloves. Agencies may offer these supplies, helping you reduce costs and ensuring you have all the necessities for a thorough cleaning.
In some cases, however, you may need to provide cleaning supplies. Discuss this with your new hire beforehand to have realistic expectations and ensure a smooth transition into their role. Be sure to communicate your requirements clearly to avoid any misunderstandings.
Negotiate and discuss expectations
To avoid potential issues, it's crucial to negotiate and discuss expectations before hiring a housekeeper. This includes going over their tasks, schedules, payment method, required supplies and access to different areas of the home. Defining the housekeeper's role in writing can help ensure that everyone's expectations are met.
When discussing responsibilities and expectations with your housekeeper, keep an open mind and respect their input and experience. Encouraging honest and open communication can help you achieve a clean and organized home while creating a lasting professional relationship with your housekeeper.
Communicate clearly
Effective communication starts with clear expectations. Let your housekeeper know the type of job you need them to do and when it needs to be done.
At the same time, be respectful and professional, ask questions instead of making assumptions, offer words of appreciation and provide regular feedback about their work. This will help you build trust and can lead to consistent and loyal service.
Set boundaries
Setting boundaries with your housekeeper is essential to establish a successful working relationship. Start by defining the scope of the work and the schedule of the cleaning services. Clearly communicate your expectations and limitations regarding access to certain areas of your home.
Set guidelines for how to handle unexpected changes or cancellations and how to address any issues that may arise. And remember to be respectful and professional while communicating your needs and preferences, as this will help to create a positive and productive relationship with your housekeeper.
Understand their insurance policies
Before finalizing your housekeeper's employment agreement, take insurance into consideration. Call your homeowners insurance provider and ask about the limits of your liability coverage, which will pay out in the event of an accident in your home or damage to your property.
Also, inquire about workers' compensation coverage. Workers' Compensation requirements vary by state, and you may be legally obligated to purchase this coverage for your domestic employees.
According to Hand in Hand, which advocates for the rights of domestic employees, there is no law requiring health coverage for privately employed domestic workers. Nevertheless, you can still contribute to your housekeeper's healthcare costs in different ways, including by paying for their insurance policy directly.
Run background checks
Before hiring a housekeeper, it's important to conduct a thorough background check to ensure they have no criminal record or debts that may pose a problem later on. This will allow you to verify their work experience and ensure they meet all legal requirements.
Background check agencies offer more comprehensive background checks that include drug tests, credit checks and online reputation reports, which can provide you with more context on which to base your decisions. While it may take the extra time upfront, this process is essential to protect your home and loved ones.
Hiring housekeepers FAQ
Is it worth hiring a housekeeper?
If you're struggling to keep up with cleaning your home, hiring a housekeeper could be a wise decision. Not only will it free up your time, but it can also reduce your stress and free up your schedule so you can spend more time with your loved ones, pursuing hobbies or working on creative projects.
However, consider the cost of hiring a housekeeper and whether it fits within your budget. The average national salary for housekeepers is around $14 per hour, yet actual costs and fees will vary depending on their experience and the scope of the job. You may also want to think about the level of trust you need to have in the person you hire to work in your home.
What do housekeepers not do?
It's a common misconception that housekeepers are responsible for every task in the home, but there are limits to what they typically do. For instance, housekeepers generally won't run errands or shop for groceries or gifts. They also won't take on special projects like home repairs or maintenance tasks like painting or grouting.
Housekeepers also usually won't provide medical care, do laundry that requires special attention, or repair household appliances or furniture. While they may have some knowledge or experience in these areas, it's best to consider additional help if you need assistance with these tasks.
To ensure you're getting the most out of your housekeeper, establish clear expectations from the outset. Discuss what tasks you expect them to perform and which ones are outside the scope of their responsibilities. By doing so, you'll create a more productive and effective working relationship.
What is the average rate housekeepers charge?
According to ZipRecruiter, the national average salary for housekeepers is $28,518 per year or $14 per hour. However, the rate can vary significantly by region. For example, housekeepers in Massachusetts charge a median hourly rate of $17.64 while those in Hawaii charge $20.29.
If you require additional tasks beyond basic cleaning, such as pet care or laundry, you may be expected to pay extra. The best job search sites can help you get a better idea of housekeeping and cleaning costs in your area.
Find your ideal housekeeper
When searching for a housekeeper, it's crucial to find someone who is reliable and trustworthy. You can begin by researching potential options through a service or your own connections.
Be sure to ask for references from prior employers and verify them as part of the vetting process. Also, take the time to interview potential candidates and ask about their job experience, training, preferences and availability.
Hiring a housekeeper is a financial investment that can improve your quality of life and well-being, so take your time to get it right and find the best candidate for the job.