How To Hire Interior Designers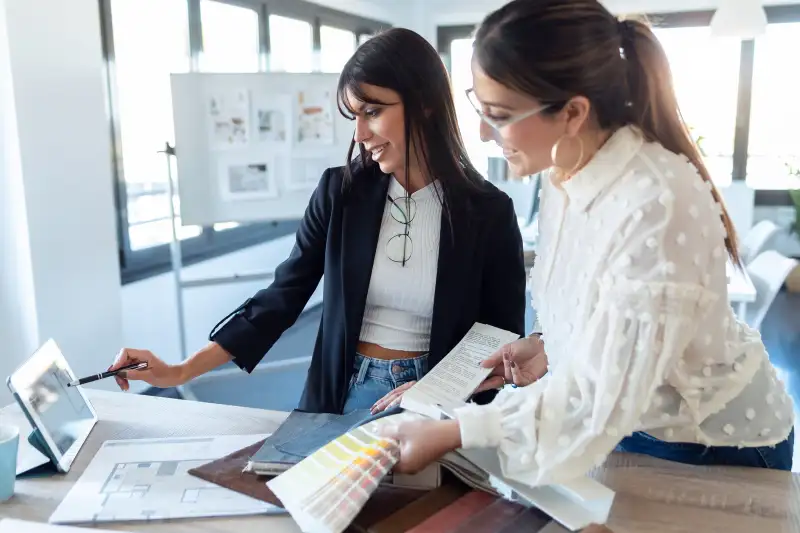 Creating an inviting and comfortable workspace can significantly improve employee productivity and satisfaction. An effective way to achieve this is by hiring an interior designer to create a functional and stylish office environment.
However, choosing the right interior designer for your business can take time and a bit of legwork. After all, you want to ensure that they understand your needs and can create a space that reflects your company's values.
Read on for tips for choosing the right interior designer to bring your vision to life. And once you're ready to compare candidates, head to the job posting site ZipRecruiter, where you can find the right talent for just about any job.
What is an interior designer?
Interior designers are creative professionals who can offer unique design ideas, provide valuable advice and save you from costly mistakes when decorating your office space. From expert advice on color combinations to sourcing decorative elements that fit your budget and preferences, interior designers can help you create a functional yet visually appealing office environment.
They are experienced in finding just the right items for any given style — including furniture, rugs, wall art, window treatments, lighting and more — combining colors and textures in a cohesive way. Whether it be a small office or an open floor plan building, an interior designer can also maximize the functionality of any space.
What does an interior designer do?
Interior designers play an integral role in commercial and residential settings, helping craft inspiring and aesthetically pleasing spaces. They turn interior design concepts into reality through color, texture, space and style.
Interior designers often work closely with clients, contractors, architects, furniture makers and textile specialists to develop intelligent design solutions that suit their client's needs and budgets. They are creative problem-solvers who understand clients' styles and preferences and meticulously consider every detail to create a space that perfectly blends form, function and personal taste.
Depending on the project's scope, designers may also take on additional responsibilities including managing a budget and selecting materials finishes and furniture.
How to hire the right interior designer
Choosing the right interior designer for your project will require forethought and planning. If you don't know where to start, follow the advice below.
Determine the scope of the project
Consider how you want to collaborate with the interior designer and their level of involvement in the project. If you have specific ideas that need execution, communicate them. And if you're looking for expert advice, state that upfront. Clearly defining your needs is key to a successful interior design project.
Ask questions and provide details about your budget, timeline and expectations to ensure the designer's skills and expertise match the scope of your project. This will minimize misunderstandings and help the project run smoothly.
Consider how much you want to spend
Many variables can influence the cost of an interior design project, including the scope of the project, the dimensions of the space, the materials used, the services rendered and the designer's experience.
It's important to discuss fees and costs with the interior designer ahead of time. Specify whether your budget is fixed or flexible and what your non-negotiables are. They should be able to provide cost-saving solutions or trade-offs based on your requirements.
Lastly, do your research and look into the average cost of hiring an interior designer. This can help you narrow your options and get the best value for your money.
Figure out what your goals are
Ask yourself what kind of look and feel you'd like the space to have when it's complete. For example, are you aiming for a contemporary or traditional aesthetic? What kind of mood would you like the space to evoke?
Beyond aesthetics, consider your budget and the project's time frame. Being mindful of these considerations can help you and your designer achieve your goals while staying within your parameters.
Research potential candidates and read reviews
Get recommendations from other business owners or do your own research to identify potential candidates. You could also use one of the best job search sites to find interior designers that meet your specific criteria. ZipRecruiter, for example, has an ample resume database for employers and offers a free trial.
Read reviews of the designer's work and look through their portfolio to see if their design style aligns with your vision. This will save you time and stress in the long run.
Check qualifications and previous work experience
Examining a potential hire's previous work experience can give you a better idea of the scope and results they might be able to deliver for your project. Qualifications are reliable indicators that someone has the knowledge, competency and experience to take on the job.
Research how their skill set ties into the project you have in mind. Consider for whom your designer has designed in the past, as well as the particular aesthetic of previous projects. Checking references can also be a useful way to gain confidence in their abilities.
Interview your top picks
After compiling a list of designers, choose how to interview them. Options include in-person, over the phone, or through video call apps like Skype or Zoom. Interviewing your candidates will help determine whether they can meet your needs and how comfortable you are working with them.
Ask the right questions
During the interview, ask relevant questions regarding how they would approach the project and the challenges they expect to face. Also, inquire about their experience and time in business and learn more about their design process.
You may ask for references, have them discuss their collaboration with other clients and get insight into their work style, project timelines and budgeting. By asking the right questions, you can ensure the designer you hire is the most qualified for the job.
Start the design process by creating a vision board together
A vision or mood board could be a helpful tool for you and your interior designer. It can help you understand your needs and preferences regarding both aesthetics and functionality.
Include inspiring images, fabric swatches and color palettes to create a detailed board. Jot down project-related notes on the board or the back of printed materials to keep all ideas in one place.
Using a vision board at the beginning of the project can lead to a more successful design process.
Interior designer FAQ
How do you keep your interior designer happy?
Keeping an interior designer happy is all about communication. Before beginning a project, provide as much information as possible about your wants and needs. This will help them understand the scope and objectives of the job.
Throughout the process, continue to touch base with your designer. Ask questions, explain any changes you want to go over and stay current on any new developments.
Keep in mind that interior design is, by nature, a creative field, and professionals often have their own vision for a project. Working collaboratively and keeping each other informed should promote a better working relationship and result in a design you're both happy with.
How much does a professional designer generally cost?
Professional interior designers generally charge by the hour. Their rates will depend on their experience and the scope of the work, among other factors.
It's not uncommon to see prices starting at around $50 per hour for a basic design project or consultation. More advanced work by experienced designers can cost $150 per hour and above.
Is it worth paying for an interior designer?
Interior design can be expensive, but the expertise of an experienced professional can save you time and take the guesswork out of finding furniture and accessories that suit your taste and budget. An interior designer can create custom solutions to fit any space or style.
In short, hiring an interior designer could save you both time and money while achieving the results you truly want in your space.
Get design ideas from a reputable creative
Interior designers utilize their deep knowledge of materials, color theory and space planning to choose furniture, finishes, lighting and textures that work together as a cohesive design.
Not only will they be able to offer invaluable advice on what works with the size and scope of your office, but can also help you design a space that is practical yet aesthetically pleasing — all according to your preferences.
Hiring an interior designer with a trained eye and ample experience can be a great way to create an office that meets the needs of your organization, without the stress of having to do it on your own.