How to Pay for Grad School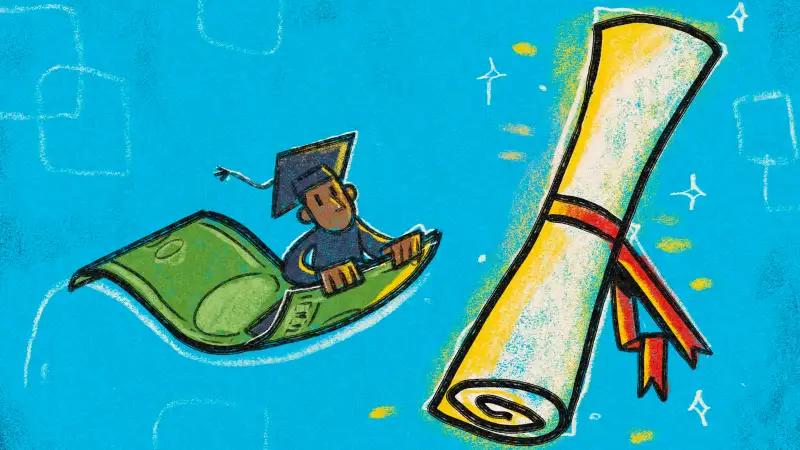 Earning a master's degree can be a great way to advance your career, but it can be a serious financial investment. According to the National Center for Education Statistics (NCES), the average cost of tuition for graduate school was $12,394 per year for public universities and $28,445 per year for private schools.
But some schools can be much more expensive. For example, if you want to earn a master's of business administration (MBA) from one of the top business schools in the country — Wharton Business School at the University of Pennsylvania, the University of Chicago Booth School of Business or the Kellogg School of Management at Northwestern University — tuition alone will cost over $80,000 per year.
If you're wondering how to pay for grad school, don't panic; there are several financial aid options and other financing options that can make the cost more manageable.
Key Takeaways for How to Pay for Grad School
The majority of graduate school students receive some form of financial aid.
Gift aid, such as scholarships and grants, can reduce the need for loans.
Both federal and private loans can be used to pay for graduate school.
Table of contents:
1. Apply for financial aid
Many people assume that financial aid is only for undergraduate students. But that's not the case; graduate students are eligible for several forms of financial aid, including scholarships, grants, work-study programs and federal student loans. In fact, the National Center for Education Statistics reported that 56% of students pursuing master's degrees received financial aid.
Scholarships
Scholarships are typically merit-based awards, and they're available at the graduate level from states, government agencies, nonprofit organizations, private companies and universities. These are just a sampling of the scholarship opportunities available to graduate students:
CIA Graduate Scholarship Program: Through the CIA scholarship program, graduate students will attend school full-time and work during the summer breaks at the CIA. Students receive up to $18,000 per year in tuition assistance ($25,000 for field positions in science, technology, engineering or mathematics), earn an annual salary and receive federal health and life insurance benefits.
To find potential scholarships, use The College Board's Scholarship Search tool.
Grants
When it comes to paying for grad school, grants can be excellent tools. More than 1 in 5 students working toward master's degrees received grant aid, according to the National Center for Education Statistics.
Unlike scholarships, which are awarded based on past achievements, eligibility for grants is based on your financial situation. Grants can come from the federal or state government, schools and nonprofit organizations.
Federal grants are usually limited to undergraduate students. However, there are two exceptions:
Pell Grants: Graduate students enrolled in postsecondary teacher certification programs can receive up to $7,395 for the 2023-2024 academic year.
Teacher Education Assistance for College and Higher Education (TEACH) Grants: The TEACH Grant provides up to $3,772 in grants for graduate students pursuing teaching-related degrees. However, recipients must commit to teaching for four years in a low-income elementary or secondary school. Otherwise, the grant is converted into a loan.
To apply for grants, you must complete the Free Application for Federal Student Aid (FAFSA). You can search for other grant opportunities through your state education agency and CareerOneStop.
Fellowships
While scholarships are awarded based on your past academic performance, fellowships are issued based on your potential. Fellowships are short-term awards that provide a stipend for research or study.
For example, the Graduate Research Fellowship Program provides students with a three-year annual stipend of $37,000 and a $12,000 cost-of-education allowance for tuition and school-required fees.
Assistantships are similar to fellowships, with the main difference being that the former typically requires working a certain number of hours as either a teaching assistant or research assistant.
You can find fellowship and assistantship opportunities by contacting your school financial aid office, your program's head of department or professional associations related to your field.
Work-study
Another option for graduate students with significant financial need is federal or state work-study programs. Through a work-study program, you get a part-time job — on-campus or off-campus — and use your earnings to pay for a portion of your expenses. Depending on availability, the job can be related to your field of study, too.
To qualify for federal or state work-study programs, you must submit the FAFSA by federal, state and school deadlines.
2. Work while you go to school
Some students choose to finance their education by working while pursuing their degrees. That's particularly true with graduate degrees, when many adults study part-time while they are working full-time. But if you do want to enroll full-time, you can still opt for a part-time job or a paid internship and use your earnings to cover some of your education costs.
Part-time jobs
You can get a part-time job or side hustle that fits your class schedule. To find opportunities near you, use resources like SnagAJob, CoolWorks or SideHustleNation.
Internships
If you can secure a paid internship, you can earn money while gaining valuable experience. You can find internships through your field's professional association and through search tools like Internships.com and LinkedIn.
3. Ask if your employer can sponsor you
If you're currently employed, your employer can be an invaluable resource for financing your education. According to the Society for Human Resource Management (SHRM), 48% of employers offer tuition assistance benefits to their workers.
Talk to your manager or human resources department to find out if tuition assistance is available to you. But keep in mind that most companies require you to stay with the company for a specific length of time. If you leave early, you may have to repay the amount of assistance you received.
4. Take out loans
When researching how to pay for grad school, student loans can play an important role. You can borrow money to cover your remaining expenses after utilizing other forms of financial aid.
Student loan debt is common for graduate school; NCES reported that 41.2% of graduate students take out federal student loans, but some students opt to take out private student loans too.
Federal loans
Loans from the federal government usually have lower interest rates and more borrower protections than private loans, so they're a good starting point. For graduate school, there are two federal loan options:
Direct Unsubsidized: Graduate students can borrow up to $20,500 per year in Direct Unsubsidized loans. The aggregate limit — inclusive of loans used for undergraduate degrees — is $138,500. For loans issued on or after July 1, 2023, and before July 1, 2024, the fixed interest rate is 7.05%.
Direct PLUS: Grad PLUS loans don't have annual or aggregate limits; you can borrow up to the total cost of attendance. The interest rate on PLUS loans issued on or after July 1, 2023, and before July 1, 2024, is 8.05%.
To apply for federal student loans, you must submit the FAFSA.
Private loans
Private loans can come in handy if you reach the maximum limit or aren't eligible for federal student loans. Most private student loan companies allow you to borrow up to the total cost of attendance, and you can choose a loan repayment term between five and 15 years.
However, private lenders typically have strict credit score and income requirements, so most graduate students will need a cosigner to qualify for a private loan. Because federal loans for graduate students have higher interest rates than undergraduate loans, you may be able to qualify for a private loan with a lower interest rate if you (or your cosigner) have excellent credit.
Private parent loans
For parents who want to help their children pay for their master's programs, private loans can be useful tools. Private parent student loans are especially helpful for graduate school for the following reasons:
Federal parent loans aren't an option: While parents often take out federal Parent PLUS Loans to pay for their child's college education, they're not an option for graduate school; PLUS Loans can only be used for undergraduate degrees. But many lenders offer private parent loans that can be used for graduate or doctoral programs, and parents can borrow up to the total cost of attendance.
Other relatives can take out private parent loans: Parent PLUS Loans can only be taken out by biological or adoptive parents, but private student loans can be taken out by legal guardians, aunts, uncles, grandparents and even siblings.
5. Save money
While scholarships, grants and student loans are all important parts of paying for grad school, you can reduce the cost of your education by cutting expenses and saving money. For some ideas, follow these tips:
Create (and stick to) a budget: Creating a budget and tracking your spending is key to managing your expenses. Sit down and write down all of the money you have coming in, including income from a part-time job and financial aid. Then, list all of your expenses. Identify areas where you can cut back, such as canceling streaming services or reducing how often you dine out. You can use tools like Mint to make a budget and keep track of your spending.
Consider living with a roommate: Living expenses, specifically your housing and utilities, can be significant costs in grad school. Getting a roommate (or two) can slash that expense and help you save money.
Skip the school meal plan: The Hechinger Report found that school meal plans cost an average of $4,500 over eight months. If you skip the university dining plan, buy groceries and prepare your own meals, you could save hundreds or even thousands.
Rent your textbooks: According to The College Board, students spend an average of $1,240 per year on textbooks. However, you can save a substantial amount of money by renting your textbooks instead. You can use sites like Chegg and CampusBooks to find the books you need.
Commute to school: When it comes to paying for grad school, tuition and fees are only part of the total cost. On average, room and board costs $11,310 per year at public universities and $13,180 per year at private schools. If you can live with your parents or other family members and commute to school, you could reduce your overall cost.
6. Consider graduate school alternatives
Traditional master's degree programs take two years of full-time study to complete. Depending on your circumstances, you may find the following alternatives to be better solutions:
Part-time programs
Part-time graduate school programs allow you to attend school part-time. It will take you more time to complete your degree — between three and five years — but you can work full-time and use your income to cover the majority of your expenses.
Accelerated programs
Accelerated programs cut down how long it takes to earn a master's degree, so you also pay less overall for tuition, books and room and board. There are two forms of accelerated programs:
Combined bachelor's and master's degrees: These programs allow students to complete a bachelor's degree and master's degree in just five years.
One-year programs: One-year programs compress the typical master's degree requirements into 12 months of study. One-year programs are rigorous and require a full-time commitment that may not leave time for part-time jobs or side hustles.
7. Talk to your school
Your university can help you identify ways to pay for your degree. The following resources are good places to start:
Financial aid office
The college financial aid office can help you identify institutional grants, scholarships and loans. Your university may also have other forms of financial aid, such as emergency loans, to help cover any aid gaps.
Career services office
Career services can connect you to part-time jobs on campus or with local employers. They can also help you create a resume and cover letter to improve your chances of getting a job.
Student life office
If you're looking for ways to slash your expenses, getting a roommate can be a smart idea. The student life office can connect you to other students looking for roommates. And some student life offices have other resources, such as student food banks or supply libraries, that can help reduce your expenses.
How to Pay for Grad School FAQs
How much does grad school cost?
On average, graduate school tuition costs $12,394 per year at public universities and $28,445 for private schools. To complete a two-year graduate program, the total cost of tuition and fees would be about $24,788 to $56,890. If you plan on living on campus, room and board will add $11,000 to $13,000 per year to your overall cost.
Is grad school worth the cost?
Whether grad school is worth the cost depends on several factors, including your field, the cost of your program and how much debt you have to take on to pay for your degree. But generally, a master's degree provides a positive return on investment. The median earnings of those with a master's or higher was $74,600, about 21% higher than the median salaries of those with bachelor's degrees. And individuals with master's degrees have a much lower unemployment rate than those with bachelor's degrees, associate degrees or high school diplomas.
What's the difference between a scholarship and a grant?
Scholarships are forms of financial aid that usually are based on merit, such as your academics or past research. By contrast, grants typically are awarded based on your financial need.
How can I negotiate for an employer tuition reimbursement program?
When talking to your employer, share how many employers offer tuition reimbursement programs; SHRM found that nearly half of the surveyed employers provided tuition assistance benefits. You can also mention studies that showed applicants are more likely to accept job offers from companies that offer tuition reimbursement, and they're also more likely to stay with a company for five years or more if tuition assistance is available.
Are there tax benefits available for grad students?
Graduate students may be eligible for the following tax credits and deductions:
Lifetime Learning Credit (LLC): You can claim the LLC if you paid tuition and other expenses to a qualified educational institution. The credit is worth up to $2,000, and there's no limit on how many years you claim it. Income limits do apply; you can't claim the credit if your income is $90,000 or more ($180,000 if you're married and file a joint return).
Student loan interest tax deduction: If you made payments toward your undergraduate or graduate student loans, you may be able to claim the student loan interest tax deduction. You deduct the actual amount of interest you paid or $2,500, whichever is less. Income limits apply; you cannot claim the deduction if your income is $85,000 or more ($175,000 if you're married and file a joint return).
Summary of Money's How to Pay for Grad School
Deciding to pursue a master's degree is a big decision, and figuring out how to pay for grad school can be a daunting task. While the cost of graduate school can be high, there are many financial aid opportunities, including scholarships, grants, work-study programs, fellowships and student loans.
To maximize your chances of qualifying for financial aid, submit the FAFSA as soon as you can and explore scholarship and grant opportunities on your own. And if you do need to take out student loans, start with federal loans, then get quotes from multiple lenders to get the best rates possible.
More from Money:
9 Easy Steps to Refinance Your Student Loan
How to Get Student Loan Forgiveness