How to Tell if That Rolex You Want to Buy Is a Fake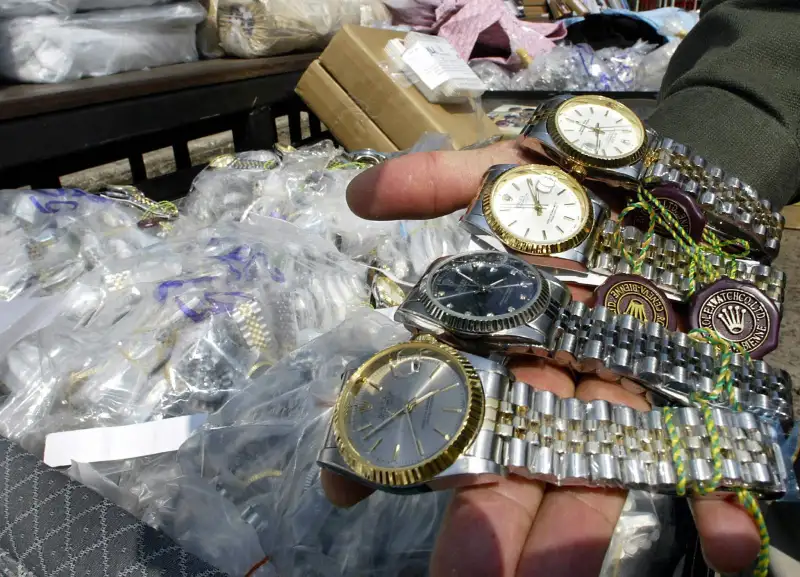 Khan, Saeed—AFP/Getty Images
Buying an expensive watch generally isn't a smart money move if you're looking at it as a pure investment. Most watches, including almost all high-end brands, tend to depreciate in value as time passes.
If you're a watch lover who plans on hanging onto your timepiece for many years, the lone brand that's renowned for retaining its value the best is, of course, Rolex. But there is one unfortunate downside to the brand, which you've probably seen if you've ever walked down Canal Street in Manhattan or visited one of the many large, outdoor flea markets in Europe: There are tons of fakes. The proliferation of counterfeit or partially real Rolexes is a real problem, especially in the pre-owned market, which also has some of the models most coveted by high-end collectors.
"There are more fake Rolex watches on this planet than all other fakes combined," Benjamin Clymer, the founder of influential watch site Hodinkee, wrote in 2014, as the watch world raised an eyebrow at a possibly fake dial on a watch Christie's sold for half a million bucks. "And you can multiply that number by 100 if we include those Rolexes that have been modified in some way after they left the factory."
Needless to say, a new watch doesn't present much of an issue, assuming you're buying from a boutique or an authorized dealer. But that's not an option for many, especially those of us without trust funds. No matter if you're considering a used Rolex because you can't afford a new one or you're intrigued with a discontinued vintage model, there are ways to ensure you're not getting scammed with a fake.
Paul Altieri who runs Bob's Watches, a popular pre-owned Rolex store, says a couple of fakes pass through his store every month. "The thing that most people don't know is that while most people can spot a cheap $25 watch, the $400 you'd struggle with. There are some really good fakes," he says. "Really, really, really good ones."
A quick Google shows how right he is. There's a dedicated online community full of people who like to build replicas as a hobby and share their creations. While these enthusiasts are almost always well-intentioned, it just shows how easy it is to make a faux Rolex and potentially fool a layperson.
Sometimes, Altieri will have to open a watch that comes into the shop and examine it with a microscope because it's so hard to tell whether it's the real deal. "People think a fake is a fake is a fake, and it's not. There are some really good fakes—the ones that are $350 to 500 are hard to tell, you have to have a trained eye," he says. "Even dealers will get fooled on the expensive models."
Sometimes it's someone trying to pull a fast one, but generally people know better than to try to con an expert. Instead, most of the people attempting to sell his store fake Rolexes truly believe their watches are authentic. In these cases it's up to Altieri to break the bad news. Most of the time they received the watch as a gift, or had a "too good to be true" purchase that seemed like a bargain. Occasionally, they were duped big time and paid thousands for a fake.
Read next: Watches Are Bad Investments--With One Notable Exception
In one such instance, an older enthusiast came in to Altieri's shop beaming over his suite of rare watches, and it turned out one was fake. "This guy bought it 25 years before and paid $25,000—a lot of money back then," Altieri said. "He was in disbelief, completely numb, heartbroken."
So how do you make sure something like this never happens to you? Above all, unless the watch in question is being sold from a store with a physical location, solid track record, and a phone number, the wise move is to proceed slowly when considering the purchase of a used Rolex.
Besides only buying from trustworthy sources, there are things the amateur buyer can look for. First of all, know what the watch you want is supposed to look like, and hunt for deviations. There are many details to check out—here's a thorough list that Altieri himself made—including the serial number, which you can view through a loupe (one of those magnifying glasses jewelers use).
"On even the really good fakes, you'll see those lines are a series of tiny dots. That's a dead giveaway," says Altieri. For the cheaper versions, a clear caseback or one with engraving is another—Rolex has never made them. Markings that don't quite line up should raise suspicion, just as hands that don't quite reach the minute marks on the dial. And since these watches use gears instead of batteries, they don't tick once per second--more like four to six times per second. In general, any sort of shoddy construction, writing on the dial, and bad magnification on the date window are red flags. The real thing is made with absolute precision, and any imperfection is telling. Lastly, if you're able to open it up, the movement inside will give you another method for authentication by comparing what you see to what you should see, which is easily accessible on Google Images. The Internet is your friend here. Sometimes, there's even a serial number inside--make sure it matches with the one on the outside.
Read next: 10 Things Millennials Buy Far More Than Everyone Else
Still, the most important thing is to look at the whole picture, says Altieri. Some seemingly beautiful timepieces will in fact be "frankenwatches," partially made with genuine components. Recently a Hodinkee editor stumbled across a Tudor--Rolex's less expensive sister company--that looked suspicious and wrote an article detailing every red flag. Part of it was probably real, but most of the watch was a mismatched disaster. Due diligence is vital.
So what if you happen to spot a fake on your friend's wrist? What do you do? Altieri chuckled at the question. "It's like someone who's getting cheated on—do you tell? I think you have to," he says. "But maybe in the case of an older family relative and they were going to keep the watch forever, and it'd break their heart—maybe you'd hold that back."