How to Watch the Alabama vs. Georgia College Football Championship Game Tonight for Free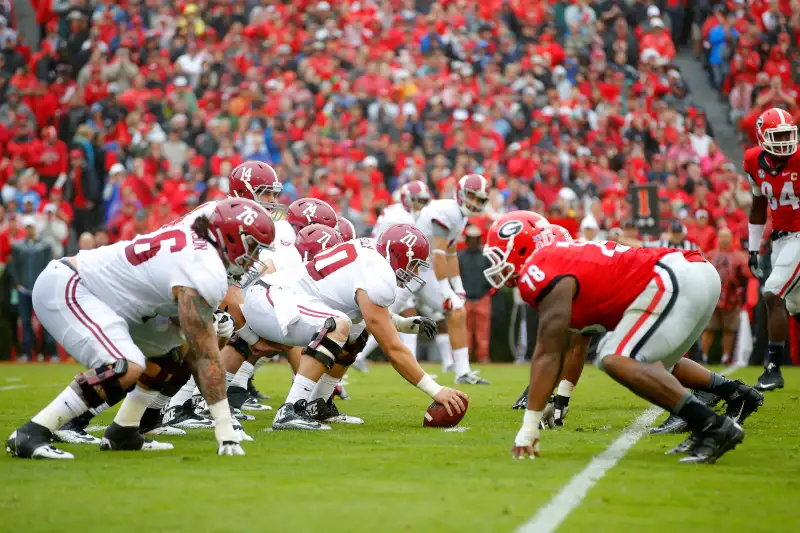 Kevin C. Cox—Getty Images
On Monday night, the Alabama Crimson Tide and Georgia Bulldogs square off in the 2018 College Football National Championship game, and interest is extraordinarily high. Not only is it the season's biggest college football matchup featuring two celebrated SEC rivals, but the game is also being played in Atlanta, which has been called "college football's capital."
Oh, and President Donald J. Trump is going to be in attendance to watch Alabama vs. Georgia live. His presence has in turn inspired the NAACP and other groups to stage anti-Trump protests in Atlanta on Monday. Rapper Kendrick Lamar will also perform at the first-ever National Championship halftime show.
Watching or live-streaming Alabama vs. Georgia from the comfort of your home is easy enough. Like the playoff games on New Year's Day, tonight's championship game is being broadcast exclusive by ESPN. Kickoff is scheduled for 8 p.m. ET, and if you have cable or another standard pay TV package, all you have to do to watch is find any of the ESPN channels airing the game. You can also stream the college football national championship game for free by logging in to the ESPN app with the number and password of your pay TV provider account.
If you don't have cable or another pay TV service, it is still possible to watch the national championship game for free tonight. You could of course head to a nearby bar or restaurant to watch—but then you'd probably run up quite a bar tab, so it wouldn't nearly be free. Or you could take advantage of one of the many streaming TV services now on the market, nearly all of which have ESPN, and all of which have free trial periods.
These streaming services include options such as DirecTV Now, Hulu Live, Playstation Vue, Sling TV, and YouTube TV. All of the services above allow you to live-stream ESPN and dozens of other pay TV channels on a variety of devices. New subscribers can watch for free during trial periods, which last a week or more depending on the service.
Just remember, though, that you will be charged the regular monthly rate if you don't cancel the service before the trial period ends. The normal monthly rates for these streaming TV services start at $20 and up per month, and Sling TV is the cheapest (though most limited) of the bunch.