How to Watch the Floyd Mayweather vs. Conor McGregor Fight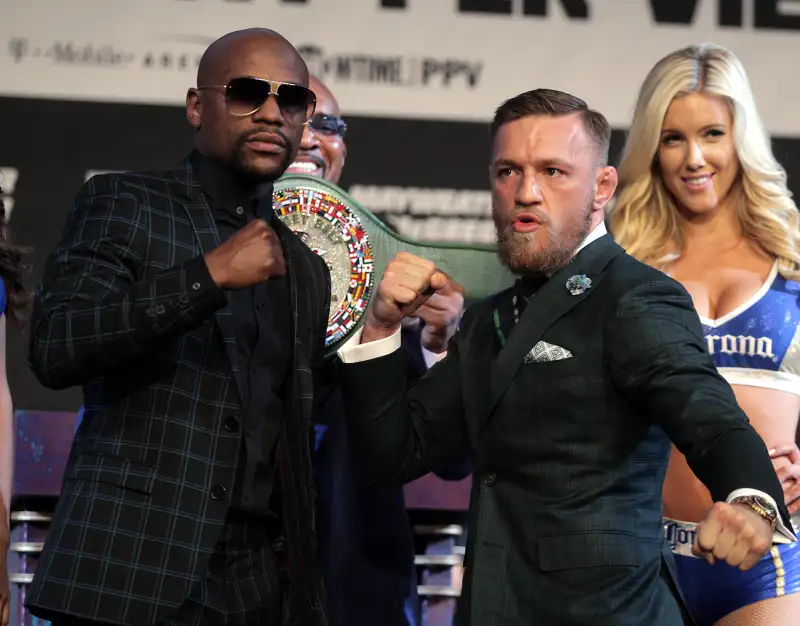 JOHN GURZINSKI—AFP/Getty Images
On Saturday night in Las Vegas, boxing great Floyd "Money" Mayweather, Jr., and mixed-martial artist star Conor "The Notorious" McGregor will square off in the ring in what is shaping up as one of the most hyped sporting spectacles of all time.
It's been estimated that 50 million people in the U.S. alone will watch the unusual matchup of Mayweather versus McGregor on Aug. 26—two exceptionally brash, well-known, outspoken showmen at the top of their respective sports. The Mayweather vs McGregor fight is expected to generate $700 million worldwide, and each combatant could walk away with over $100 million.
If you're a fan of boxing or MMA or both, or if you just want to see what the hype is all about, here's what you need to know.
Watch and Stream the Mayweather vs McGregor Fight Live
Besides heading to Las Vegas and spending well over $1,000 to see the Mayweather vs McGregor fight live, the only way to watch is via pay-per-view. Fans can order the event on their own through streaming services or their cable company. Either way, it costs just under $100 in the U.S., plus taxes and fees where applicable.
You can stream the fight via services such as UFC TV, Showtime, and Sling TV, and tune in with almost any connected device—including a laptop, tablet, phone, or smart TV. On cable or satellite TV, the fight is being broadcast by Showtime, and you can watch the match at home by ordering it from a wide range of providers, including Comcast, DirecTV, Dish Network, Spectrum, and Verizon Fios.
The main event gets underway via pay-per-view at 9 p.m. ET (and the fight probably won't actually start until closer to 11 p.m.), but there are earlier bouts and preliminary coverage starting at 6 p.m. ET. You can watch that coverage for free on Fox's main broadcast channel or stream via the Fox Sports Go app.
//compass.pressekompass.net/static/opinary.js
Places to Go to Watch the Mayweather Fight
Movie Theaters
Select AMC Theatres, Cinemark, and other movie theater locations around the country will be showing the Mayweather vs McGregor fight live on the big screen on Saturday night. Admission is much steeper than the typical movie, though: Theaters are charging $40 per ticket.
Bars & Restaurants
A few national chains are broadcasting the Mayweather vs McGregor fight on Saturday night. While some have special "VIP" packages that include food and drinks with admission, others just have an old-fashioned cover charge to get in. Reservations may be required, in certain cases, and reserving in advance might lower the cover charge too, so it's worth reaching out to your preferred bar location to find out all the details.
Buffalo Wild Wings: The cover charge varies by location but is generally $20 to $30, according to a company representative.
Dave & Buster's: Admissions prices and packages vary by location, but generally seem to run $50 to $80 per person. For example, one Dave & Buster's location in Austin is charging $50, plus around $8 in taxes and fees. That covers admission and a reserved seat during the fight, plus access to a buffet with buffalo wings, chicken tacos, burgers, meatballs, fried shrimp, coffee, soda, and the like (but no alcohol). VIP tickets to watch the fight at a Dave & Buster's in Philadelphia start at $62, and go up to $77.50 (the higher priced package includes drink tickets).
Hooters: Customers who reserve by Friday, August 25, get admission for $30, and that comes with a $20 food/beverage credit good during future Hooters visits. If you don't reserve ahead, the cover charge is $50 on Saturday (and yes, these customers get the $20 credit too).
Twin Peaks: Cover charges vary based on location, though admissions at most seem to be $25 to $30. Call for details.
Independent bars and restaurants all over the country will be showing the fight, too. Check your local establishments, or consult a local publication for a roundup of the options—including some that may have free cover charges.
In Dallas, for example, most bars have cover charges of $20 to $30, though some are charging only $10 and a few are free. All of the spots with no cover charge advise early arrival, as they expect to fill up quickly.
Another roundup we spotted, for Orange County, Calif., showed that most bars have cover charges of $10 to $30, but a few are free.