How to Watch NFL Games Online for Free Today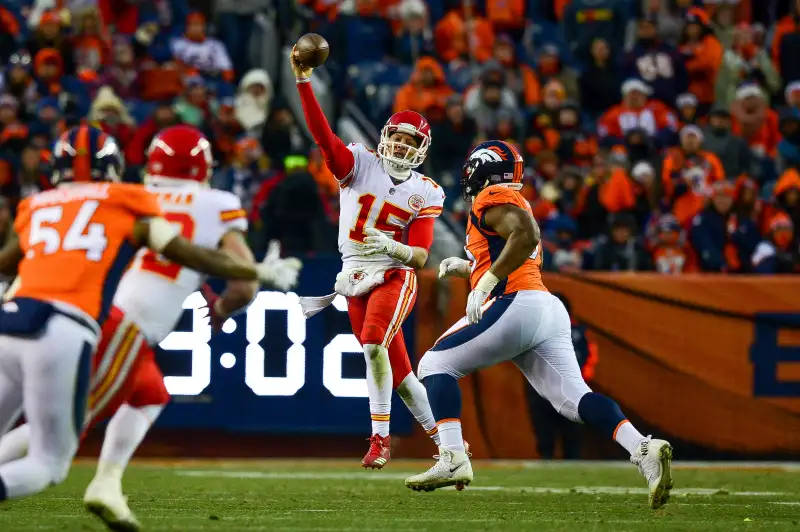 Dustin Bradford—Getty Images
The NFL games today in week four of the 2018 season include the New York Jets vs. Jacksonville Jaguars, Philadelphia Eagles vs. Tennessee Titans, Miami Dolphins vs. New England Patriots, Seattle Seahawks vs. Arizona Cardinals, and New Orleans Saints vs. New York Giants.
The games above all take place on Sunday afternoon. The "Monday Night Football" game on October 1 is a classic division rivalry matchup: Kansas City Chiefs vs. Denver Broncos.
All Sunday NFL games are broadcast on major networks, with afternoon games shown on either CBS or Fox and "Sunday Night Football" on NBC.
If you have satellite or cable TV, you probably have access to these major networks in your package. Even if you don't have cable, you should be able to watch NFL games for free on Sunday with the help of a digital antenna. You can buy one for around $25, and it will allow you to watch unlimited over-the-air networks like ABC, CBS, NBC, and Fox totally for free.
If you want to watch NFL games online, that prospect is slightly more complicated, but very doable thanks to a wide range of options — many of which are free. Here are the possibilities.
How to Watch the NFL Games Today Online for Free
To live stream NFL games today to any screen you like, consider checking out a streaming TV service like Fubo TV, Hulu Live, DirecTV Now, PlayStation Vue, Sling TV, or YouTube TV.
Basic packages from these services start at $25 to $45 per month, and all come with free trial periods of five to seven days for new subscribers. They also include access to broadcast channels like Fox, NBC, and CBS in most of the country. If you subscribe today, you can watch the Sunday NFL games online for free on a TV, laptop, tablet, or phone, and then have a few more days to test the service out before deciding if you want to pay. If you don't want to become a paid subscriber, remember to cancel before the trial period ends.
Which streaming TV service is best for sports fans? Well, Fubo TV is focused squarely on sports content, with dozens of sports channels in its packages. Still, Fubo TV does not have the pay channel most closely associated with sports, ESPN. "Monday Night Football" is broadcast every week on ESPN, so football fans can't expect to catch the game with a Fubo TV subscription.
Our advice is to look closely at what channels are included before signing up for any streaming TV package to watch football. Before deciding, factor in other ways to watch NFL games for free as well, including via a digital antenna or mobile phone apps, explained below.
How to Live Stream NFL Games for Free on Your Phone
For the first time starting with the 2018 season, two apps allow you to live stream NFL games for free on your phone: The Yahoo Sports app and NFL App both feature live streams of the Sunday afternoon games broadcast in your region (including your home team's games), as well as primetime games including "Sunday Night Football" on NBC, "Monday Night Football" on ESPN, and "Thursday Night Football" on Fox or the NFL Network.
These apps only work for live streaming games on a phone — not a tablet, TV, or any larger screen. But you can download them for free, and the live streams are completely free too.
How to Watch Every NFL Game on Sunday
All of the ways to watch the NFL cited above are limited. Fans are restricted to viewing only the games being broadcast locally on major networks for free, or on big pay channels like ESPN and the NFL Network.
If you want to watch NFL games live that aren't airing on your local Fox of CBS station, you'll have to subscribe to a special package — and it'll cost you.
Packages like the NFL Sunday Ticket package from DirecTV will let you live stream or watch many out-of-market games in real time at a price starting at around $300 for the 2018 season.
However, if you want to watch out-of-market games and don't need to catch the action live, check out the NFL Game Pass. This package allows you to watch any NFL game — the full broadcast, or condensed versions without commercials that last about 45 minutes — with the caveat that you can only use Game Pass after the games are over.
The price of Game Pass is $99.99 for the 2018 NFL season, and you can check out the service without paying up via a free seven-day trial period.
We've included affiliate links into this article. Click here to learn what those are.