How to Watch the NFL Games Today Online for Free, including Packers vs. Vikings on Sunday Night Football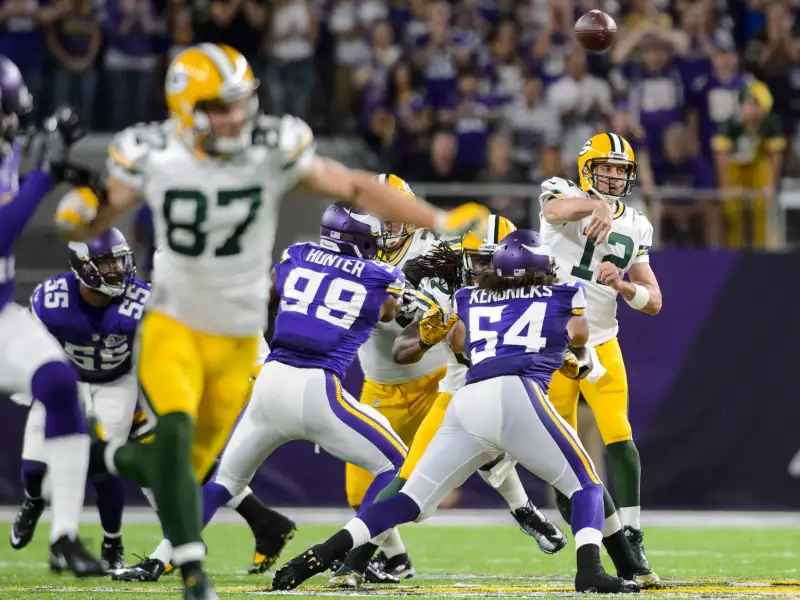 Hannah Foslien—Getty Images
Each product we feature has been independently selected and reviewed by our editorial team. If you make a purchase using the links included, we may earn commission.
Football fans, get ready for yet another round of exciting NFL games today, including the Seahawks vs. Panthers, Patriots vs. Jets, and Steelers vs. Broncos — capped off with the Packers vs. Vikings on "Sunday Night Football."
The TV broadcasts of today's NFL games vary around the country. All NFL games today are being broadcast on major networks — CBS, Fox, and NBC — but most fans will only get to see a few games.
The Green Bay Packers vs. Minnesota Vikings "Sunday Night Football" game is being aired nationally on all NBC stations, so NFL fans are sure to have access to that broadcast (or the live stream). Otherwise, the NFL TV broadcasts are different from region to region. Local CBS and Fox stations decide which games to broadcast in that part of the country: They generally air the local team's games, as well as one or two other NFL games that should be of interest to viewers.
Here's how to watch NFL games for free — online or on TV — including options to live stream games on your phone or other devices.
What NFL Games Are on TV Today?
Here's the NFL game schedule for Sunday, November 25:
• Cleveland Browns vs. Cincinnati Bengals, 1 p.m. ET on CBS
• San Francisco 49ers vs. Tampa Bay Buccaneers, 1 p.m. ET on Fox
• Oakland Raiders vs. vs. Baltimore Ravens, 1 p.m. ET on CBS
• Jacksonville Jaguars vs. Buffalo Bills, 1 p.m. ET on CBS
• Seattle Seahawks vs. Carolina Panthers, 1 p.m. ET on Fox
• New England Patriots vs. New York Jets, 1 p.m. ET on CBS
• New York Giants vs. Philadelphia Eagles, 1 p.m. ET on Fox
• Arizona Cardinals vs. Los Angeles Chargers, 4:05 p.m. ET on Fox
• Miami Dolphins vs. Indianapolis Colts, 4:25 p.m. ET on CBS
• Pittsburgh Steelers vs. Denver Broncos, 4:25 p.m. ET on CBS
• Green Bay Packers vs. Minnesota Vikings, 8:20 p.m. ET on NBC
Again, fans generally don't get to see every NFL game today on TV. But they should be able to watch some NFL games even if they don't have cable or another pay TV package.
A decent digital antenna costs only about $25, and in most of the country once it's hooked up to your TV it provides unlimited free broadcasts of major networks like CBS, Fox, NBC, ABC, and PBS. If you don't have a TV, or want to watch NFL games online for whatever reason, there are free live streaming options as well.
How to Live Stream NFL Games for Free on Your Phone
To live stream NFL games on a smartphone, you'll have to download the Yahoo Sports app or NFL App. Either app provides you with free live streams of many NFL games: You'll be able to watch all of the Sunday games broadcast locally on CBS and Fox, as well as nationally televised games such as "Sunday Night Football" on NBC and "Monday Night Football" on ESPN.
These NFL game live streams are totally free, but they're only available on phones. In other words, you can't use the apps to watch NFL games on a laptop, smart TV, or any screen larger than a phone.
How to Watch NFL Games Online for Free Today
Consider signing up for a free trial of a streaming TV service such as Fubo TV, Hulu Live, DirecTV Now, PlayStation Vue, or YouTube TV if what you want to do is watch NFL games online for free today.
In most of the country, basic packages for these streaming TV services include local broadcasts of major networks, allowing you to watch NFL games online on any screen you like.
Package prices for the streaming TV services cited above start at $40 per month. But you can try them out at no charge during a free trial, which lasts about a week for new subscribers. That will allow you to live stream today's NFL games for free, and then you'd have a few more days to check the service out. Just remember to cancel before the free trial ends if you don't want to become a paying subscriber.
How to Watch All the NFL Games Today
If you want to watch NFL games that aren't being broadcast on CBS or Fox in your part of the country, you'll have to resort to a special package with access to out-of-market NFL games. And, most likely, you'll have to pay a pretty penny.
DirecTV's NFL Sunday Ticket package lets you watch NFL game broadcasts from all over the country, and prices start at $300 per season (on top of a pay TV package).
Alternately, the NFL Game Pass package lets you watch (or stream) NFL games — after they're over and the outcome has been decided. If you can stay away from spoilers on social media, this is a cheaper option for watching out-of-market NFL games: NFL Game Pass costs $99.99 for the season, and new subscribers can check out the service for free during a seven-day free trial.
We've included affiliate links into this article. Click here to learn what those are.