How to Write a Business Plan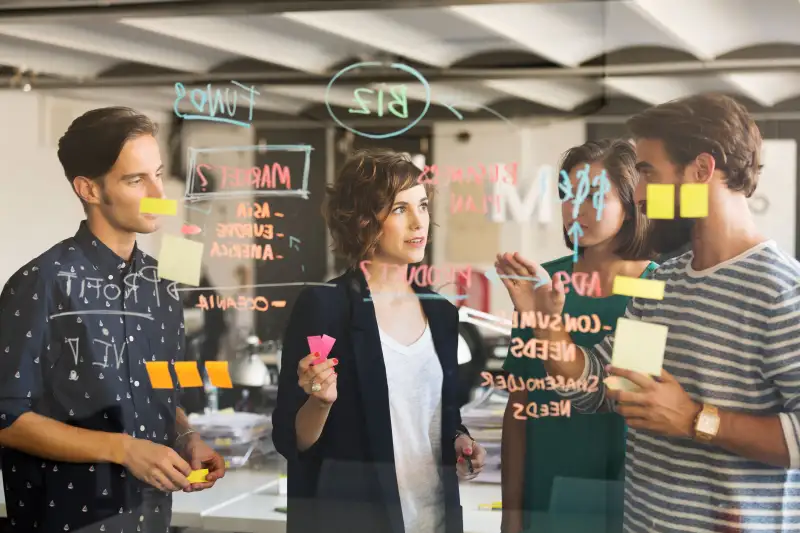 Whether you're looking to start a business for the first time or scaling one you've been building for a while, it's beneficial to have a clear idea of your next moves. What projects will you prioritize in the business? How will you market your goods or services? How much will everything cost? These are only a few of the many considerations you will need to make when building your business.
A business plan can help clarify a business's direction and goals as well as set forth a clear action plan. This valuable document can be used internally within the company and shared externally with prospective clients, sponsors and more.
That said, if you've never written a business plan, you may not know where to start. We've put together a comprehensive guide on how to create a business plan so you can set clear and specific business objectives and devise a realistic action plan to achieve them.
What is a business plan?
A business plan is a document that outlines a company's intended objective and the steps it will implement to reach its goals. Companies of any size can use business plans to outline their funds and budget, marketing strategies and operations to achieve better direction within the business.
Writing a business plan also helps the company attract investors and clients, as investors rely on these documents to evaluable the feasibility of a business before funding it.
Is business planning necessary for success?
Is a business plan worth the time and effort? Absolutely. Although there is no written rule that requires businesses to have a business plan, having one is an important strategy to:
Build business relationships with potential investors, partners and sponsors who need to know that you're serious.
Lend a level of credibility to your entrepreneurship. These important prospective business partners want to know what they're investing their time, energy and money into. With no clear plan, they may not find it worthwhile.
Expose any weak points in your business so that you can improve your strategy. Laying out all your ideas and taking the time to analyze the competition, make a solid budget and come up with an effective marketing plan can make a huge difference.
The benefits of having a business plan
Research-based decision making
Writing a business plan is a great opportunity to research your ideal customer and your competitors, clarify your ideas and help you understand the scope of your business. Business research may also help you identify and address potential problems within your business — information that can help you make more strategic decisions.
Attracting investors and obtaining funding
This is one of the most important reasons to have a business plan. Obtaining funding isn't simple and may require additional time, work and grit, but it will ultimately be extremely beneficial when you receive the funds that will allow you to launch your business successfully. Your business plan is meant to be shared with people and companies that might be interested in building a relationship with your business and investing in your mission.
Recruiting top talent
What is a business without an efficient team? Having a strong, clear business plan can help you communicate your vision and articulate what value you have to offer to prospective partners and employees.
A better understanding of your target market
You should know your target market like a group of personal friends. Age, occupation, income and lifestyle are a good place to start, but a business plan will allow you to delve deeper. What are their spending habits? What are their values? What do they desire in a product or service such as yours? Having a business plan will allow you to outline your target consumer in great detail, which will greatly aid your marketing efforts.
A clearer path toward business milestones
A business plan is a defined outline of your business's goals and brand identity. It details exactly what your business is trying to do, who the product or service will appeal to and why it is unique. The business plan is a living, breathing document that you can always revisit, revise or change.
How to write a business plan
Although business plans tend to follow a traditional structure, every plan is different. Your business plan is unique to your business and exists primarily for your business's benefit, so it's important that the format, structure and information included reflect the business's specific needs.
A typical business plan is 15 to 25 pages long. Using a template is not recommended because the plan should be unique to your business and should reflect its brand and needs. Although you can look at a sample business plan or use business plan examples as inspiration, the best business plan is going to be one you craft on your own.
With that in mind, here is how to write a business plan incorporating nine of the most important considerations for new businesses.
1. Executive summary
The first section you'll need to include in the outline for a business plan is the executive summary. Your executive summary should cover the main purpose of your business and include a mission statement that clearly defines your objectives and values.
Be sure to communicate why your business is unique and what it has to offer a potential customer. Summarize its competitive advantages, marketing plan, financial plan and any other relevant points you choose to include. Use research and data to clearly support your ideas.
2. Company description
The specific elements within your business description can vary, but it should clearly depict what your company looks like. Be sure to include the name of your company, the type of company structure (LLC, for example), the location of the company and the names and roles of any key members of the ownership and management team.
You may also wish to include information about the size of the company, what industry the company serves, company history, descriptions of the products and services you offer and the target market, a mission statement and business objectives.
3. Operations
The operations plan section of your business plan should outline all operational aspects of your business, including equipment and manufacturing needs, projected expenses, supply chains and more. A good operations section of a business plan should explicitly delineate how your business will follow through on its promises and turn a profit.
Begin by describing your business's current state of development. Describe what you've already done to get the business going and what you still need to address. Clearly and honestly outline any risks associated with your business and provide a plan for managing these challenges should they arise.
Outline any industry organizations you're a member of and highlight a clear understanding of the laws and regulations associated with your business and the general legal structure that exists around your industry. It's important to show that your business will maintain compliance. Describe any quality control measures you've developed and how you plan to implement them sustainably over time. Include the names of your suppliers and what the budget will be.
Next, describe what day-to-day operations will look like within your business. Include hours of operation, equipment and materials needed for operations, assets the business already holds, production processes and time frames, how you'll manage inventory, product testing and, of course, how much everything will cost.
If you've already secured an operating business site, include any licenses, blueprints, lease agreements or other related documents.
4. Competitive analysis
The competitive analysis section of your business plan is devoted to analyzing any competitors and identifying strategies for staying competitive in your market.
Begin by identifying and profiling your main competitors. For example, if you are writing a restaurant business plan, you may want to identify any nearby restaurants in your area with a similar menu that may be serving the same target market. Outline their objective, strengths and weaknesses, and observe any marketing they have in place. How do they interact with their target market? How will you break into the industry and possibly take some of their market share from them?
Explain how you will adapt your business to successfully compete. This may involve tweaking your strategy or changing your plans. Consider the potential competition that may pop up over time as you expand and grow.
5. Market analysis
A market analysis is similar to a competitive analysis, but rather than focusing on competing businesses, the focus is on the state of the industry and your target market.
First, take a look at the industry you are entering. You should include the size of the industry, the top players within it and any relevant business trends. Use data from trade publications, government databases, official statistics and other reliable sources to research your industry.
Next, describe your target customer. Consider their age, gender, income, educational attainment, family status, occupation, lifestyle, and other relevant data to your industry. Analyze their values, needs and purchasing power. Use graphs, tables and other visuals in the market analysis section to better communicate your research.
6. Products or services
This is where you will describe your products and services to potential customers. Why is your product or service needed? What differentiates it from other products on the market? What special features might you have? Most importantly, you must communicate the value of your product or service to potential customers. Be specific about this.
7. Marketing strategy
Your marketing strategy should outline how you intend to connect with your target market and edge out your competitors. Identify your marketing goals, lead generation techniques and how you will measure the success of your marketing. How will you create a brand voice and message that resonates with your target audience? Clearly describe your marketing strategy.
Decide which channels you will use. Does your target audience enjoy using social media to connect with businesses? Would they benefit from direct mail? Think about where your typical customer may spend their time. Could you put up posters there or hand out business cards?
As with every other section in your business plan, you will need to estimate how much your marketing strategy will cost.
8. Financial projections and business costs
This is the section where you will summarize your financial projections and business costs alongside supporting data and documentation. This section should include a sales forecast showing projected sales based on market trends and data, a complete budget of expenses, a balance sheet, a cash flow statement, a profit and loss statement and any other relevant financial statements or documents you may have that relate to your business.
Follow the generally accepted accounting principles outlined by the Financial Accounting Standards Board, the private organization that sets accounting and reporting standards in the U.S. If you are unsure, hire an accountant. It is very important that your financial documents line up.
9. Short-term and long-term goals
Finally, you'll want to define your business's short- and long-term goals. Make sure these goals are SMART: specific, measurable, attainable, realistic and time-bound. Short-term goals should cover the next few months to one year, whereas long-term goals should span one to five years.
Go into business ownership with a comprehensive plan in place
Regardless of why you want to start a business, it is imperative to plan business ventures with intention.
Learning how to write a business plan is an important skill for a business owner, whether you intend to create a small-scale business to make money from home or dream of being the next big CEO of a billion-dollar company. Regardless, great businesses all start with great business plans.
Use writing a business plan as an opportunity to learn more about your industry and target market and to reflect on your company's goals. Don't rush the research process; take the time to craft a business plan that reflects your values.
Creating a business plan is a learning experience for you just as much as it is a tool to build your business and attract business partners and potential investors. Let your business plan be your roadmap to growth and success.