Meet the Billionaire Immigrant Who Just Made One of the Largest Donations to Hurricane Harvey Relief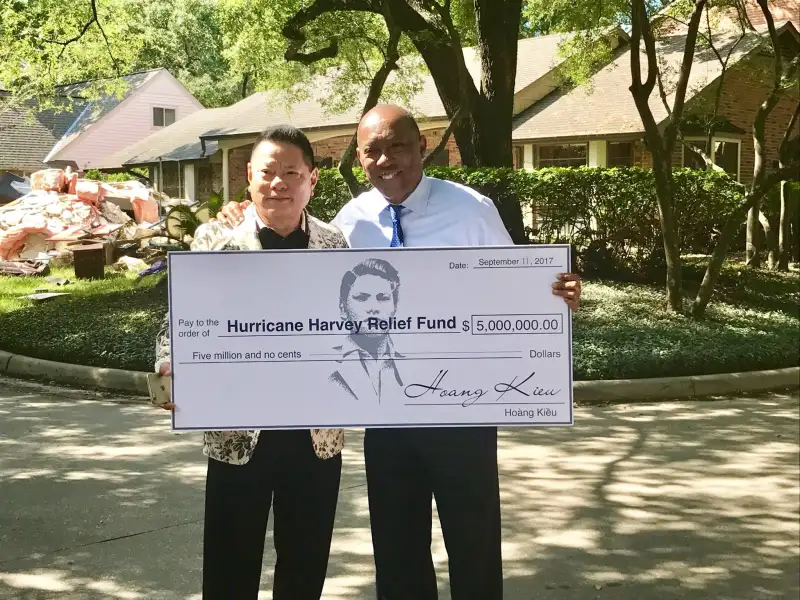 Kieu Hoang knows what it's like to feel helpless and desperate.
Growing up in rural Vietnam "barefoot and shirtless," according to Forbes, Hoang's earliest years were "very difficult."
Today, many in Houston find themselves in an equally precarious position after suffering through Hurricane Harvey. That's why Hoang, now worth $2.9 billion, announced Monday he would donate $5 million to improve the lives of the city's most vulnerable residents.
"Dr. Martin Luther King said 'I have a dream,'" Hoang said at the announcement of his gift alongside Houston mayor Sylvester Turner. "Thanks to the American people's help, I have realized some small dreams. … A dream to have immigration laws so that a lot of people do not live in constant fear of being deported. A dream to allow immigrants like me to come into this great America to make it greater."
Hoang expressed concern in particular for immigrants affected by the storm, given the current political climate. "Did you realize a lot of Houstonians dared not to check into shelter centers for help, as they are scared to be discovered and deported?" he said. "God help America (to) help them."
In an interview with Money, Hoang, who lives in California, explained why he wanted to help people who live so far away.
"Regardless of party affiliation, Republican, Democrat, Independent, sex, race, color, white, black, black, brown, red, yellow, we are all American," he said.
Hoang is perhaps the most financially successful Vietnamese to immigrate to America in the aftermath of the Vietnam War, a story owed to both luck and force of will.
At the age of 5, he was sent from his rural village in the middle part of the country to Saigon in the south to be raised by his uncle, a successful composer. Hoang spent one year at university studying science before volunteering as an interpreter for U.S. forces. In 1975, at age 31, he left for America, but not before using his U.S. Army connections to secure visas for others to leave the country — the first hint of his desire to help others in need.
He settled in Simi Valley outside Los Angeles, having been sponsored by the Westlake Village Women's Club and the United Methodist Church of Westlake Village. A church member who worked at Abbott Labs interviewed Hoang for an entry-level job. "With my intelligence I will be able to learn" whatever is needed, he told the company, according to Forbes. He was hired, and first earned $1.25 an hour.
He wasn't bluffing. Within a year Hoang was promoted to manager, and eventually director responsible for testing plasma samples. "I'm proud to say I got the first Bureau of Biology [early FDA] license for doing testing on plasma samples for Abbott labs," he told Forbes.
A few years later, Hoang decided to strike out on his own and founded his own plasma lab, called Rare Antibody Antigen Supply (RAAS). By 1985, RAAS had 11 centers spread across the United States.
The true turning point in Hoang's fortunes came when he decided to begin providing services in China — long before most major U.S. companies thought of doing so. He struck up a partnership with Shanghai Blood Center, and by 1992 had established a separate Chinese corporate entity, Shanghai RAAS.
Today, that company is worth $14.5 billion according to Forbes,which also lists it as the 4th-most innovative company in the world.
In the past decade or so, Hoang's attention has turned toward two activities — charity and wine. For the latter, he purchased the Michael Mondavi Family winery in June 2014; its bottles mostly enter the Chinese market.
As for the former, in 2005, Hoang returned to Vietnam for the first time since fleeing, building 5,000 homes as well as roads, bridges, temples, and schools, according to a company website. Just a few months before arriving in Houston with a gift of $5 million, Hoang donated $5 million to victims of flooding in San Jose, Calif.
He is particularly focused on making sure his money goes to the people it was intended for. He told Money that Bill Gates and Warren Buffett, who have "big hearts," don't always have the time to see the fruits of their charitable efforts.
"I want to see the worst area," Hoang said at the time, according to the San Jose Mercury News. He made the comments while walking through a flooded neighborhood and wearing a face mask before entering a crumbling apartment complex. "I want to step on the mud with my shoe."
Hoang said he is currently in talks about making a contribution to Hurricane Irma relief efforts.