I Made My First Million at 13. Here's My No. 1 Rule for Investing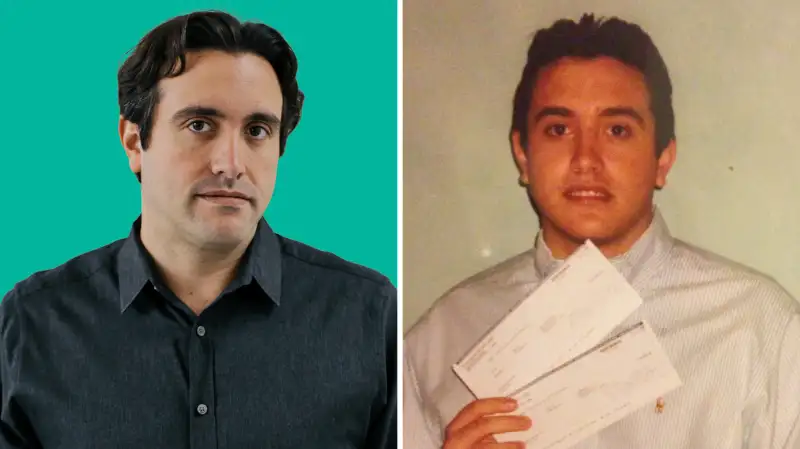 Becoming a millionaire by 30 is a rare enough achievement, but Michael Cammarata did it when he was in his early teens.
The cofounder and CEO of Schmidt's Naturals, which makes natural deodorant and other household products, brought in over a million dollars when he was 13 by running a web hosting company. Cammarata, now 32, was an avid player of the video game StarCraft, around the turn of the millennium.
"I got into computers. I was dyslexic and was struggling through school when I was around 11," Cammarata says. But he discovered an inviting new world in the internet. He learned how to build websites and program software through fellow StarCraft gamers.
Soon he borrowed $2,000 from his college-age brother to get a dedicated server, which allowed him to start a hosting business. When his dad found out about the purchase, he gave Cammarata several months to start making money from the venture. "I got tens of thousands of people to sign up when I was around 13. I got into a very large amount of money," Cammarata says.
He expanded by launching his own online advertising network next. "I transitioned into that at around 15 years old. I didn't have anyone to sell my inventory, so I asked my father if he could help me, and he introduced me to a sales group. My dad was really crucial. He got them to sell my ad inventory," he says.
Cammarata has since used his fortune to invest in a wide array of companies from tech to naturals. Schmidt's has become one of the biggest players in its field, recently adding toothpaste and soap to its products. Unilever acquired Schmidt's at the end of 2017, and Cammarata is working to make his brand even more mainstream.
We talked to Cammarata about his unusual career background, the hard lessons of becoming rich early, and his business mantra.
Cammarata's first millionaire snafu
Cammarata scored over a million nearly overnight with the web hosting company he operated on his server. After figuring out how to automate the process, as he had no employees or budget, money from customers started piling up.
"A little lesson I learned is that I signed up with a credit card processing company [to handle transactions]. I went from zero money to millions of dollars in revenue," he says. But he had one big problem: the processing firm held the cash, which he needed immediately. "The bandwidth bill was in the millions of dollars. So I was able to very early on, with the help of my dad, structure my cash flow because I wasn't really thinking like that being 13."
Cammarata's father came from a corporate background, having worked at McCann Erickson. "He brought me back to the numbers," Cammarata says. And his dad's help connecting him to a sales team allowed him to push his ad network reaching 150 million people a month to clients, which became a lucrative business of its own.
His biggest mistake, and how he learned to trust his 'vision'
As Cammarata's businesses grew, "attorneys and advisers magically appeared," he says. "I had to learn how to deal with all these opinions. I wasn't used to it back then and gave them more weight than I should've."
One poor judgment call in particular sticks out. "I wanted to take a big stake in Blizzard [the company behind Starcraft and Warcraft], put two million in it. People said, 'You're crazy.' They made my favorite game. I thought it was cool," he says.
Though he was willing to lose it all, friends and advisers talked him out of it over many sessions. He lost out in the end. "Oh my God," he says of what could've been. "Blizzard merged with Activision shortly after. I still do have stock in Activision Blizzard, but the amount of stake in the company I would've had... It would've been cute. It could probably have pushed me into the billions faster and could've changed the direction of my life."
But that non-move gave him a bit of wisdom that has proved invaluable since. "If I could go back, I would definitely take even more risks and trust my gut even more. Hesitating or not trusting your instinct is probably the downfall of most people. I had such a clear vision and still have a clear vision, but you can't let the noise come in," Cammarata says. "I was dyslexic, I could barely read and write, and I tried to be normal and fit in. It didn't work, and I learned it's okay to be different. Dyslexia is an advantage because I see things differently than most people."
Doing things the hard way
Cammarata graduated high school early and never went to college. In his late teens, he was busy trying to build his mini-empire.
"I was learning by trial and error, and there are definitely moments where you learn more about people and their capacities," he says. "On the investment side, probably the hardest is doing due diligence on companies."
One headache resulted from hiring an outside firm to look into a company he was investing in that sold consumer electronics. "I assumed they did it correctly. They didn't cross-check licenses for all products," he says. "The company started losing money because they didn't have the right licenses."
He suddenly had to come up with a plan to restructure the company and make it a profitable investment. "When you have advisers, you can't accept their word as gold even if you hire the biggest firm," he says. "I had to be active and hands-on in my investment portfolio, really do the work myself, and not rely on other people to do work for me. When you have money, it doesn't change that you have to act like you don't. If you just rely on experts, you're going to fail and have a rude awakening."
Listening to the customer
"I always wanted to manage a rock band," Cammarata says. He got his wish, and another unlikely professional detour, when he started managing the boy band Big Time Rush, formed in 2009. The band launched its own show on Nickelodeon, which became one of the highest-rated live-action programs for the network.
"It taught me two things: how to really scale a promo, utilize different PR firms' specialties, and time it with content and a social-media strategy. It's really complicated," he says. "I learned how to launch a product."
And in doing so, Cammarata developed another idea. "I interacted with the fans in real time on certain platforms," he says of working on the band. "By being on the ground listening to those consumers, those females," he discovered their passion for natural products, in particular deodorant. "I knew they were going to be the next generation of household purchasers."
He eventually bought Schmidt's, at the time a tiny company in Portland, Oregon, which sold its deodorants in jar form. He had to learn how to get its powdered product into a stick and in doing so, was able to scale Schmidt's into a market leader. It's gone from four employees in an office attached to a pet store to over 150 employees.
His No. 1 rule for investing
One thing has remained consistent in Cammarata's ventures since he launched his web hosting phenomenon at 13: He spends money only on what he believes in. That remains true across his work as an investor.
"My philosophy from when I was a kid was I always wanted to have a positive impact on the world and push humanity forward," Cammarata says. "When I started to invest, I looked for companies with purpose." He would get to know companies for two to three years before jumping into business with them.
He'd advise that other aspiring entrepreneurs do the same.
"Deploying money into things that don't give you personal purpose doesn't work," he says.