Why I Refuse to Buy My Son a Hoverboard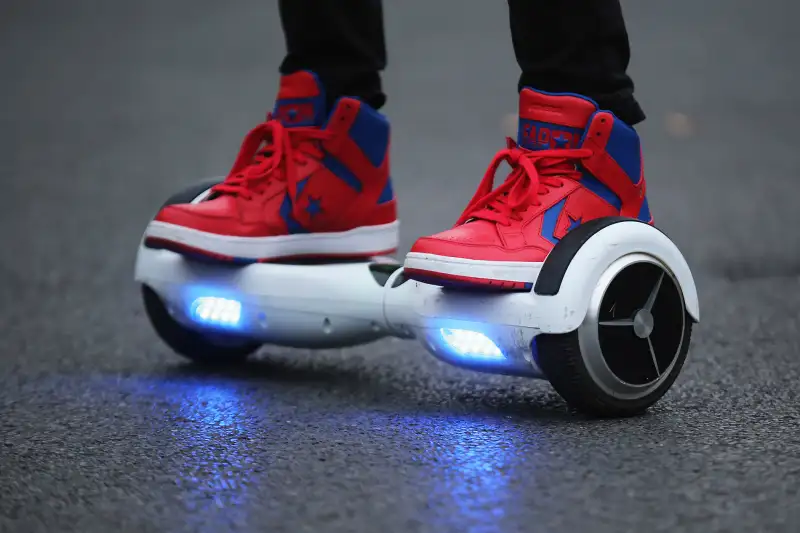 Christopher Furlong—Getty Images
Christmas is weeks away and my 11-year old son, like every other child of privilege in America, wants a hoverboard, those about-to-be omnipresent 2-wheeled, battery-powered platforms that roll you forward at about 3 miles per hour, made to look a lot cooler than it really is by some strategically-placed LED glow lighting.
No one seems to be able to agree what to call these things—electronic unicycle? self-balancing scooter? intelligent skateboard?—but in order to get one that won't explode into flames you have to fork over a minimum of $400.
Why do I refuse to buy one? Let me count the ways.
First, a hoverboard is a terrible investment. It's got "use five times before it breaks" written all over it. It can't even transport a kid down the street like a bike or skateboard or rollerblades or, well, your feet. (Because as everyone knows, kids today spend far too much time walking.) I've heard hoverboards work great in the house or, even better, in a basement, which is exactly where I want my son to be spending more time, because as everyone knows kids today are outdoors way too much.
Then there's the price tag. I don't intend to spend more than $400 total on holiday gifts for my kids, much less on an extremely overpriced fad that brings my child no tangible benefit. (See "All I Want For Christmas: Frugal Kids.") I've bought Pokemon, I've bought Shopkins, I bought Rainbow Looms, I even bought Silly Bandz, but they cost a fraction of a hoverboard and carried no risk of concussion.
But the real reason I won't buy my son a $400 contraption that looks like a discard from the prop room of "Lost in Space" is that I want him to learn how to weigh consumerism and the desire for material things with the creation of wealth required to buy them. I've thought a lot about what drives people to make, save, and invest money as opposed to spending it. And while it's complicated, I believe it has something to do with how easily things like hoverboards come your way. And while it's not really fair to tell him this because he can't go out and get a job at age 11, the message that I want to convey is this: If you want to own things as expensive and frivolous as a hoverboard, you'd better be prepared to work very, very hard for them.
In the short-term, he may be too young for me to take the "spend your own money " route. But what I can say to him is, as much as I love you, that hoverboard costs too much of my working hours given what it provides in return to justify buying it. And that I have to weigh purchases, even during the holidays, in order for me to stay within my budget instead of raiding emergency funds or retirement accounts to pay for Christmas presents.
Of course, this doesn't make me the most popular parent on the block. But maybe it will save him from learning that lesson the hard way in the future.
Konigsberg is the author of The Truth About Grief, a contributor to the anthology Money Changes Everything, and a director at Arden Asset Management. The views expressed are solely her own.