Grill Without Getting Grilled By Your Landlord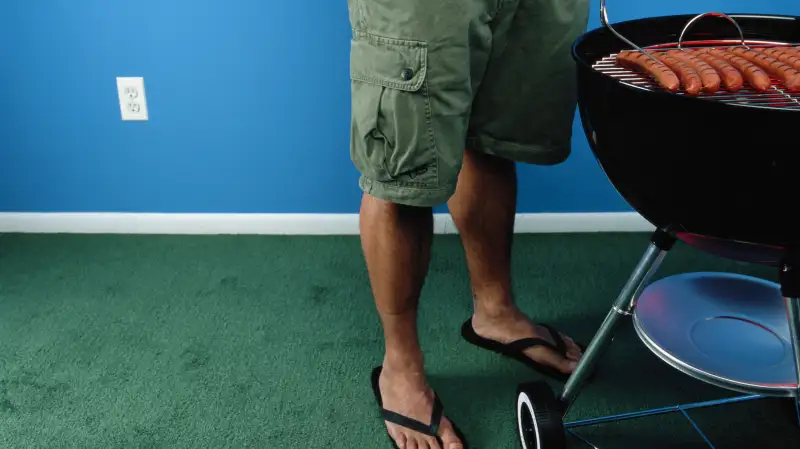 Anthony Saint James—Getty Images
This Friday, millions of people across the country will take to the backyard and celebrate their independence by grilling up burgers, hot dogs, and other all-American fare. But, like every year, one group will feel left out of the fun: renters.
Landlords just aren't big on their tenants having cookouts. In a Rent.com survey, 60% of respondents stated they were barred from having a grill on their property, and more than 25% said they lacked a common area for grilling. Even those that do have access to a shared grill aren't in the clear. Almost half complained their neighbors never seemed to clean up after themselves, listing a dirty grill as their primary peeve.
Luckily, renters don't have to give up on their cheeseburger and bratwurst dreams. Thanks the to magic of indoor grilling, you can whip of a Fourth of July feast to remember in the comfort (and air conditioning) of your own home. Here are five tips from Sur La Table's Sephi Coyle, director of culinary programs, on how to get the tastiest results.
Invest In a Good Cast-Iron Grill Pan
The key to indoor grilling is achieving consistent high heat, and to do that, you need a good grill pan. Coyle says a quality piece of cast-iron will cook everything quickly and efficiently, and even leave those trademark grill marks on your food. Perhaps best of all, a decent grill pan (also known as a griddle or skillet) shouldn't cause to much pain to your wallet. Slate's J. Bryan Lowder says a decent model will set you back between $40 and $80.
Don't Be Afraid To Use The Oven
As anyone who has ever grilled before knows, underdone is preferable to overdone. Coyle recommends a light touch on the grill, followed by a trip to the oven for any still-undercooked food. That's going to taste a lot better than outright burning your patties on the griddle in an effort to get them fully cooked.
Keep Adding Flavor
You can add flavor before, during, and after grilling, and Coyle says you should do all three. Marinate food before putting it on the grill, and then use a brush to baste items while they're cooking. Eating Well has a chart with different marination times depending on what you're grilling, and also offers a few marinade recipe suggestions.
After you're done, serve up your stuff with some serious condiments. Coyle suggests pesto, salsa verde, or the classic BBQ sauce. Serious Eats taste tested 16 different sauces and picked three winners: Bull's-Eye Original, TJ's Bold & Smoky, and Stubb's original BBQ. Match your meat with one of these top picks and you're guaranteed a successful cook-out (or in this case, cook-in).
Pick The Right Oil
When grilling, you don't want the cooking oil contaminating your food's flavor. Coyle says the trick is to use vegetable or canola oil since both have a neutral flavor and high smoking point, the latter of which will give you a better sear.
Make Sure To Have The Tools You Need
Just because you're grilling indoors doesn't mean you don't need much of the same equipment that an outdoor grill requires. You'll want some tongs, a spatula, and silicone pastry brushes for marinating. The Sweethome, a review site for household products, has listings for the best BBQ tongs and spatula, and Amazon lists a number of highly rated brushes for under $10.
Happy grilling!