Yes, College Is Still a Good Investment—and Here Are 3 Ways to Make It a Better One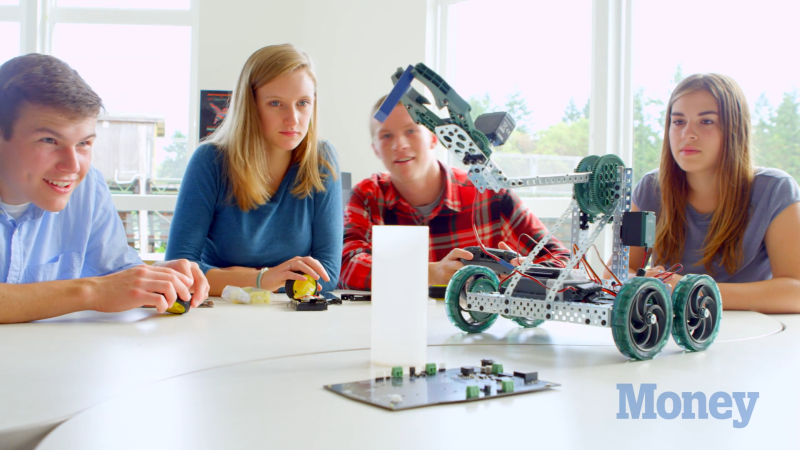 The rising cost of college has become a fixture of national conversation, with 2016 presidential candidates on both sides floating ideas for tackling it, and thought leaders debating whether mounting student debt constitutes a "crisis." This could lead students and parents to wring their hands about whether the payoff from college merits the price tag.
That concern is compounded by high jobless rates among Millennials—many of whom went to college during the recession—and the few high-profile success stories of entrepreneurs who dropped out of college. Despite these mixed signals, it's now clearer than ever that having a college degree is vital to thriving in the 21st century economy. Landing a job that pays well and provides generous benefits increasingly depends on getting an education beyond high school.
Ample data underscore the return on college investment. A new study from Georgetown's Center on Education and the Workforce shows that so-called "good jobs," which pay the median household income of $53,000 or more annually and in most cases offer benefits, made up nearly half of new jobs added during the economic recovery, and 97% of good jobs went to college graduates. Meanwhile, the wage difference between college graduates and non-graduates nearly doubled—from 33% to 62%—from 1980 to 2013, even as the supply of college graduates grew over the same time period.

NEWSLETTER: COLLEGE_PLANNERSign up for COLLEGE_PLANNER and more View Sample
Given these realities, it's time to change the national conversation from fixating on the value proposition of college to making sure that all students get the best return on investment. That involves preparing students for the workforce, making college more affordable by maximizing student aid, and empowering consumers with essential information so they can invest in the best programs. Three fundamental shifts in the higher education system would make this possible:
Measure learning—not time in the classroom. We've long measured whether students are prepared to graduate from college based on their completion of classes and accumulation of credit hours. But that doesn't tell students—or prospective employers—whether they have the requisite skills and knowledge to succeed in the workforce. There's a growing movement to shift this paradigm by requiring students to demonstrate they've mastered the competencies needed for their fields in order to earn a postsecondary credential. This approach is not only more effective for understanding students' readiness; it also could help reduce college costs by allowing students to hone their talents at their own pace, not on a fixed, credit-hour-based timetable.
Improve financial aid so students get the most from it. Financial aid is essential to help cover the cost of college and make it more affordable, but the rigid rules and cumbersome processes of today's system make it challenging for some students to maximize resources. Student aid should be flexible so that students can draw it down to account for unanticipated costs, regardless of award-year limitations. Additional aid should be available so students have an incentive to enroll year-round and accelerate degree completion. Applying for aid also should be streamlined so it's more accessible. And when students take on debt to pay for college, it should be repayable at a fair rate and on a reasonable timetable.
Help consumers make good decisions. Students and parents must have access to information about institutions' outcomes so they know what they're investing in and understand the likelihood that a credential earned through a program will lead to success. The College Scorecard recently launched by the U.S. Department of Education to provide information such as colleges' graduation rates, debt levels, and alumni salaries—though an imperfect tool—provides a good start. We can build on this by ensuring that students and parents have access to a host of data that will support them in making smart decisions, and making sure that all students are included in the data, not just full-time, first-time students.
Making these shifts is critical for our economy. Two-thirds of all jobs will require postsecondary education by 2020, but today only 40% of Americans have attained at least an associate degree. It's equally important for creating a more equitable society. All students need a higher-education system that provides a better return, but such a redesign is especially important for the low-income, first generation, minority, immigrant, and working-adult students who are quickly becoming the college majority and face greater roadblocks to success.
With these changes in place, it will be up to students and parents to make wise decisions about higher education. Not all "college" is created equal, and consumers must be smart about investing in the right programs, tackling learning efficiently, and using available aid to their advantage.
They can focus on answering these questions, knowing that the response to "is college worth it," remains a resounding "yes."
Jamie Merisotis is president and CEO of Indianapolis-based Lumina Foundation and author of America Needs Talent: Attracting, Educating & Deploying the 21st-Century Workforce. For his advice on what to look for in your college search, click on the video above.
And for more advice and tools for finding a college that's right for you, visit the new Money College Planner.