Is Travel Insurance Worth It?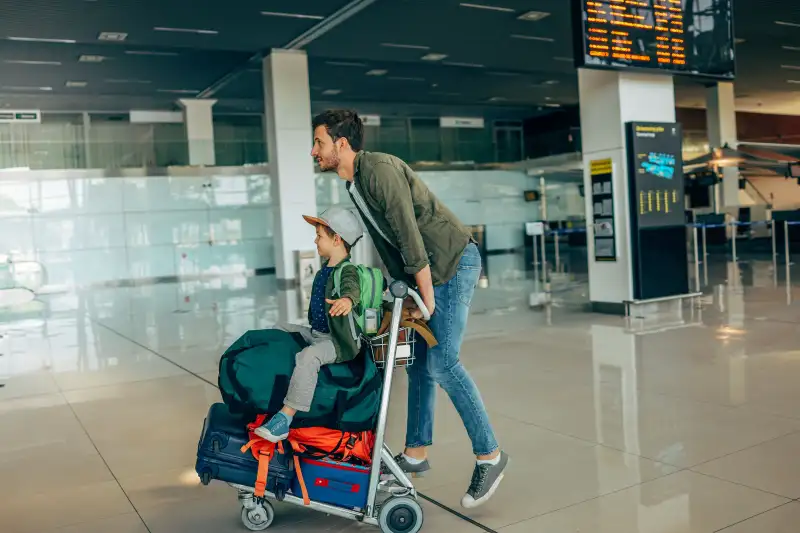 Travel is getting more expensive. Between rising airfare costs and overall inflation, it's natural to want to protect your trip investment. A primary benefit of getting the best travel insurance is the knowledge that you can get some of that money back if anything goes wrong.
Something might happen, or it might not. Here are some insights so you can decide whether travel insurance is worth your while.
Analyzing the Pros and Cons of Buying Travel Insurance
Pros
Covered medical expenses and emergencies
Protection against losses
Travel assistance and concierge services
Cons
You might not use it
It doesn't cover everything
It can be expensive
Is travel insurance a good idea? It depends on your financial situation and your risk tolerance as a traveler. Some people feel it's always worth getting travel insurance because they're paying for peace of mind and to minimize their financial risk. To help you decide if it's worth it for your trip, here are some advantages and disadvantages of purchasing travel insurance.
The pros of travel insurance
Travel insurance benefits reduce your financial losses due to health events, lost luggage or other travel troubles, giving you flexibility and confidence when you venture out into the world.
Covered medical expenses and emergencies
Health insurance doesn't always travel with you. If you have a large national insurer, either private or government-sponsored, you might be able to get in-network care when traveling within the U.S. However, if you have a regional healthcare provider or are traveling internationally, you may not have the necessary coverage.
Travel medical insurance can provide security if you're worried about getting sick or injured on a domestic or international trip. If your health insurance plan has limited coverage where you're going, a travel health insurance policy may offer substantial protection.
Protection against losses
U.S. travelers typically spend thousands of dollars on their trips, including flights, other transportation, hotels, food and activities. That's a lot of money if you have to cancel or cut your trip short, which happens more often than you might think.
Travel insurance can reimburse you for some or all of those lost costs, depending on the type of coverage you buy and whether your trip cancellation is eligible for coverage.
Travel assistance and concierge services
Many comprehensive travel insurance policies now come with assistance or concierge services. Travel assistance is typically a 24/7 hotline that helps travelers with urgent issues, such as:
Finding a doctor in a medical emergency
Replacing a lost passport
Booking emergency transportation home
Leaving a dangerous situation
Concierge services assist with ordinary travel needs, as a hotel concierge would. Examples include:
Hotel or restaurant reservations
Event and excursion tickets
Weather forecasts
Activity recommendations
Insurance policies offer different levels of assistance, with higher-end options providing more personalized help. It's a helpful extra for travelers who want to get the most from their insurance policies.
The cons of travel insurance
Travel insurance provides some reassurance and can come in handy, but it has its downsides. Here are three of the most common.
You might not use it
As with any insurance product, you pay for travel insurance whether you file a claim or not. Even if you never have to file a claim, you can avoid paying for excess coverage by picking a policy that meets your trip details. For example, if you only plan to bring a carry-on bag on your flight, you probably won't need a plan with the best lost/delayed luggage option.
It doesn't cover everything
Even the most comprehensive travel insurance policy doesn't cover 100% of every situation. Standard policies have covered reasons for canceling. Most covered reasons are out of your hands and unforeseen — for example, if you or a loved one has a medical emergency that prevents you from traveling.
Travel insurance usually won't reimburse you for a pre-existing condition that could predictably impact a trip. This includes illnesses or injuries within the six months prior to when you purchased the insurance. However, if the pre-existing condition has been treated, is stable, and you have been cleared to travel by a doctor, the insurance might provide coverage.
Standard policies also won't cover cancellations for personal reasons, though you can purchase cancel for any reason (CFAR) travel insurance — a rider that lets you cancel your trip for reasons a standard policy wouldn't cover. However, even these policies won't fully reimburse you.
It can be expensive
The cost of travel insurance averages between 4% and 8% of your total trip cost, which translates to $200 to $400 for an average $5,000 trip.
The more a policy covers, the more it costs. You have to decide whether to pay more for additional coverage or save money and get the basics. Both options have their risks. You might opt for standard trip cancellation service and then wish you'd sprung for a CFAR policy when you land a job interview on the day you were supposed to leave.
Or maybe you buy the CFAR coverage, and nothing happens to prevent you from going. Is it worth a few hundred dollars to know you could have canceled? Only you and your travel budget can answer that question.
Travel Insurance Policy Exclusions
Choosing to purchase travel insurance only makes sense if it covers circumstances that could affect you. Every policy has a list of situations that it won't cover, called exclusions, that you must check so you know what you're getting into. Exclusions vary by insurer but some of the most common are:
Epidemics and pandemics. As many travelers discovered during the COVID-19 pandemic, known global health situations aren't covered events, even if the situation unexpectedly gets worse in your chosen destination.
Pre-existing medical conditions. Travel insurers typically won't cover a medical event if you had symptoms or treatment during the "look-back period" — typically 60 to 180 days before you bought insurance.
Predicted natural disasters and weather events. If you buy insurance after experts predict a natural disaster and it impacts your travels, your policy won't reimburse you.
Excluded personal items in luggage. When you lose your luggage, insurance only covers you up to a certain amount and may exclude certain items, such as glasses or hearing aids
Booking errors. If a travel provider makes a mistake — for example, if they double-booked your hotel reservation — your insurance won't cover you.
Travel insurance works by inclusion, not exclusion. Don't expect reimbursement if your policy doesn't name a specific circumstance as covered. Read your policy's contract in detail before you buy, whether or not you have a particular travel worry.
What you should consider before buying a travel insurance policy
Before you sign on the dotted line, you have to make three choices: whether to buy insurance, what kind to choose and who to buy from. Use these key questions to guide your decision-making:
How confident are you in your plans? If you suspect that something outside of your control could prevent you from traveling — for example, if you're a caregiver to a child or medically fragile adult — you may want to invest in a policy.
How risk-tolerant are you? Some travelers want certainty regardless of the likelihood of something going wrong.
How much will you pay for peace of mind? Think about whether your insurance policy will be a good investment simply because you'll worry less.
Can you afford to rebook your trip if you have to cancel? Rebooking will probably cost you more without insurance. Whether that surcharge is worth the gamble is up to you.
Can you afford trip interruption costs? Cancellations aren't the only reason to make an insurance claim. Changed flights and new luggage costs can add up.
Does your health insurance cover your care where you're going? If not, travel health insurance is probably a good idea.
What does the policy cover? Every policy has different coverage limits and rules. Read the details of the policies you're considering before you choose.
Are there additional coverage options? If a policy doesn't provide enough coverage, find out if the insurance company offers add-ons.
Furthermore, you should consider what you need the policy to cover. There are different types of travel insurance coverage, including:
Trip cancellation insurance: Reimburses your travel costs if the trip doesn't happen due to covered circumstances
Baggage loss: Reimburses the costs associated with lost luggage
Travel medical and major medical insurance: Provides short-term health coverage for your trip
Emergency medical evacuations: Covers the cost of air or ground transportation to the nearest medical facility and your home facility, if necessary
Accidental death and dismemberment: Pays a certain sum if you lose a limb, an extremity or your eyesight due to a travel accident; pays your beneficiaries if you pass away while traveling
Comprehensive travel insurance plans typically cover all of the above, but check each policy's terms to be sure. "Comprehensive" isn't a standard category that ensures any particular level of coverage, and every insurer has the freedom to choose what it includes.
Travel Insurance Alternatives
If you decide against travel insurance, you can get protection in other ways. Consider these four options.
Credit card travel protection
Some credit card companies include protection for travel costs charged to your card. This coverage varies by provider and has many of the same benefits as standard travel insurance. Most of the best travel credit cards include insurance coverage with benefits such as:
Trip cancellation and interruption
Lost or delayed luggage
Auto rental coverage
Roadside assistance
Emergency medical and dental care
You can also get travel protection from some of the best airline credit cards and a few of the best travel rewards credit cards offer protection as well. Most cards that offer travel protection charge an annual fee, which can pay for itself if it replaces third-party insurance.
Trip protection from travel providers
Many tour companies offer trip protection plans that provide coverage for trip cancellation, baggage loss and medical costs. Select travel booking sites also offer trip insurance.
Check your travel provider's website or contact the company and ask if it offers trip protection. Most that do will provide several levels of coverage.
Membership clubs
Membership clubs, such as Diners Club International®, the American Automobile Association (AAA) and even Costco, have travel insurance plans exclusively for members. Some clubs offer the protection directly to members, whereas others require you to work with a third-party provider.
Vacation and travel clubs often have insurance options for members, too. If you belong to a vacation or membership club, contact a member services representative to learn what coverage options are available.
À la carte coverage
Although the typical travel insurance company only offers coverage packages, some offer à la carte coverage. For example, American Express has a customizable insurance option that lets you build your policy. This way, you can choose what you want your policy to cover and pick the level of coverage you need.
It's also possible to purchase riders for standard policies. One typical example is CFAR coverage, which you can add to a basic policy to get extra protection.
Is travel insurance worth it?
If the pandemic has taught us anything, it's that plans aren't certainties. And when you've spent months researching the best places to travel and what to do there, you deserve to know it'll happen even if you have to reschedule. Travel insurance can reimburse you for nonrefundable costs so you don't lose the money you've set aside for your trip. The flip side is that you'll pay for the product whether or not you use it. Research the companies and decide whether the costs of travel insurance make sense for your budget and risk tolerance.