Meet the 29-Year-Old Blogger Getting Paid $10,000 a Month to Vacation in Cancun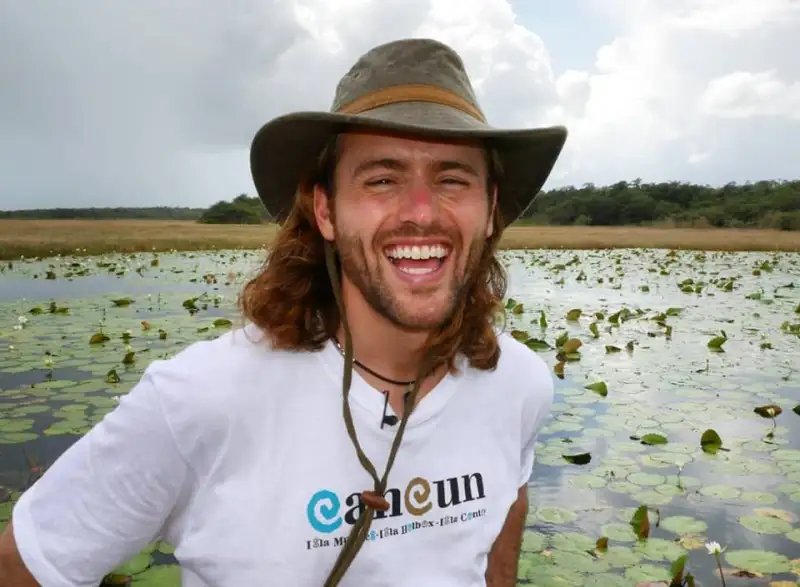 Ivan Nanney just scored what most people would consider a dream job: getting paid $60,000 to sleep in luxury hotels, scale Mayan ruins, and swim with 40,000-pound whale sharks in Cancun for six months.
And he owes it all, he says, to the Idaho potato.
The tourism website Cancun.com announced a search late last year for an energetic, social media savvy CEO — a "Cancun Experience Officer," that is. Competition for the CEO role included several rounds, with 8,000 participants from over 120 countries whittled down to the top 100, top 50 and top 10.
Ultimately, Nanney got the gig.
"I can't wait to get started," he says. "It's a little surreal — it won't hit me until I get home and everyone reminds me that it's not a dream."
Cancun is just one of many locations on Nanney's stacked travel resume. Over the last decade, the 29-year-old has traveled to 42 U.S. states and 32 countries, including almost all of South America, plus India, Sri Lanka, and Japan.
Nanney graduated summa cum laude from Boise State University's business school back in 2011, but wasn't sure what to do with the next stage of his life. To get some clarity, Nanney says, he began his job hunt the same way many confused post-grads do: "good, old-fashioned Craigslist." On the site, Nanney found what the gig that would launch his career: traversing the country in a truck carrying a 12,000-pound Idaho potato.
The potato-truck was a branding tour on behalf of the Idaho Potato Commission, a state agency tasked with promoting Idaho-grown potatoes. He became the face and voice of the commission, participating in festivals and events all over the country.
"Idaho is famous for its potatoes," Nanney said. "It's something everyone knows you for when you travel around the state."
Nanney took four tours across the country with the Idaho Potato Commission, but after retiring as a spud spokesman, he went back to his Boise and wound up shooting a video promoting his hometown. The video got picked up by Amazon Prime, and Nanney was hired to help host the Amazon show The Fireball Run, which documents some of the most unusual places in America.
With the money he got from that and other seasonal gigs, Nanney started traveling the globe and documenting his trips on YouTube and his own website. He wanted to show people, he says, that "you don't need to have millions of dollars to travel."
Once Nanney decided to throw his hat in the ring for the Cancun job, he again got some help from the Idaho potato.
He promoted his Cancun.com application at Boise's annual New Year's Eve Idaho Potato Drop, when the city lowers a giant illuminated potato in front of city hall. Nanney made a promotional video of the event, asking residents to vote for him for CEO online.
The potato caper paid off: Cancun.com ultimately selected Nanney for the promotional job, which starts in March.
"I'm used to moving around a lot when I travel, but I haven't gotten the chance to really live and get to know a place intimately," Nanney says. "Going beyond the superficial, [or] what you normally see on a vacation, is what I'm excited about."