Ivanka Trump's Brand Is Thriving, Especially in China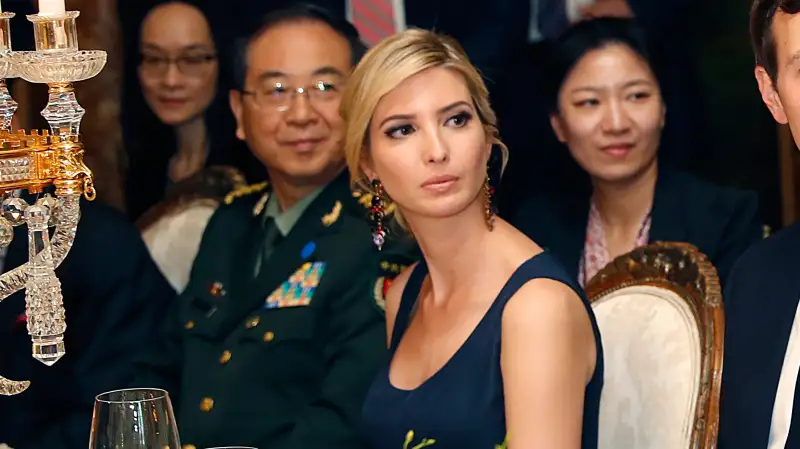 The beginning of the year saw a surge in American companies pulling Ivanka Trump products off their shelves.
In China, it's a different story.
The Associated Press reports Ivanka product imports surged an estimated 166 percent last year, and almost all of them were from China. That has caused sales for her brand to hit record levels in 2017.
Earlier this month, Ivanka Trump's company won monopoly rights to sell Ivanka-brand jewelry, bags, and spa services in China, a major gain in a country with soft trademark rules.
It adds up to an "Ivankamania" phenomenon in the world's second largest economy.
In a recent piece on the trend, the New York Times reported that she is frequently referred to as a "goddess" on social media in China. The New Yorker says she often draws comparisons to the legendary Xi Shi, "the most beautiful woman in ancient China." A video showing Ivanka's daughter singing a a traditional Chinese song, in Mandarin, for China's president, Xi Jinping has been played over 2.2 million times on China's popular news portal qq.com.
"She's very independent," Wang Jiabao, 28, a reality television producer in Beijing told the Times. "She represents what we're looking for — to marry into a decent family, to look good, and to also have your own career." Xinhua, the official news agency, has described Ivanka as having an "elegant and poised style."
Ivankamania began almost immediately after her father was elected president: Shanghaiist reported that at least 65 applications were filed in China to trademark the name "Ivanka."
Many are crying foul over this month's trademark news, noting Ivanka Trump's company received the approvals the same day she dined with President Xi Jinping. And, despite President Trump's frequent comments focused on boosting American manufacturing, many of Ivanka's products are made in China.
"Ivanka has so many China ties and conflicts, yet she and Jared appear deeply involved in China contacts and policy. I would never have allowed it," Norman Eisen, who served as chief White House ethics lawyer under Barack Obama told The AP. "For their own sake, and the country's, Ivanka and Jared should consider stepping away from China matters."
The Chinese seem unfazed.
"A lot of people think Ivanka is the real president," Li Moya, 31, who runs an app for renting venue space in Beijing, told the Times. "We think she has the brains, not her father."