Meet the Richest Man in Florida, a Hungarian Immigrant Who Hates Socialism and Hangs Out at Mar-a-Lago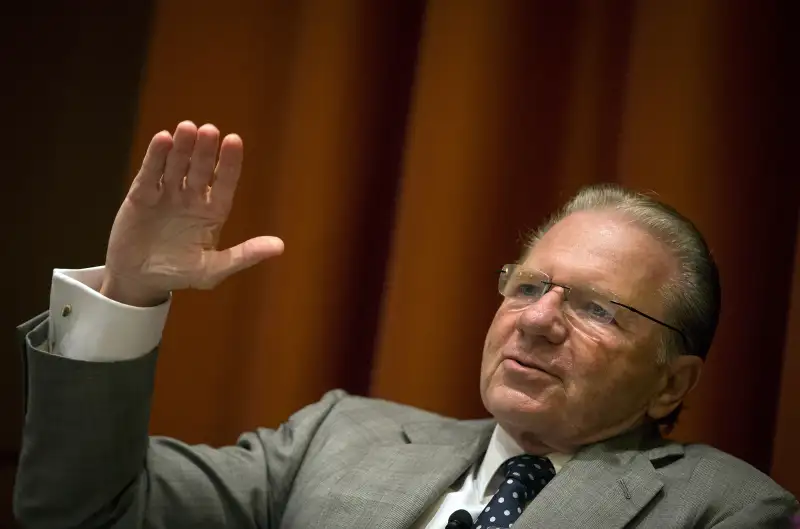 President Donald Trump has stirred controversy for his stance on immigrants and refugees. He ordered a ban on refugees from several Muslim-majority countries soon after taking control of the White House, and his administration has been cracking down on immigration, working to reduce the number of immigrants allowed to enter the U.S. while also calling for beefed-up screening of those being considered for entry.
Curiously, as it turns out, one Trump supporter — who happens to be the richest person in Florida — is an immigrant and refugee himself.
Thomas Peterffy, the founder and chair of the trading firm Interactive Brokers, is ranked by Bloomberg as the 57th-wealthiest person in the world. With a net worth of approximately $17.3 billion, he is the richest person in all of Florida. He lives in Palm Beach, and is a member of Trump's Mar-a-Lago club, where initiation fees now run $200,000.
Such a life would have been impossible to have foreseen given Peterffy's origins. He was born in 1944 in the basement of a Budapest hospital during a Russian bombing raid (Hungary was allied with the Axis powers at this time). Eventually the country was taken over by Communists, and in the face of Soviet rule, Peterffy dreamed of escaping to America.
In an interview with Money, Peterffy revealed that as a child he consumed his grandmother's cache of censored Horatio Alger books — stories about people with humble origins who overcame their circumstances and achieved great success.
"I understood about the idea of capitalism," he said. As Peterffy saw it, capitalism was the only system that offered freedom of opportunity for people to use their talents to reach their goals.
Today, Interactive Brokers, the firm Peterffy created four decades ago, is the world's largest electronic broker by daily average revenue trades, according to Bloomberg. Peterffy owns 75 percent of the company, which has a market cap of $18.8 billion.
Peterffy says he didn't set out to become wealthy. Though he'd heard of the stock market before he coming to the U.S., he mostly lucked into trading.
In June 1965, while barely out of his teens, Peterffy left Hungary for Germany, where he waited six months for a valid permit to emigrate to the U.S. His father was already in America, and Peterffy finally arrived in New York City at the age of 21, on December 12, 1965. He didn't speak any English, and Peterffy admits to being intimidated upon arriving.
Thanks in part to connections in New York City's Hungarian community, Peterffy landed a job as a draftsman for a company that designed highways. One day the company bought a computer. No one seemed to know how to program it, so Peterffy volunteered. He found he had a facility for the technology — and realized the potential computer software had to increase value to its users. Indeed, Peterffy says that if he were starting all over today, he would still learn how to design software, which he says has still only begun to show its utility.
"Software makes the world go round," he says. Artificial intelligence, material sciences, nano sciences, and molecular biology all represent fields in which valuable new products and services can and are being created, he adds.
Peterffy's computer skills were in demand, and by 1977 he had saved $200,000 from having built trading software for Wall Street firms, all while developing his own model for pricing options. He used the savings to purchase a $36,000 seat on the old American Stock Exchange. (According to Investopedia, exchange seats today range in price from $4,000 to $2.5 million).
After some early mistakes, including losing half his capital — $100,000 — in one bad trade, Peterffy realized he had to become more disciplined. "Discipline is important for everything in life," he says. "Self-discipline is what separates the winners and the losers."
He also learned of the necessity to trade more precisely and quickly than his competitors. Eventually, he designed a handheld device that allowed him to process trades instantaneously on the floor.
"I don't think my basic business strategy is well known by the public, probably because people think it's too simple," Peterffy says. "My strategy has always been to try to focus in on a product or service where you can create a dollar of value for 20 cents, and sell it for 40 cents.
"The only way to do that is to use technology that has not been used before in producing that product or service. If I can create that dollar, then I'm already ahead 20 cents of earnings, and I'm going to keep way way way ahead. That's what I've been all doing all along."
Peterffy slowly grew his trading firm to dozens of employees, and focused on expanding into as many exchanges as possible. All the while, the company stayed at the cutting edge of trading technology, with a ratio of computer programmers to other employees of 5:1.
Today, Interactive Brokers has over 1,000 employees worldwide, and is ranked by Barron's just a 1/10th of a point behind Fidelity as the No. 1 online broker in the country.
Beyond his status as a billionaire entrepreneur, Peterffy may be best known for his staunch opposition to socialism. During the 2012 election season, he spent millions on commercials warning against the dangers he perceives of wealth distribution and some other socialist concepts.
His greatest political preoccupation today is still socialism, and he finds the growing interest in it among young people disturbing. "I think American youth have no idea what they are talking about, they are completely too prone to emotional outbursts," Peterffy says. "Analysis would simply prove to them without incentive there is no effort.
Peterffy, who became a U.S. citizen at the age of 26, does not believe it is more difficult to become wealthy in America today, even for immigrants. He calls the idea "nonsense."
"Provided that your goal is to assimilate yourself, and to contribute," he says, it is certainly possible for an immigrant arriving in 2017 to someday reach his level of success. "If you're willing to study hard and work hard, the world is your oyster."
As for Donald Trump, Peterffy says he "wasn't his first choice" as president, but he eventually backed Trump's candidacy, and he donated $150,000 for Trump's inaugural committee.
Peterffy continues to support Trump, saying he believes the media has treated him unfairly. "He's in a very tough position, and he's hanging in there, and I think it's wonderful," he says.
Peterffy has been married once and has three adult children. Having just turned 73, he says his greatest pleasure in life remains working. "I do not plan to retire," he says. "As I grow older I am of course slowing down, but making plans for new things, creating new things is always an extremely interesting process, and to see projects coming to fruition is extremely self satisfying."