Forbes Just Deleted Trump's Commerce Secretary Wilbur Ross From Its Billionaires List. Here's Why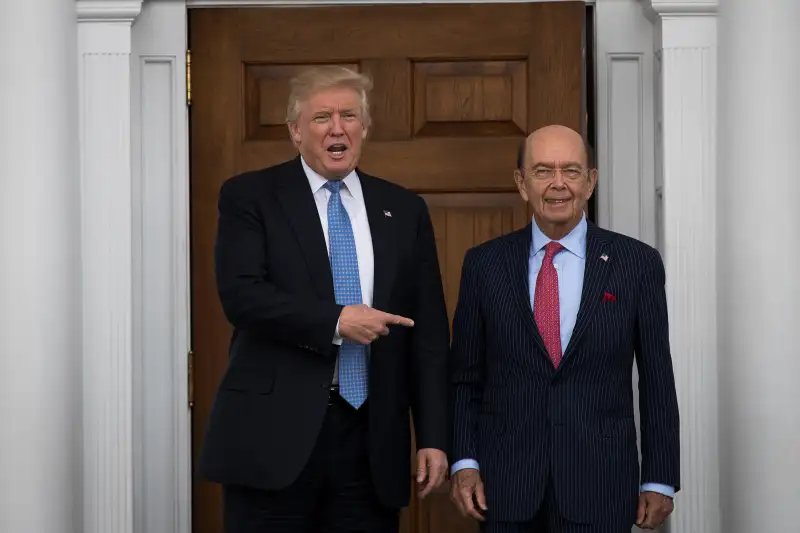 Drew Angerer—Getty Images
Last year, Forbes listed current Commerce Secretary Wilbur Ross' net worth at $2.9 billion, landing him on the prestigious Forbes 400 list. Ross has been a mainstay on Forbes' richest list for more than a decade: In 2005, for example, the publication ranked Ross as the 346th richest person in the world, with a net worth of $1 billion.
Now, however, Forbes says that it has removed Ross from its billionaires list because his net worth does not appear to surpass the 10-figure threshold.
"After examining the financial-disclosure forms he filed after his nomination to President Donald Trump's Cabinet," Forbes reporter Dan Alexander writes, Ross's net worth now appears to be less than $700 million.
Ross himself, according to Alexander, told Forbes that the reason his net worth appeared to shrink substantially is that he had transferred $2 billion in assets sometime "between the election and the nomination" of him as Commerce Secretary.
However, a recent statement sent to Forbes from the Department of Commerce, which is overseen by Ross, contradicted Ross's claim. "There was no major asset transfer to a trust in the period between the election and Secretary Ross's confirmation," the statement said.
Forbes now believes that the $2 billion may have never existed. What's more, Forbes reports that Ross may have been overstating his wealth at least since he first appeared on The Forbes 400 in 2004, when the publication estimated his net worth at $1 billion. Forbes now says that this amount "was nearly four times as much as he was likely worth" at the time.
Neither Ross nor the U.S. Commerce Department replied immediately when Money reached out and asked for comment.
In the aftermath of Ross's claims regarding the $2 billion asset transfer, six U.S. Senators have called for an inquiry into the discrepancy.
This week, Ross came under further scrutiny for one of his firms' apparent ties to a Putin-connected energy company.
Ross is not featured on Bloomberg's top-500 global billionaires list; the "poorest" individuals on the list have net worths of at least $3.97 billion.
Read the full story on Ross's net worth from Forbes here.