Here's How Much Donald Trump's Net Worth Decreased Over the Past Year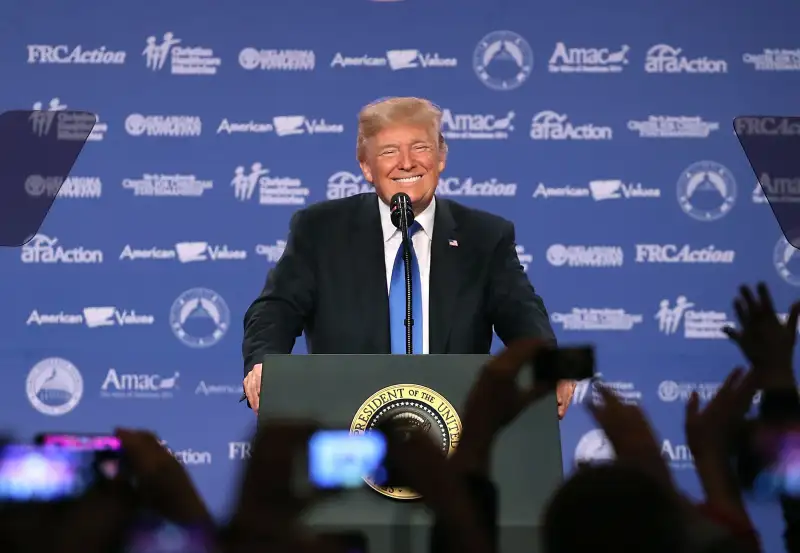 President Donald Trump's net worth has fallen by $600 million over the past year, according to the Forbes, and his ranking in the magazine's newest list of the 400 Richest Americans has dropped significantly as well. Specifically, Trump has dropped 92 spots in Forbes' 36th annual "400" list.
Forbes estimates that Trump is now worth $3.1 billion. That's down from $3.7 billion one year ago, and down from $4.5 billion the year before that. In other words, over the past two years, Trump's net worth has fallen nearly $1.5 billion, according to Forbes.
The publication cites a downturn in New York City retail and office real estate, as well as updated information about his holdings, as the main reasons for the decrease in his wealth. Trump was ranked as the 121st richest American in
Forbes' 2015 list, dropping to 156th place on the 2016 list. He dropped to the 248th spot in this year's edition.
"A tough New York real estate market, particularly for retail locations; a costly lawsuit and an expensive presidential campaign," all took a toll on Trump's finances in the past year, Forbes reported. The lawsuit referenced is the $25 million settlement Trump agreed to pay over fraud claims rising from Trump University.
Forbes reports that Trump's most valuable assets remain New York City real estate holdings at $1.6 billion, followed by his golf course and resort properties valued at $570 million, and then non-New York real estate at $500 million.
Bloomberg estimates a slightly lower ranking of Trump's net worth — $2.8 billion, based on "figures compiled from lenders, mortgage documents, annual reports, market data and a new financial disclosure released June 16."
The new Forbes report also reveals the bar has never been set higher for being ranked among the 400 richest Americans. "A record 169 billionaires did not make the cut this year, falling short of the $2 billion minimum needed to make the list," the report says. (The bottom 12 of the top 400 all tied at $2 billion).
Meanwhile, Bill Gates placed first on Forbes' list for the 24th consecutive year, with a current net worth of $89 billion. But this may be his last year atop the mountain, as Amazon's Jeff Bezos, worth $81.5 billion, was again in the No. 2 spot for the second consecutive year and briefly vaulted Gates earlier this year. Warren Buffett ($78 billion), Mark Zuckerberg ($71 billion), and Larry Ellison ($59 billion) round out the top 5.
When he was running for president, Donald Trump claimed he was worth at least $10 billion. But outlets like Forbes and Bloomberg estimated his wealth at $3 billion to $4.5 billion at the time.