Jack Ma Is Quitting His $420 Billion Company to Become a Teacher. Here's Everything to Know About China's Richest Man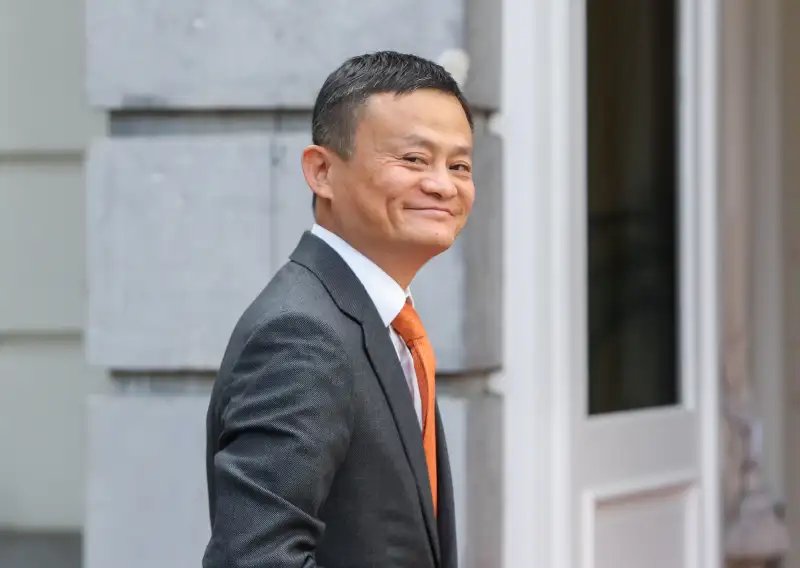 Stephanie Lecocq—EPA-EFE/REX/Shutterstock
Earlier this month, on his 54th birthday, China's richest man announced that he would step down as executive chairman of e-commerce giant Alibaba. Jack Ma, the rags-to-riches entrepreneur behind China's biggest tech company isn't going to retire. He wants to be a teacher again.
With a net worth of $40.5 billion, Ma is one of the richest people on the planet and a prominent figure: He is well-known for speaking at conferences, advocating globalization, and rubbing shoulders with world leaders.
Ma most recently made headlines for his warnings about the escalating U.S.–China trade war, insisting that "it's going to be a mess" which could last for decades. His plan to create 1 million jobs in the U.S., a pledge he made after meeting Trump in January 2017, has been "completely destroyed" as a result.
Ma's decision to step down from the top job at Alibaba will usher in a new era for the $420 billion company, which he grew from a web site run out of his apartment to one of the biggest tech companies in the world.
His rise to fame as one of China's biggest tycoons is a "Hollywood story," he told The New York Times in a 2005 interview.
Early Life and Career
Ma's story starts in Hangzhou, a city in the eastern part of the country with close to 10 million people, where he was born in 1964 to a family with little money.
As a kid, he was scrawny and often got into fights with classmates – who teased him for his size. "I was never afraid of opponents who were bigger," he recalls in the book Alibaba.
Ma learned English from foreign tourists by offering them tours of the city in exchange for lessons, and bought a radio so that he could listen to the English broadcast every day. One of the tourists he befriended during this time gave him the nickname 'Jack' – which stuck.
After high school, Ma applied to go to college. Low marks on the math portion of China's college entrance exam, however, caused him to fail twice. On his third try he finally passed, and eventually graduated from the Hangzhou Teacher's Institute in 1988.
Ma then applied to as many jobs as he could, but was rejected from all of them – including one at KFC, a position on the police force, and another as a waiter at local restaurant. The experience taught him a valuable lesson that prepared him for his entrepreneurial future: "to get used to failure" and learn from it. Ma was eventually hired as an English teacher at a local university – a job that he loved, even though he only made $12 a month.
After visiting the U.S. in 1995 and discovering the Internet, he quit teaching and borrowed a couple thousand dollars to launch China Pages. It was his first attempt at an internet business – not to mention one of the country's first commercial websites, but he ultimately ceded control to the government after he was pressured into a joint venture with Hangzhou Telecom, according to The New York Times.
Mark Lennihan—AP/REX/Shutterstock
Alibaba and the Rise to Fame
He didn't give up though: Four years later, Ma gathered 17 of his friends in his apartment and convinced them to invest in his idea for an online marketplace. They scraped together roughly $60,000 for Alibaba.com, which let Chinese exporters, manufacturers, and entrepreneurs post product listings for international buyers. Ma reportedly came up with the company name while sitting in a San Francisco coffee shop, when he thought of how Ali Baba overheard the secret password of the 40 Thieves and unlocked untold riches.
Within a few months, the venture had raised big money: $5 million from Goldman Sachs and $20 million from Japanese telecom company SoftBank. The company survived the dot-com crash and began turning a profit; Alibaba spawned Taobao.com – a bartering marketplace that was its eBay competitor, in 2003. Fast growth led former tech powerhouse Yahoo to buy a 40% stake of Alibaba for $1 billion in 2005.
Since those early years, Alibaba has amassed millions of customers and become one of the biggest tech companies on the planet, helping merchants sell everything from luxury goods to fresh groceries. When the company went public in 2014, it raised $25 billion on Wall St. in what was the world's largest initial public offering ever.
Alibaba today is a huge tech investor with a wide range of businesses: Like its main competitor Amazon, it has expanded into video streaming, online payment platforms, and cloud services, among other things.
End of an Era
While Ma plans to remain on Alibaba's board until 2020, over the next 12 months he will pass his executive chairman duties to chief executive Daniel Zhang – who has previously held a variety of senior management positions. "No company can rely solely on its founders," Ma said in a letter to customers, employees and shareholders.
Since stepping down as chief executive in 2013, Ma devoted time to other projects, including starting a charity in 2014 and even performing in a kung fu movie. He has said he hopes to follow in the footsteps of Microsoft co-founder Bill Gates by devoting more attention to his Jack Ma Foundation, dedicated to improving education, the environment, and public health.
The former English professor said he will return to teaching, describing that he is still young and has "lots of dreams to pursue." Duncan Clark, author of Alibaba: The House That Jack Ma Built, told CNN that Ma's retirement should come as no surprise. "He has long talked about his desire to go back to his roots as a teacher."