Jaguar F-Type R Coupe: This Beast Eats Up the Road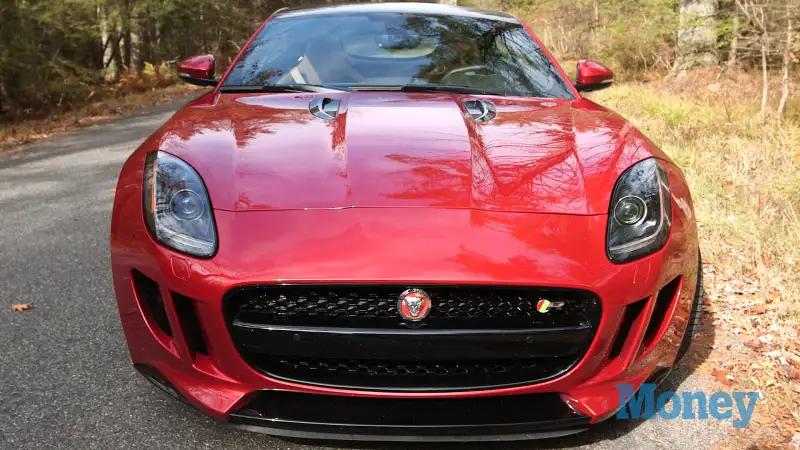 "So how fast were you going?" a friend asked when I told him I'd taken a Jaguar F-Type R coupe out on a race track.
The answer is that I'm not quite certain, because when the speedometer goes north of 100 miles per hour, the last thing you should be doing is looking at it, especially with a sharp left turn coming up.
What's more interesting about the F-Type R coupe is how quickly you can get to 100 mph, which is to say bang-your-head-against-the-headrest quick, thanks to a 5.0-liter, 550-horsepower, 32-valve, V-8 engine eager to do your bidding. This works very nicely on a race course, of course — as it did at the Monticello Motor Club, a track where we tested the car, about 100 miles northwest of New York City. But it's also a deliriously happy experience when entering the FDR Drive on Manhattan's East Side from an on-ramp that's about 10 feet long. Put the car in launch mode — from dead stop to heart stop, from 0 to 60 mph in four seconds. Then let that taxi get a just a little closer and then — WHRROOOM — you're halfway to Harlem in a giddy symphony of exhaust noise. The newest Corvette is actually faster, but the Jag has a top speed of 186 mph, in case you're trying to make a flight. The F-Type is low, wide and ferociously handsome as it gobbles up curves. Beast.
The V-8 is the biggest power plant offered in the F Series, and the reason that the price tag crests over $100,000 for the R coupe. Those 550 horses don't work for peanuts. You can chose a V-6 coupe with a 340-hp engine beginning at $65,000, or the coupe Type S for $77,000 that gets you 380 hp. You probably won't be needing the $8,000 carbon ceramic brake package that our test Jag had. You will, however, be making use of the rear spoiler that pops up when the car hits 70 mph, (pleasingly observable from the rearview mirror), and then retreats below 50 mph. The panoramic glass roof enhances the fighter jet feel.
The F-Type even has a trick in its bag when you're doing zero: An Intelligent Stop/Start feature shuts the motor off at a traffic light, but touch the gas pedal and the car jumps back to life. It's quite unexpected, and it helps keeps the fuel consumption in the 20 mpg range. To manage all that muscle, there's a very smooth eight-speed, paddle-shift automatic transmission.
Much of Jaguar's history has been caught up in its Britishness, its motorcar-ness. There's always been a certain amount of understatement to British sports cars, exemplified by bespoke interiors — walnut trim and all that — combined with something quietly aggressive under the hood. The British influence in race engines is unimpeachable when you think of outfits such as Cosworth, which, with Ford's backing, dominated F1 for years. And Jag's V-12 was similarly a legend on the LeMans circuit. But by the late 1970s, Jaguar was already floundering, and when Ford bought it in 1989, the company was long on heritage and low on quality.
Ford would fix most of Jag's problems, eventually producing the outstanding XJ8, a 4.0-liter, 290-hp, 32-valve V-8 jewel that a colleague described as a cross between an F-16 fighter jet and an English manor house. A gorgeous creature, that XJ8.
The F-Type R coupe is a chip off the old XJ8 block, not to mention the classic E-Type, albeit with a new owner. In 2008, Ford dumped just about everything not named Ford, and then borrowed $22 billion to try to save the company — successfully, it turned out — from the financial crisis. The buyer of Jaguar, as well as Range Rover, was Tata Group, the big Indian conglomerate, which added not a little historic irony to the deal: The former colonials were buying two of their former British masters' most cherished automobile badges.
And in the F-Type, Tata has shown that it has more than respected these brands; indeed, it has upgraded them. The F-Type's interior is now a combination English manor and rocket ship: luxurious leather reminiscent of the bespoke Jag ancestry; a roof-to-floor racing seat with a 14-way controller and side baffles that get you oh-so-snug for liftoff; dash dials that mean business; and AC that blows in from clever pop-up vents.
Then there's the switch resting at your right hand, a toggle that allows access to the car's Dynamic Mode. According to the company, the switch remaps the F-Type's software to "sharpen the throttle response, increase steering weighting, stiffen suspension and perform gear shifts more quickly at higher engine speeds." It puts this cat in pounce mode, in other words. I kept looking for a Mini to eat for a snack.
To the right of the gearshift is another button that engages the F-Type's tuned exhaust system. If you know Mustangs or Harleys, you're familiar with the distinct sound they make — a sound that is as carefully engineered as a Steinway grand. Jaguar is trying to establish a new note in its pipes, one we might label Get the F-Type Out of My Way. It's an almost malevolent roar that lets anyone near you know that they soon won't be. Combine that with the spoiler and the dynamic mode, and it's a 550-hp drivable video game with a soundtrack from Harley by way of Fender. There's no stiff upper lip here. This is Cool Britannia, even if it isn't owned by the Brits.