Jeff Bezos Has Lost $16 Billion Since Donald Trump Started Tweeting About Amazon
Money is not a client of any investment adviser featured on this page. The information provided on this page is for educational purposes only and is not intended as investment advice. Money does not offer advisory services.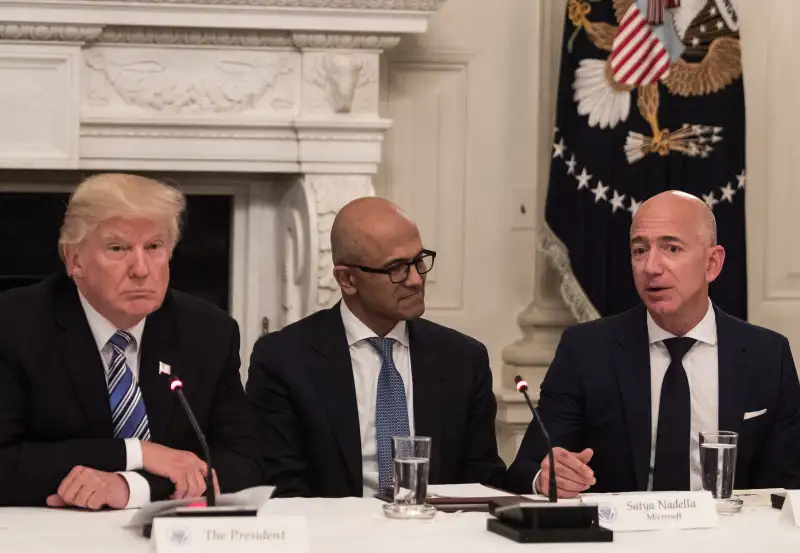 NICHOLAS KAMM—AFP/Getty Images
Amazon founder and CEO Jeff Bezos once offered up one of his rockets to shoot Donald Trump out into space. Over the past week, Bezos could be wishing that had actually happened—because tweets by President Trump bashing Amazon appear to be costing Bezos billions of dollars.
Bezos is the world's richest man, with a net worth estimated over $100 billion since the start of the year. Bezos's wealth is based largely on the price of Amazon stock, and as shares soared in early 2018 his fortune grew by more than $30 billion. As of Monday, March 26, Jeff Bezos's net worth stood at nearly $130 billion, according to both Forbes and the Bloomberg Billionaire Index.
Yet one week—and four Amazon-related Trump tweets later — Bezos's net worth is down to $114 billion, Forbes estimates. In a dismal day for stocks in general, Amazon shares dropped an especially steep 6% on Monday. Over the past week, Amazon's stock price has dropped by around 10%, subtracting roughly $16 billion away from Bezos.
While it's impossible to pinpoint the exact reason any individual stock or the broader stock market rises and falls, recent social media messages directed at Amazon by the "Tweeter in Chief" seem to be a factor. In a string of tweets, President Donald Trump has attacked Amazon and Bezos over the past week for paying too little in taxes and taking advantage of the postal service, among other things.
Long before Trump became president, he was highly critical of the coverage he received by the Washington Post, which Bezos owns, and claimed that Amazon was using the Post as a lobbyist to help the company lower its taxes. In December 2015, Trump trashed Amazon and the Washington Post in one Twitter message.
Bezos responded on his personal Twitter account by saying that he would reserve Trump a seat on a rocket bound for space.
On the day after Donald Trump won the 2016 presidential election, Amazon's stock price dropped significantly, presumably due to Trump's stance against Bezos and the companies he owns. As president, Trump has periodically criticized and threatened Amazon on Twitter, saying that the company kills jobs and doesn't pay taxes.
Many have theorized that Trump's feud with Bezos and Amazon is motivated by more than Trump's concern about companies paying their fair share of taxes. After all, the Trump administration pushed for a cut in the corporate tax rate that saved Amazon $789 million. Trump also prides himself as a savvy businessman, and even said in a presidential debate that he personally was "smart" for avoiding taxes.
Trump's attacks on Amazon also seem to go beyond worries about the post office's finances, the retail industry and its workers, and even how he's portrayed by Washington Post. "He's obsessed with Amazon," one Washington insider reportedly told Axios last week.
"The very existence of Bezos seems to drive Trump crazy," Bloomberg columnist Virginia Postrel wrote. Whereas Trump was born rich and has always courted attention as a domineering brash playboy entrepreneur, Bezos's fortune is 100% self-made, and he's known to be quiet, nerdy, and self-deprecating. "He is a far more admired and influential businessman than Trump and, of course, immeasurably richer."
On Monday alone, Bezos lost on paper as much as $7 billion—which is more than twice as much as the total net worth of Donald Trump. Even after Bezos's fortune fell by $16 billion, to $114 billion, he is still roughly 38 times richer than Trump, whose net worth is estimated at $3 billion.