President Trump's Net Worth Tumbled Last Year. Here's What Changed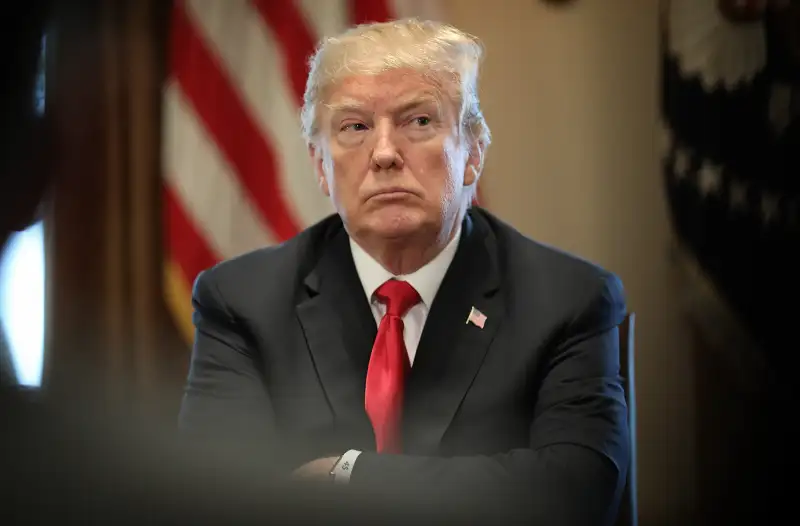 President Donald Trump's net worth took another substantial hit over the last last year, dropping around $400 million since he took office, according to Forbes.
The 71-year-old president, who became the first billionaire to serve in the Oval Office when he was inaugurated in January 2017, has a net worth of $3.1 billion, according to new estimates from Forbes. Trump dropped more than 200 spots from 544th richest in 2017 to 766th in 2018 on the magazine's annual Billionaires List as a result. The fall comes a year after the Trump's net worth was reportedly $3.5 billion — about $1 billion less than his fortune reported on the Forbes 2016 Billionaires List.
During his campaign, Trump said he had a net worth of $10 billion — but that claim was quickly debunked with reports reflecting his net worth was closer to around $3 billion or $4 billion.
Forbes attributed the president's decline in net worth throughout 2017 to a struggling retail real estate market and Trump's polarizing brand. Within the last year, the value of Trump Tower — the 5th Avenue-based former home of the president in the center of the most expensive retail real estate in Manhattan — declined $41 million this year, Forbes estimated.
Trump's hotel brand and management gigs, as well as his golf properties, suffered from his polarizing image this year as well. A number of hotels — in Toronto, Manhattan and, most recently, Panama City — dropped Trump's name from their branding as their properties became sites for protests. The licensing losses resulted in a $50 million drop this year, according to Forbes.
Interestingly, Trump-branded golf properties in locations where he won the 2016 election saw a more than 5% increase in revenue, while those in places where he lost the election — like California — had a 4% fall in revenue, according to Forbes' analysis.
While in office, President Trump receives a quarterly salary of around $100,000 — or about $400,000. At the beginning of his presidency, Trump pledged to donate his salary each quarter — and has kept that promise so far. Recipients of his quarterly salary donations include the Department of Education, the Department of Interior and the Department of Health and Human Services.
On Forbes's Billionaires List this year, Amazon CEO Jeff Bezos, the richest person in the world, came out on top. He became the first person to break $100 billion in the list's history, thanks to Amazon's dominance in the marketplace and key purchases like Whole Foods in the last year.