These Are the 5 Youngest Billionaires in America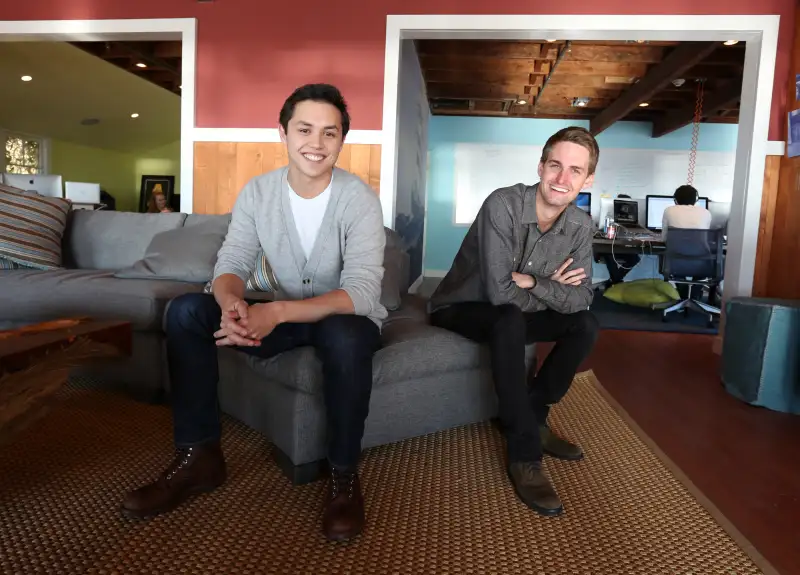 J.Emilio Flores—Corbis via Getty Images
Three of them are self-made, and the other two are heirs. But they all have three things in common: They're young, they're American and they're billionaires.
On Tuesday, Forbes released its annual Forbes 400 list, which chronicles the 400 richest billionaires in the United States. While Forbes says the average age of the billionaires on the list is 67, several of its members are far younger — with two of them in their 20s, and 14 under the age of 40.
Its five youngest members have ages spanning from their mid-20s to early 30s. Snapchat co-founder Evan Spiegel was once again the youngest billionaire on the list at age 27, and his partner, Bobby Murphy, was the second-youngest at age 29. The two co-founders are each worth $3.1 billion, according to Forbes, and have been the youngest members of the list since 2014.
Facebook CEO Mark Zuckerberg, 33, was just edged out as one of the five youngest on the list with the addition of Rishi Shah, the cofounder and CEO of Outcome Health. Of course Zuckerberg did make the top five on the list overall when it just came down to his staggering net worth of $71 billion.
Forbes' full ranking of the 400 richest billionaires in the U.S. was more competitive this year than ever before, with the benchmark to make the list raising to $2 billion. (That means 169 billionaires were left out, Forbes wrote.) The majority of the list's members are men, including all 14 billionaires who are under the age of 40.
As for its five youngest members, here's how they made their wealth.
1. Evan Spiegel, 27
Bloomberg—Bloomberg via Getty Images
Spiegel has yet to be dethroned as the youngest billionaire in the United States. This year, the Stanford dropout added another title to his resume: the youngest CEO of a public company, Snap, the parent company of Snapchat. Spiegel and Murphy took Snap public in March, though its stock has dropped significantly since its IPO. Spiegel has a net worth of $3.1 billion — about $1 billion lower than before his company went public. Spiegel owns 18% of the company.
2. Bobby Murphy, 29
J.Emilio Flores—Corbis via Getty Images
Like Spiegel, Murphy owns 18% of Snap Inc. At 29 years old, Murphy has a net worth of $3.1 billion. Murphy met Spiegel while they were undergraduates at Stanford University, where they were in the same fraternity. The created the idea of the disappearing photo app while students. Snapchat has faced some difficulty in recent months, however, as Instagram and Facebook have attempted to compete with their "stories" features, which allows users to post images that last for 24 hours or until they're deleted.
3. Lukas Walton, 31
While little is known about Walton, he has an impressive amount of money — especially for his age. Walton is the grandson of Walmart founder Sam Walton and has a net worth of $13.2 billion, according to Forbes. Walton inherited his wealth from his father, John Walton, after he died in a plane crash in 2005. The 31-year-old graduated from Colorado College and is the 33rd richest billionaire on the Forbes 400 list overall.
4. Rishi Shah, 31
With a net worth of $3.6 billion, Shah is a new addition to the Forbes 400 list, according to the magazine. As its CEO, Shah owns 80% of Outcome Health, a healthcare technology company that places touch screens and tablets in doctors offices. Shah started the company 10 years ago with Shradha Agarwal, the company's president. Outcome Health has placed devices in 20% of doctor's offices across the United States, the company says. Shah also appeared in Fortune's 40 Under 40 this year.
5. Julio Mario Santo Domingo, III., 32
David X Prutting—BFA/REX/Shutterstock
Julio Mario Santo Domingo III. is a DJ — but that's not how he got his $2.4 billion. Domingo is the heir to a beer fortune, which he inherited from his late father and grandfather, according to Forbes. His grandfather had a stake in SABMiller, and his father died in 2009. Domingo now has a stake in Anheuser-Bush InBev, since it acquired SABMiller last year.