Meet the Youngest Billionaires in the World, Two Sisters Who Spend Their Fortune on Horses and High Fashion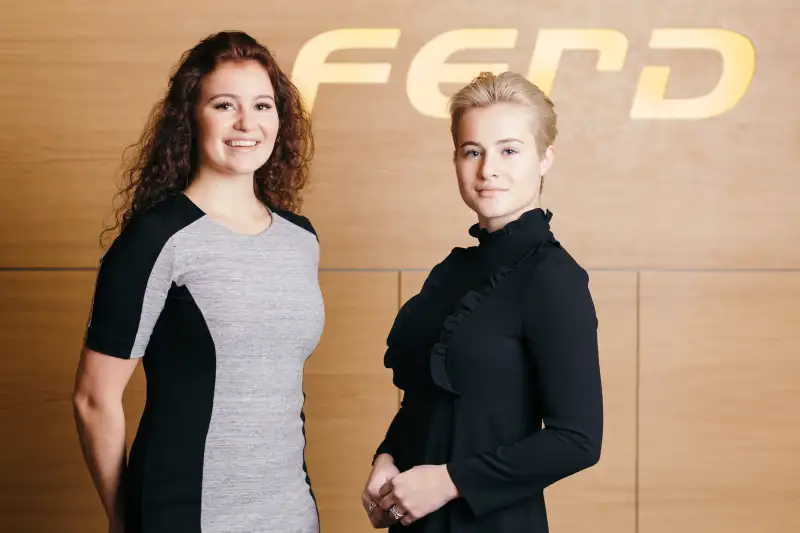 Frédéric Boudin—Photo: Frédéric Boudin / Ferd.
The world's youngest billionaires are two Norwegian sisters who enjoy horses, high fashion, and a massive inheritance from their father's investment company.
Alexandra and Katharina Andresen maintain their title as the world's youngest billionaires at 21 and 22 years old, respectively, according to the release of Forbes' annual Billionaires List this week. The wealthy siblings each have a net worth of $1.4 billion thanks to their father's Oslo-based investment company Ferd, which has private equity holdings, a real estate portfolio, and participates in the Nordic stock exchange.
While the Andresen sisters own a significant portion of Ferd, they also have their own ventures. Alexandra competes as an equestrian, and Katharina works as an intern at the accounting firm Ernst & Young.
Here's what you should know about the Andresen sisters.
Their father gave them each 42% of his company in 2007
In 2007, Katharina and Alexandra's father Johan Andresen gave the majority of the shares of his company to his two daughters. Since then, Katharina and Alexandra each own 42.2% each of the company. Their father still owns a portion of the company and is currently its chairman, previously serving as its chief executive officer for 14 years until he left the role in October 2012.
The Andresen family fortune dates back to 1849, when the sisters' great-great-great grandfather Johan Henrik Andresen bought a tobacco factory and grew it into the top cigarette manufacturer in Norway, according to the company's website. In 2005, however, the family sold its share of the cigarette company for almost $500 million, eliminating tobacco from the Ferd portfolio. By then, Ferd had expanded to other ventures like real estate.
While it may be surprising Andresen would hand over the majority of his company's ownership to his young daughters, he did so likely for the tax benefit. According to Forbes, Norway has a net wealth tax that orders the rich to pay about 1% on their net worth, but they can lessen that cost by distributing the money around the family.
As a result, Alexandria and Katharina have more than $1.4 billion each.
Alexandra is a competitive horseback rider
At 21 years old, Alexandra is an accomplished equestrian and professional dressage rider. She is sponsored by Kingsland and Samshield, both equestrian brands, and has collected ribbons and medals in competitions over the years. She also regularly competes with on the Norwegian team.
Earlier this year, Alexandra announced she was moving to Florida on her Instagram page, and posted images and videos of her horses enjoying the sun.
Alexandra's also engaged
Alexandra is engaged to Joachim Tollefsen, a professional MMA fighter.
Katharina is an intern at Ernst & Young
In a February 2018 Instagram post, Katharina shared that she is working as an intern at Ernst & Young, a corporate finance firm, in its Oslo location. The billionaire said she would be working there for the next three months, working on projects geared toward family business and women in business.
And she was fined $30,000 for drunk driving
Last year, Katharina was charged with drunk driving after she was pulled over in her Audi with a blood-alcohol content of more than three times Norway's legal limit.
"I'm sorry I drove with [alcohol in my blood]," she told the press last year. "I thought I had no longer had it after so long, but should have checked it. And I'm very sorry."
Katharina told the Oslo City Court she has about $110,000 in her checking account, with a monthly stipend of $1,100.
The two sisters also appear to use their wealth to take exotic trips
Alexandra and Katharina have posted photos from Hungary, Belize, India, Ecuador and other bucket-list destinations in recent years.
And Katharina shows off designer clothes and products
From Christian Louboutins to Rolexes, Katharina often uses her Instagram page to share photos of her designer clothing and shopping trips.