Jeff Bezos Just Lost Over $10 Billion in the Last 24 Hours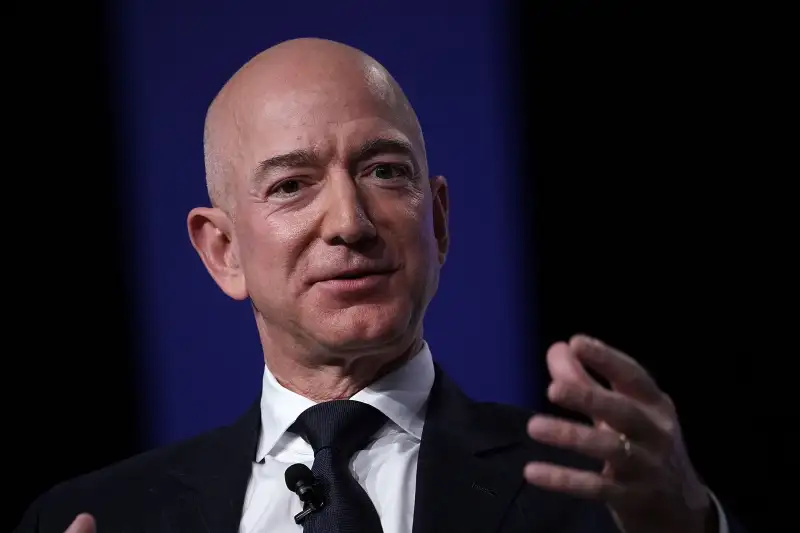 The richest man in the world just lost billions of dollars.
Amazon CEO Jeff Bezos saw his net worth fall by more than $10 billion over the last 24 hours due to a global market plunge that hit tech giants particularly hard and sent Amazon shares falling to their lowest point in months. As of Thursday morning, Bezos has $142.3 billion to his name — about $11 billion less than he had at the beginning of Wednesday, according to estimates from Forbes.
Bezos's enormous net worth, in large part, hinges on his 16% stake in Amazon. The retail giant opened at $1,724 per share Tuesday. Despite a monumental year for the company, Amazon shares have fallen by hundreds of dollars since Oct. 1 when it closed at $2,004 per share. Despite the fall in his net worth, Bezos is still far and away the world's richest person, with Microsoft founder and philanthropist Bill Gates behind him with a net worth of about $96 billion, according to Forbes.
Just a week ago, Bezos topped Forbes' 400 wealthiest Americans list for the first time with a net worth of $160 billion. The Amazon founder has had a mammoth of a year, seeing his net worth double and hit an all-time high of $168 billion. In September, Amazon became the second publicly-traded company to be valued at $1 trillion, behind Apple.
Ahead of the holiday season, Amazon announced it would raise its minimum wage for employees to $15 per hour starting Nov. 1 — a move that came as the company was under scrutiny for its pay practices and workplace conditions, particularly for its warehouse employees. But the pay policy came with a big caveat: The company would eliminate bonuses and stock awards for its employees as a result of the pay increase. Employees expressed concern over these losses, and Amazon clarified this week it would offer a number of cash bonuses for employees.
"The significant increase in hourly cash wages effective Nov. 1 more than compensates for the phase out of incentive pay and future (stock) grants," the company said in a statement.
Certainly, Bezos wasn't the only tech billionaire hit hard this week. Microsoft's Gates, Facebook CEO Mark Zuckerberg, Oracle founder Larry Ellison, and Google founder Larry Page all saw their net worths fall by at least $1.6 billion on Tuesday, according to Forbes.