Here's One Solution to America's Destructive Lottery Addiction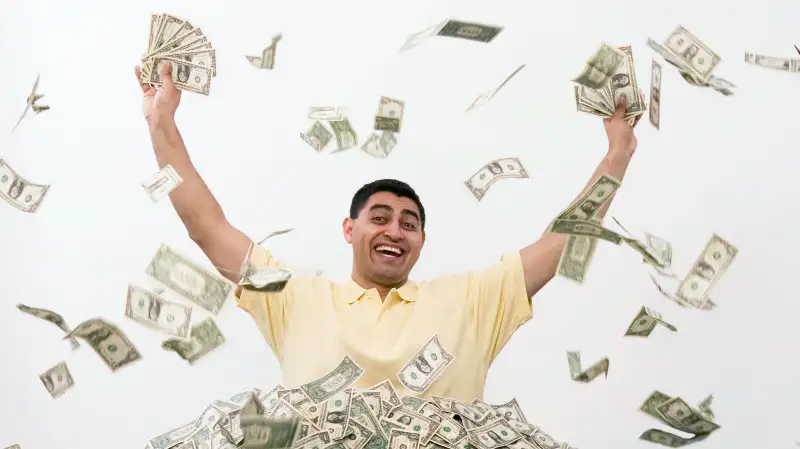 Lotteries—and the damage they inflict on the finances of poor Americans—were the main topic of HBO's satirical news show Last Week Tonight with John Oliver this past Sunday.
Host and comedian Oliver had several bones to pick with state lottery administrators, who already generate a staggering $68 billion in revenue each year and are expanding into even more addictive products like video lottery terminals.
Among the disturbing developments he noted is the fact that states like Illinois have begun rolling out smartphone lottery apps.
"If, starting right now, your mother could play the lottery as easily as she plays Candy Crush, in three weeks, she'd be preparing Thanksgiving dinner over a trashcan fire," Oliver quips in the clip below.
Jokes aside, Oliver has hit upon some sad truths about lotteries.
For one, playing the lottery is a form of gambling that can be just as neurologically addictive as substance abuse.
Lotteries also tend to function as a regressive tax on the poor. Studies show that it's the poorest Americans who spend the biggest portion of income on lotteries, with 61% of people in the lowest fifth of socioeconomic status (as measured by income and education) playing the lottery each year, compared to 42% in the top fifth. And while the richest Americans gamble on the lottery only 10 times each year, the poorest buy tickets 26 days annually.
"The hope of getting out of poverty encourages people to continue to buy tickets, even though their chances of stumbling upon a life-changing windfall are nearly impossibly slim," writes Carnegie Mellon's Emily Haisley, the lead author of a study on the psychology of lottery gambling. "Buying lottery tickets, in fact, exacerbates the very poverty that purchasers are hoping to escape."
Given that lotteries are a big revenue source for state governments and aren't going away anytime soon, however, some advocates for the poor are seeking ways to dissuade financially-vulnerable Americans from playing.
Read next: This Graphic Shows How Your Powerball Odds Just Got Better—and Worse
One promising answer that's gained visibility in recent years is to combine the appeal of gambling with something that promotes responsible financial behavior—in this case, a savings account.
These "prize-linked savings accounts" work just like normal savings accounts, except that instead of getting interest for parking their cash, customers are entered into a drawing—a lottery, if you will—to win money or other prizes.
Though they are currently available through credit unions in certain states like Michigan, Nebraska, North Carolina and Washington, these accounts are prohibited by many other states' governments—despite lots and lots of evidence that the accounts are effective at steering would-be gamblers toward building nest eggs they otherwise wouldn't have.
In one study, for example, researchers found that people saved 38% more than the average when given the option of a prize-linked account. Plus, the money they put away tended to come out of their lottery ticket spending, not their normal savings account contributions (if they had any).
Of course, in an ideal world, everyone would stop chasing prizes and instead contribute to conventional savings, retirement, and investment accounts that actually earn interest or generate returns and don't impose the stiff early withdrawal penalties that many prize-linked accounts do.
Read next: Smart Steps to Take If You Win the Powerball Jackpot
But here in the real world, where advertisements, news, and irrational hope combine to make us feel like our dream life is just a ticket away, it's unrealistic to expect all Americans to stop playing the lottery.
A more realistic goal might simply be to apply its powerful appeal to smarter alternatives.