Why the All-American July 4 Barbecue Is Cheaper This Summer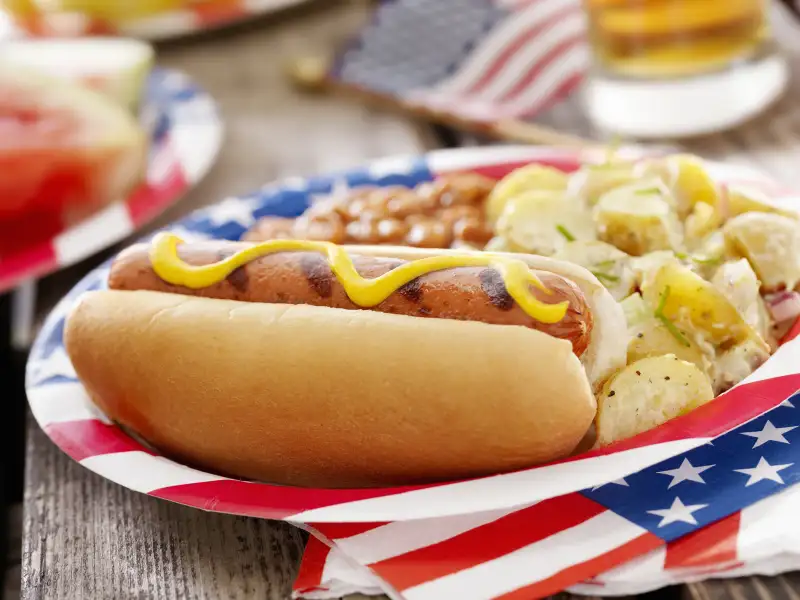 Lauri Patterson—Getty Images
Feel free to fire up the grill for the Fourth of July weekend. You can afford it.
According to the American Farm Bureau Federation, the cost of a typical summer cookout that feeds 10 people is 3% cheaper than it was a year ago. The total cost of a barbecue feast, including eight burgers, eight hot dogs, pork spare ribs, potato salad, baked beans, corn chips, watermelon, plus drinks, condiments, and buns, comes to $55.84, or a little over $5.50 per person. The estimate is based on price checks at supermarkets in 30 states, and the total cost is lower than it was in 2014, when the same barbecue cost an average of $57.57.
This year's lower cost comes as a result of decreased prices for many items on the shopping list. The price of ribs, hot dogs, baked beans, watermelon, hot dog and hamburger buns, and American cheese all inched lower this year, collectively shaving a couple bucks off the total.
Rising production of pork and dairy products is the main reason that hot dogs, spare ribs, milk, and cheese prices are all on the decline. Bloomberg News noted that wholesale pork prices have dropped 28% over the past year, while milk production in the U.S. hit a record high in May 2015—causing the retail price of American cheese to fall by over 8%.
The same group that does the July 4 cookout estimate also puts together an annual price roundup on the cost of a standard Thanksgiving dinner that'll feed 10. Interestingly enough, Thanksgiving is cheaper than the barbecue—about $50 versus $55.
While pork and dairy products have gotten cheaper this summer, not all items on the cookout shopping list are less expensive. Ground beef prices are up 2% compared to last year.
Still, thanks to falling pork prices, you might be more willing to splurge with some bacon on your burger. As of May 2015, bacon prices were down 18% year over year, the Bureau of Labor Statistics reports. The average price of a pound of bacon was over $6 last summer. It dropped to about $5.50 at the start of 2015, and now it's down under $5.