The Hottest Kitchen Design Trends For 2018—And What They Cost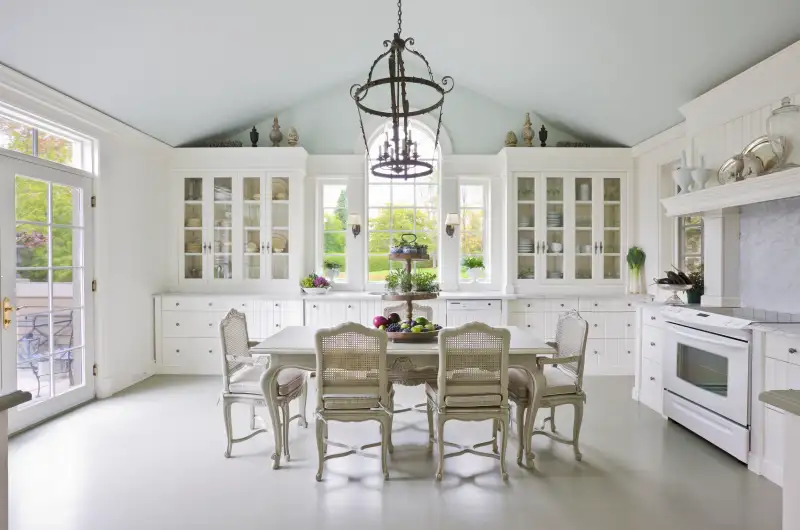 Jean-Yves Bruel—Getty Images
Think your all-white kitchen is timeless? You might not like what design experts see coming in 2018.
Two new reports, the Zillow Home Trend Forecast and the Trulia Home Design Panel, suggest the new year could see the demise of some of America's longest-loved decorating trends including granite countertops and clean, monochromatic cabinetry. Think you're safe with trendier touches like bar carts and Instagram-ready succulents? These 2018 predictions won't spare you either.
If all of this caught you off guard, don't panic. There's no way of knowing whether the trends at the top of the pile in 2018 will stick around for years or go the way of avocado green and harvest gold come 2019. If you love your kitchen cabinets the way they are or would never dream of replacing your windowsill cactus with a full-sized ficus, there's little reason to jump at a new trend you don't love.
That said, if having an on-trend kitchen is of extreme personal importance, you can get one -- for a price. Here's what it would cost to build 2018's trendiest kitchen.
Say goodbye to granite
Trend cost: $3,480-$3,680
In vogue since the late 1980s, the reign of the granite countertop may finally be coming to a close. According to the Trulia Design Panel, 2018 will see homeowners opt for marble or quartz countertops instead.
As the countertop of choice at LeBron James' new mansion, marble might sound luxurious, but it costs more or less the same as granite -- about $60 per square foot, according to Improvenet. At 53 square feet, the typical kitchen countertop would run you $3,180, the website says. With installation adding between $300 and $500, you are looking at $3,480 and $3,680 total.

Quartz is even pricier, with $60 on the cheaper side and some versions as much as $115, according to Improvenet. Installation prices are also a little steeper, bringing the total price for a 53-square-foot counter to $3,500 or higher.
Succulents are out, leafy plants are in
Trend cost: $20-$80 per plant
Those cute little cacti had a good run, but it's time to cast aside succulents in favor of more vibrant or leafy plants that more color to your kitchen.
Zillow recommends potted palms or fiddle-leaf figs, which can cost anywhere from $20 to $100 per plant, depending on size and other factors. Particularly fashionable decorators can expect to shell out an additional $5 to $50 per plant for a trendy marble or matte metal planter.
Unfortunately, unlike their heartier desert counterparts, many houseplants can't get by on a spritz of water whenever you remember they exist. Since dead plants are seldom on-trend, make sure you have the means to give more delicate houseplants the temperature, sunlight and water they need to thrive.
Bid adieu to cold, white cabinets
Trend cost: $2,500-$9,000
If you always thought timeless all-white kitchens were, in fact, a little cold, you aren't alone. Zillow predicts a resurgence of medium and light wood cabinets in 2018, "particularly with flat fronts and clean lines" to create a warmer, more welcoming atmosphere.
If you recently went with white cabinets and wish you hadn't, you can get next year's look for less with just a reface. According to Houselogic, the average cost of refacing kitchen cabinets with real wood veneer ranges from $2,500 to $6,000. For larger projects or those with high-quality wood, prices can range from $7,000 to $9,000, the website says.
Trade your bar cart for a coffee cart
Trend cost: $40-$470
I know what you're thinking: If only you had waited a few months before you invested in that bar cart, the last missing piece of your perfectly trendy kitchen. How could you have known the coffee cart, with its unassuming purpose and cute hooks for mugs, would take its place so soon?
Luckily for you, the rise of the coffee cart doesn't mean you need to ditch your whole setup. Zillow's disdain for the bar cart comes from the fact that its contents often sit for days, untouched and collecting dust. If you already have the cart, just swap the liquor bottles and crystal glasses for a coffeemaker and mugs.
If you don't currently own a utility cart, hopping on the coffee cart trend doesn't need to break the bank. While you could invest in a $400 cart from West Elm, you can find perfectly acceptable alternatives from shops like Target starting at $40. Have the cart but none of the coffee? Your typical drip coffeemaker will run you between $15 and $60, depending on brand and frills, while most single-serve coffeemaker brands like Keurig start around $70.
Complete your kitchen with matte metal hardware
Trend cost: $80-$800
Satisfied with your new wood cabinets? Don't get too comfortable because this year's trend predictions also extend to their knobs and handles. Zillow predicts a surge in matte metal hardware, which it calls "a beautiful complement to medium wood cabinets."
According to Houselogic, the typical cost of a new knob or pull varies between $2 and $20. Your total cost will also depend on just how many cabinets you have, but the website estimates 40 new knobs would run between $80 and $800, depending on material and brand.
Add some color to that all-white kitchen
Trend cost: $356-$958
Two knocks against the all-white kitchen in one trend report? Tell us how you really feel, Zillow.
For those all-white kitchen owners who don't want to completely reface their cabinets, Zillow suggests adding a little color to the room with paint instead. Accent colors in strategic places — for example, painting island cabinets a calming blue — can add vibrance and texture to a room that might otherwise feel uninviting, the website says. With certain cool hues tied to increases in home values, what is there to lose?
Well, in the short term, between $356 and $958, the typical cost of repainting, according to HomeAdvisor. The final cost of your kitchen color touch-up will depend on how many areas you want to paint and whether you hire a professional.