Report: Kmart Is Closing 64 Stores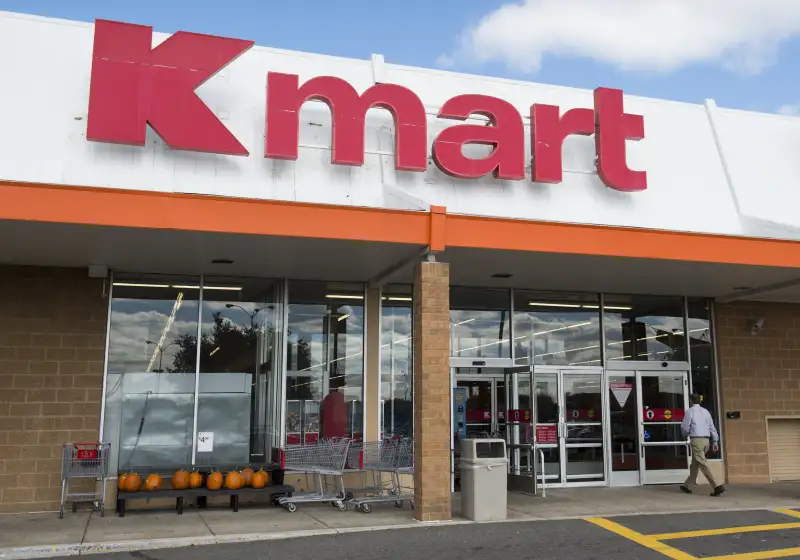 SAUL LOEB—AFP/Getty Images
Kmart is closing 64 stores across 28 states, and laying off thousands of employees, Business Insider reports. Employees of affected stores told BI that liquidation sales will start September 22 and doors will close before Christmas.
This is the second round of 60+ store closures for the beleaguered retailer in 2016. Sears Holdings, which owns Kmart, announced in April that 68 Kmart and 10 Sears stores would close. Previously, the company had announced 50 other stores would close.
Read Next: 12 Major Retailers Closing Stores Like Crazy
So far, there is no announcement on Sears' website of the closures. Money has reached out to the company and will update the post when it responds. But, Seritage Growth Properties, which owns many Sears Holdings stores, filed an SEC document that says Sears is expected to vacate 17 "unprofitable" stores by January 2017.
Moody's analysts sent out a report Wednesday saying Sears and Kmart are likely to shut down, and will need to rely on outside funding or sell assets to stay afloat.
You can add the 64 stores to the ever-increasing list of big box retailer closures. At Money's last count, over 2,500 stores were expected to close in 2016.
Here's the complete list of store closings, according to Business Insider:
Kmart #3044: Lawton, OK
Kmart #3180: Merrillville, IN
Kmart #3241: Springfield, IL
Kmart #3320: Houma, LA
Kmart #3328: New Lenox, IL
Kmart #3355: Panama City, FL
Kmart #3359: Gardendale, AL
Kmart #3521: Binghamton, NY
Kmart #3556: Elkhart, IN
Kmart #3594: Chicago, IL
Kmart #3644: Nashville, TN
Kmart #3695: Sierra Vista, AZ
Kmart #3706: Wytheville, VA
Kmart #3754: Martinsville, VA
Kmart #3814: Kearney, NE
Kmart #4066: Jackson, MI
Kmart #4095: Joliet, IL
Kmart #4135: Augusta, GA
Kmart #4162: Salt Lake City, UT
Kmart #4175: Canton, OH
Kmart #4176: Cheektowaga, NY
Kmart #4439: Yakima, WA
Kmart #4700: Fenton, MI
Kmart #4717: Oak Ridge, TN
Kmart #4739: Clarksville, TN
Kmart #4772: Burnham, PA
Kmart #4781: Macomb, IL
Kmart #4837: Riverton, WY
Kmart #4845: Manistee, MI
Kmart #4851: Byron Center, MI
Kmart #4910: Mentor, OH
Kmart #4917: Thornton, CO
Kmart #4961: Burlington, NC
Kmart #4970: Memphis, TN
Kmart #4972: Lubbock, TX
Kmart #4984: Tinley Park, IL
Kmart #7024: Scottsbluff, NE
Kmart #7061: New Iberia, LA
Kmart #7077: Harlingen, TX
Kmart #7174: Pikeville, KY
Kmart #7205: Grand Rapids, MI
Kmart #7216: Moorhead, MN
Kmart #7306: Sioux Falls, SD
Kmart #7356: Jonesboro, AR
Kmart #7412: West Valley City, UT
Kmart #7478: Waipahu, HI
Kmart #7551: Indio, CA
Kmart #7560: Craig, CO
Kmart #7587: Fontana, CA
Kmart #7625: Los Angeles, CA
Kmart #7642: Natchez, MS
Kmart #7718: Hixson, TN
Kmart #7733: Alpena, MI
Kmart #7755: Deming, NM
Kmart #7775: Lafayette, IN
Kmart #7795: Abilene, TX
Kmart #9129: Mount Airy, NC
Kmart #9146: Great Barrington, MA
Kmart #9397: West Saint Paul, MN
Kmart #9571: Cullman, AL
Kmart #9586: Sault Saint Marie, MI
Kmart #9623: Springdale, AR
Kmart #9728: Smyrna, TN
Kmart #9751: Cody, WY