Fans Bought $1.2 Million Worth of Kobe Memorabilia on Wednesday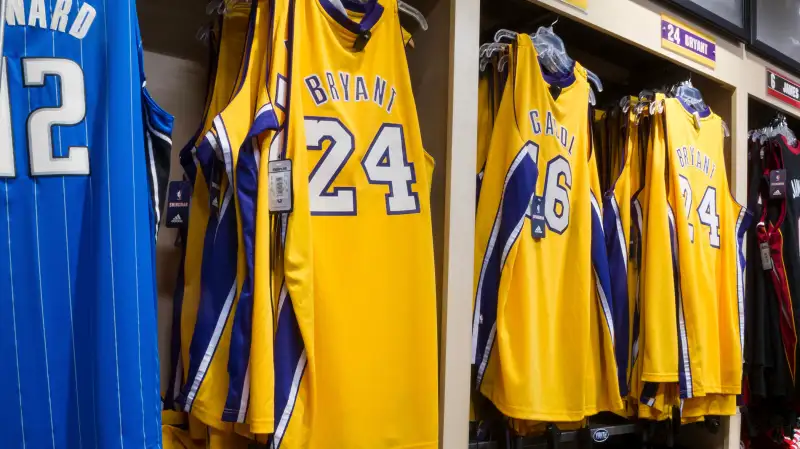 In Kobe Bryant's last NBA game, the star shooting guard went out on a high note, setting several records, including one for points scored (60) for a player of his age. However, the record that probably made his former employer, the Los Angeles Lakers, the happiest was the one he set for grossing the highest merchandise sales in a single day.
On Wednesday alone, the day of Kobe's last game, the Staples Center, home of the Lakers, sold $1.2 million worth of the basketball legend's merchandise, ESPN reported. The previous record for memorabilia sales on a single day was held by Led Zeppelin, who sold $1 million worth of merchandise in London's O2 Arena at the group's first full-length concert in decades in 2007.
The average fan spent about $61, while the average bill was $230. All pins, coins and jerseys sold out—and hefty prices for merchandise may have been a contributing factor to the astronomically high profits. Snakeskin-textured jerseys retailed for $424 each, while limited edition Kobe versions, 248 of which exist, sold for $824 each.
The jerseys will likely have even higher resale value for profit-minded basketball fans. That might be the end goal of one fan, who purchased 20 of the $824 jerseys in an hour before tipoff.
The majority of Kobe hats sold for $72.48. For those with more discriminating tastes in headgear, eight hats made of snake and lamb skin were marketed for $38,024 and eight from cashmere with five diamonds on it were peddled for $24,008. Only three of these extravagant hats went unsold.
Additionally, only three of the 24 leather jackets with Swarovski crystals marketed for $5,824 went unsold. Kobe and his wife were each gifted one of the extra jackets.
The high-end Kobe memorabilia, called the "24 Collection," commemorated the end of the basketball veteran's 20-year career with a "vision of gold and diamonds and how this translated with the fans of Los Angeles," said Sean Ryan, vice president of merchandise of AEG, the company that has an ownership stake in the Lakers.