Meet the First Openly Gay Woman to Run a Fortune 500 Company, Who Began Her Career Making $2 an Hour Detasseling Corn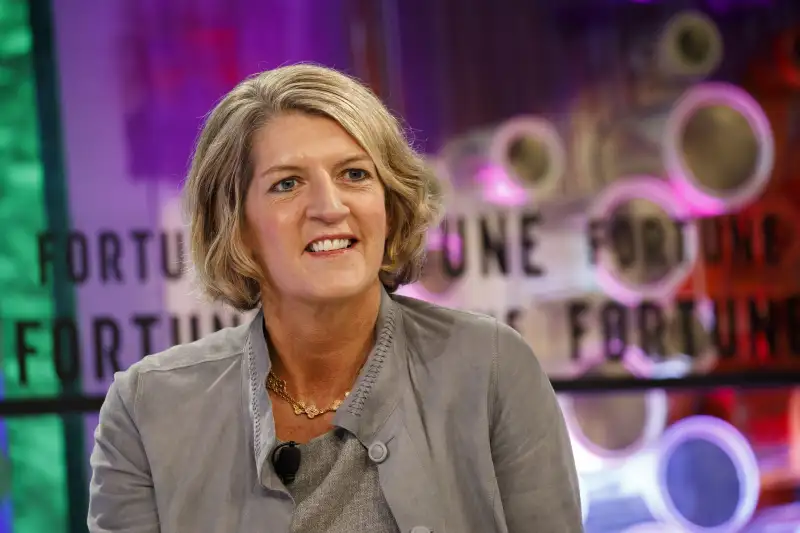 Patrick T. Fallon—Bloomberg/Getty Images
When Land O'Lakes CEO Beth Ford was a teenager, she made $2 per hour de-tasseling corn and cutting out weeds in soybean fields in Iowa.
That was long before she earned the top spot at one of America's largest dairy producers this summer — joining a small group of women who lead Fortune 500 companies and becoming the first openly gay woman to do so. But whether in the cornfield or in the boardroom, Ford maintains her career and titles she has collected along the way were never about her.
"I haven't sought to have some platform," Ford says. "I've sought to be the CEO of this company — and to be the very best CEO, to be the best leader, and partner with my team, and to do everything I can for our farmers and members."
Ford's inevitably busy entry to the top post has been complicated by the setbacks from the retaliatory tariffs spurred by President Donald Trump's trade war. Many Land O'Lakes farmers, who work with dairy, soybeans, and grains, are struggling in the crucial export market as a result, Ford says.
On top of managing this challenge, in her first six weeks, Ford has met with her employees, crashed intern presentations, traveled to 16 different cities to meet with local farmers, met with crucial partners like Walmart and Hershey, restructured her team, and prepared for a busy fourth quarter, among other tasks. And she's been pushing Land O'Lakes beyond its reputation for simply selling butter to the forefront of the agricultural industry, where the company has been pursuing new technologies and developing more plant-friendly farming techniques.
If anything, Ford's first few weeks on the job represents her approach to using her career to help elevate others — not just herself. Her position as CEO was never about herself or her identity — but she's "not pushing it away," she says. Since her appointment, she has connected with women around the country, members of the LGBTQ community, and families with children who are coming to terms with their sexual orientation or gender identity.
"What I would wish people to take away is to be you," she says. "Bring your best self. You'll be OK."
That philosophy has guided Ford throughout her career — and it's what she hopes to instill in her 10,000 employees as she tells them to come to work as their most authentic selves.
"If you develop a team atmosphere like that, if you see and feel the excitement, it's fun to come to work," Ford says. "Even when there are bumps, it doesn't feel insurmountable. We're going to go forward."
That idea is perhaps reflected in the company's most recent commercial, which debuted during a recent episode of NBC's The Voice. The ad, set to an alternative take on "Old MacDonald Had a Farm," celebrates the female farmers in the cooperative. It was made before Ford became the company's first female CEO — "I wish I could tell you we were that sharp with our timing," Ford jokes — but comes at a crucial time in the company's history. (Thirty-one percent of American farmers are women, according to the U.S. Department of Agriculture.)
"People have a perspective or perception that it's all men, and women aren't part of it," Ford says. "And that just couldn't be further from the truth."
The same could be said of her peers in the business world. Women — including herself — make up just around 5 percent of all top Fortune 500 CEOs, and many of them have certainly faced their own set of challenges as a result. But Ford encourages other women to go for promotions, ask for raises, and challenge themselves at work.
Asking for a promotion, she says, "could go one of two ways. They could say, 'No, you're not ready,' and you're actually in the same position you were before. You get to then ask the next question: 'If it's no, then why is it? Tell me. Help me understand where my gaps are. Help me learn."
"But be careful," she adds, "because you have to be able to accept that feedback."
Regardless of the outcome, she says, "I try to move forward with confidence and resilience. It's critically important as part of good career success to move the ball forward."