This Is the Affluent Retirement Community Where the Las Vegas Shooter Lived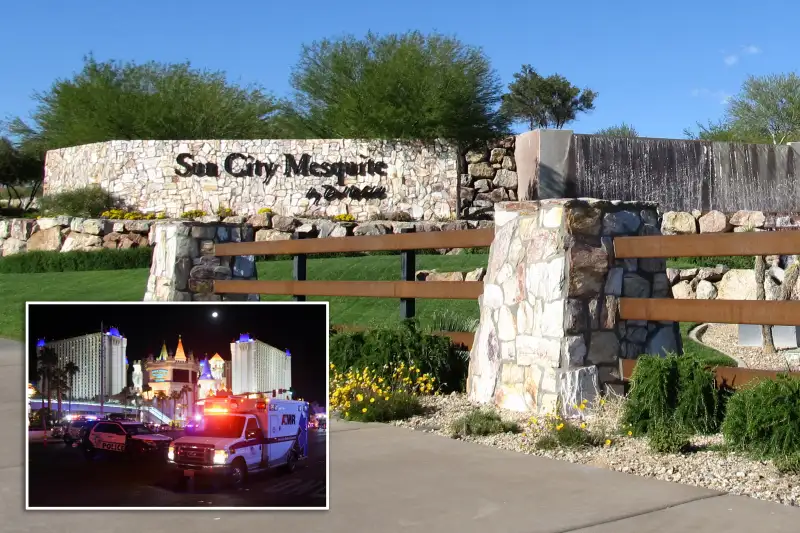 Ken Lund; (inset) Ethan Miller—Getty Images
Sun City is a sunny slice of paradise, where retirees enjoy golf and the company of other older adults in a scenic desert community.
It also was the home to Stephen Paddock, 64, the suspected gunman behind the Las Vegas shooting that left more than 50 people dead Sunday night. Paddock lived in the 55-plus retirement community in Mesquite, Nevada, about 80 miles outside of Las Vegas, according to news reports.
The community boasts an 18-hole golf course that winds through picturesque desert mesas, indoor and outdoor pools, and a sprawling community clubhouse. "People are very friendly," says Doug Morgan, 71, who moved to Sun City from Washington state last June with his wife, Joyce. The two enjoy swimming, hiking, and having coffee with fellow residents. "I joke to my wife, I need to go get a job so I can rest."
Morgan says he didn't know Paddock, who lived about a half-mile away. "We moved here ironically because this community has one of the lowest crime rates in the state of Nevada," Morgan says, adding that he and his wife always felt safe in Sun City.
Sun City properties start at $199,990, according to the web site. Paddock bought his 2,018 square foot home there in January 2015 for $369,000, according to the Las Vegas Review-Journal. He reportedly lived with his girlfriend, Marilou Danley, whom officials have said was out of the country at the time of the shooting.
Nevada, which has no state income tax, is a popular destination for retirees.
Much remains unknown about Paddock and his motivation. He lived in a community that actively fosters connections between residents, whether through an organized pool party, a pick-up game of bocce or pickle ball. And yet, social isolation remains a common characteristic of mass murderers, says Mark Safarik, a retired FBI criminal profiler. "The isolation becomes greater and greater, until there's a breaking point."
Middle and older age mass murderers have typically taken stock of their lives and concluded that they've failed in their work, their finances, or their personal relationships, says Safarik: "You're not in the place you thought you would be."
A spokeswoman for PulteGroup, which owns Sun City, called the incident a "truly a tragic situation" and directed further inquiries to officials in charge of the "active investigation." Authorities believe Paddock killed himself.