LendingTree Auto Refinance Review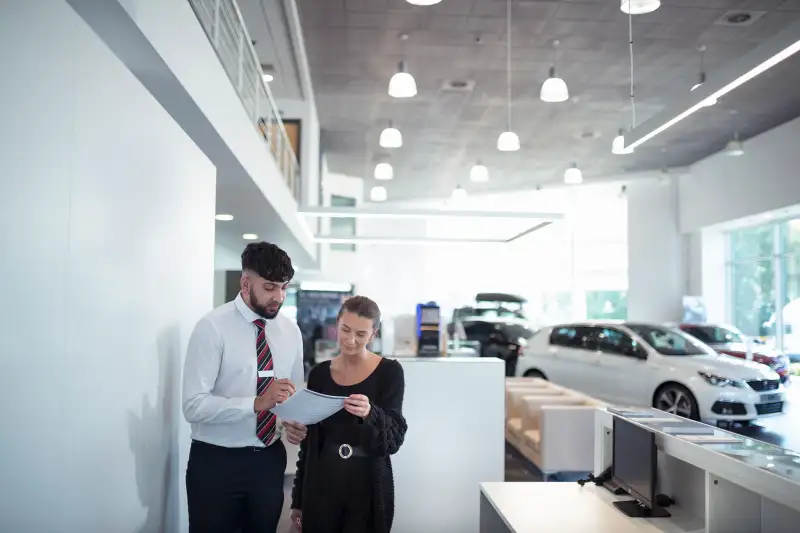 Researching the best auto refinance companies with LendingTree helps you find suitable lenders based on your requirements and budget, making the refinance process a lot easier.
We've unpacked everything you need to know about LendingTree and what makes it a great marketplace for the best car loan rates. We've also highlighted a few constraints you'll want to keep in mind if you choose to go with LendingTree.
Best loan marketplace
LendingTree sets itself apart from other online lenders by offering you one-stop shopping for your auto refinancing needs, thanks to its extensive network of lenders. Operating as a loan marketplace, it excels in connecting borrowers and lenders to help you broker a deal that's right for you. With a single application, you can get offers with competitive rates from up to five lenders, all within just five minutes of applying.
By choosing LendingTree, you can save time and money while also sparing yourself the headache of applying with individual lenders. LendingTree also has lots of resources for refinancing a car, including an auto refinance calculator, and articles about how to buy a car, how car loans work and other topics.
LendingTree Auto Refinance pros and cons
Getting new financing for your car is a snap with LendingTree, thanks to multiple offers from a single application through its network partners, flexibility on lending to those with less-than-stellar credit and a simple online application process. LendingTree even gives you a nifty auto refinance loan calculator that crunches the numbers to help you learn how auto loans work and decide what loan offer to pursue. Its shortest loan term is 12 months.
Pros

Large network of lenders
Loans available even with a low credit score
Easy online application process
Handy auto refinance calculator tool

Cons

Lots of calls from lenders

Pros explained
LendingTree's extensive network of lenders, willingness to lend to those with low credit scores, easy online application process and handy auto refinance calculator make it easy to apply for and secure an auto refinance loan that's right for you.
Large network of lenders
When you apply, you aren't just applying with a single lender. Instead, you're applying with LendingTree's vast network of hundreds of lenders, including iLending, Auto Approve, RefiJet, Lending Arts and Gravity Lending.
Loans available even with a low credit score
If your credit score is less than perfect, you can still refinance with LendingTree. A few of its lending partners only require a score of 585 or above, while others require a minimum score of 600.
Easy online application process
LendingTree's online application is quick and straightforward, requiring some basic personal information about how much you want to borrow and the car you want to refinance. Within five minutes of applying with LendingTree, you'll get up to five car loan proposals from lenders, putting you quickly on the path to getting preapproved for a car loan.
Handy auto refinance calculator tool
Not sure how much you'd gain by refinancing your car? LendingTree's online auto refinance calculator can instantly tell you how much you'll save over the life of your loan, which can help you stick to your budget.
Cons explained
The biggest drawback for LendingTree is the multiple calls you'll get from prospective lenders.
Lots of calls from lenders
As much of a plus as LendingTree's large network of lenders is, it also means that when you request a quote, several lenders will call you to follow up. This can be annoying if you've already made a decision.
If you no longer want to receive calls from LendingTree, you can ask for your phone number to be added to its do-not-call list. If you want one of its partners to do the same, you'll need to contact that partner directly.
LendingTree Auto Refinance offerings
LendingTree offers four auto refinance options: purchase loans, refinance loans, lease buyouts and private-party purchases.
Purchase loans
A purchase loan is a good option if you want to trade in your current car for a new one but need to pay off your car to do so. If you go with this route, you'll get a loan to cover the remainder you owe on your car and any difference you owe toward purchasing the new one.
Refinance loans
LendingTree's refinance loans replace your current car loan with a new one, typically with a better interest rate or terms to save money on your monthly payments. In this scenario, whoever you get your new loan from will repay your old loan balance, and you'll make payments on your new loan to the new company.
Lease buyout
A lease buyout allows you to buy the car you've been leasing. If you choose this option, one of LendingTree's partners gives you a new loan to purchase the car from the leasing company.
Private party purchase
You'll need a private party auto loan if you want to buy a car from an individual rather than a dealership. For this type of loan, one of LendingTree's partners will pay the individual for your new car, either directly or by providing you with a check. Private-party auto loans tend to cost more since lenders consider them riskier than if you were to buy a car from an established business.
LendingTree Auto Refinance pricing
LendingTree's partners tend to charge rates between 3.9% and 35.99%. The rate you'll get on your car refinance loan will depend on your credit score and the amount you seek to borrow. Some lenders may charge an origination fee, which can be between 1% and 8% of your loan amount. You could also be assessed late fees and prepayment penalties, so read your terms and conditions carefully to know what to expect.
LendingTree Auto Refinance financial stability
Founded in 1997, LendingTree is one of the oldest and most reputable clearinghouses for finding a loan for your car or home. While it suffered some financial losses in 2022 that led Moody's to downgrade its credit rating to B1, the company still reported significant revenues and had $286 million in cash on its balance sheet at the end of the 2022 third quarter.
LendingTree Auto Refinance accessibility
LendingTree is available nationwide and in Canada, offers customer support six days a week and allows you to apply quickly and easily for a loan thanks to its online application process.
Availability
Unlike some banks that are restricted in terms of where they can offer loans, the loans LendingTree can connect you with are available throughout the U.S. and Canada. To be eligible, you must be at least 18 years old, a current U.S. or Canadian resident and employed full-time or with a guaranteed fixed income of at least $1,000 a month. Some of LendingTree's partners require you to have a credit score of 585 or above, with more requiring a score over 600.
Contact information
LendingTree offers customer support via phone from 8 a.m. to 9 p.m. Monday to Thursday, 8 a.m. to 8 p.m. on Fridays, and 10 a.m. to 7 p.m. on Saturdays. Its customer service department is closed on Sundays.
User experience
Applying to refinance your car on LendingTree is fast and easy. You apply online, providing your loan needs and credit history. LendingTree then uses this information to match you with lenders that offer loan products that meet your needs.
Within five minutes, you'll get loan offers from as many as five lenders. You can then compare their lending requirements (down payment, loan amount, interest rate and monthly payments) to choose the best fit for your needs.
LendingTree Auto Refinance customer satisfaction
In general, customers are happy with LendingTree, but reviews are mixed. There are over 200 complaints about the company, most of which are about the barrage of calls you get from LendingTree's network of partners when you request a quote.
However, Lending Tree has addressed these customer concerns (it has a 100% response rate for complaints) and has an A+ rating from the Better Business Bureau. Customers who left positive reviews cited the ease of the application process and the rate they ultimately received for their loans.
LendingTree Auto Refinance FAQ
How does LendingTree Auto Refinance work?
Refinancing with LendingTree means using the platform to search for a lender that can offer better terms than you have for your current car loan. With LendingTree, one application will get you offers from as many as five companies. Each will run credit checks to ensure you can repay the loan. Your credit will count it as one credit check since you're allowed to apply for multiple loans within 30 days.
What information is required to get pre-approval through LendingTree?
To get a pre-approval, through LendingTree, you'll need to provide some basic information, such as the loan amount you need, your personal information (including your Social Security number to enable a credit check), and information on your income. Depending on the lender, you may later be required to provide your banking history, proof of income, proof of identity, proof that you have
car insurance
, proof of residency, information on your car and your car's current registration.
Is my personal information safe with LendingTree?
As a loan marketplace, LendingTree shares your information with its network of lenders to see what types of loans those institutions can offer. It also shares your information with the marketing companies with which it works, so your information will be widely shared if you apply for a loan with LendingTree.
In the last few years, LendingTree has had a few data breaches in which its systems were hacked and customers' personally identifiable information was stolen. Since then, the company has been taking steps to enhance the security of its data storage systems.
How we evaluated LendingTree Auto Refinance
When evaluating LendingTree, we looked at the following:
Its network of lenders

The types of loans it offers

How easy it is to apply for a loan

How quickly you can get a quote

Its customer satisfaction
Summary of Money's LendingTree Auto Refinance review
While refinancing your car might feel tedious, LendingTree makes the process faster and easier than going with a single lender. If you don't want to do exhaustive research to seek out lenders — and you're not bothered by lots of phone calls from lenders — LendingTree is a good choice for kickstarting your car refinance journey.