New Lincoln MKC: Comfort With a Dash of Audacity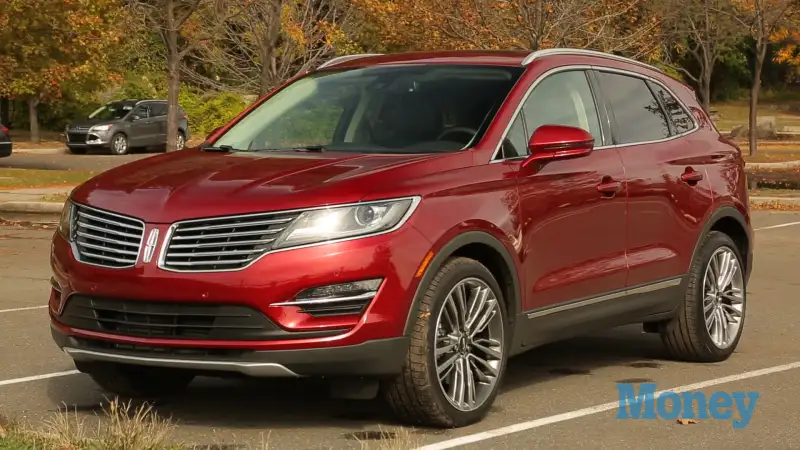 You've got to give Lincoln Motor a little credit just for the sheer audacity of its marketing posture for the MKC, its new entry-level luxury crossover SUV. No, I'm not talking about the endlessly parodied commercials featuring stud actor Matthew McConaughey. I'm talking about Lincoln inviting direct comparison with foreign rivals such as the Audi Q5, the BMW X3, the Mercedes GLK, and the Acura RDX — and basically saying, "Bring it on."
What gives Lincoln this kind of chrome chops? In truth, a little desperation helps. When Alan Mulally reorganized Ford a couple of years ago, he sold off the company's upscale badges — Jaguar, Range Rover, and Volvo — and junked its pointless Mercury brand. Lincoln lived because it could offer something unique: American luxury.
And if Lincoln wants to be relevant, it has to play ball in the upscale urban crossover sport utility vehicle (a.k.a. CUV) market. The MKC has got some game. At a base price of about $34,000, the MKC dares to be different in a very American way. Where the Germans offer Teutonic toughness, the MKC offers a comfy ride. You are, after all, driving the kids to soccer practice, not taking laps at Nürburgring. Do you really need to feel the road that much?
The revelation for me occurred in the first 10 seconds of my test drive: This ride feels nice. And that's a good thing. Start with the chair. Every car evaluation has to begin here. The MKC's is a beauty: a 10-way power, heated driver's seat with lumbar controls. You will find your sweet spot; you will be sitting pretty. Then there's the lack of road noise, courtesy of an active noise control system. You can also add continuously controlled damping ($650 extra) — all those sensors working to keep road vibrations from reaching you.
But don't think this is an old-fashioned American couch drive. The MKC has electronic steering control, so it's responsive enough. And thanks to its tunable suspension — with settings for comfort, normal, and sport — you can get a stiffer ride if you want one. Still, there's no confusing the MKC for an Audi. You can decide if you like that or not.
There's also a gimmick: a push-button gear selector located on the dash. How high-tech is that? Not very. It's actually a throwback to the 1950s and 1960s. The indestructible, used, mid-60s vintage Plymouth station wagon (the original CUV) that my parents hauled their four offspring in had this very same feature, as did any number of models of the time. Lincoln has revived the push-button transmission for the MKC — only this time around it adds some unexpected elegance to the car and also frees up room in the center console.
There's some real innovation at the back of the CUV: an optional motion sensor that lets you wave a foot underneath the wraparound tail gate to open it. Quite useful.
The MKC is offered in three flavors, Premiere ($34,000 to $36,000), Select ($37,225 to $40,860) and Reserve ($40,930 to $44,565). One of Lincoln's selling points is that its competitors start at around $40,000 for a very basic model, and the price moves up quickly with options. The Premiere MKC model is powered by Ford's 2.0 liter, 240-hp EcoBoost I-4, which has plenty of pop. With the other two trims, you have the option of the 2.3 L, 285-hp version. All-wheel drive is available on all three.
I drove the bigger power plant with AWD, and there's nothing lacking there; it delivers 305 lb-ft of torque, and churns plenty of power. The EcoBoost engine is a Ford mainstay, and totally fitting for the MKC. With the Reserve trim you can also opt for a technology package that includes adaptive cruise control, collision warning with brake support, active park assist, forward sensing, lane-keeping, and driver alert systems. This is a really good safety grouping; let's hope it's standard on all cars some day.
The fact that Ford has piled so many nice touches into the Lincoln MKC is a bit confounding in auto circles, since the car is built on the same platform as the Ford Escape. It evokes memories of earlier times, when the Big Three created really bad luxury cars this way, Lincoln among them. But in modern practice, wherein manufactures try to minimize the number of platforms across a global product line, it works just fine. If Audis can sit on VW beds, there's no reason Lincolns can't sit on Fords. It's all about execution. And with the MKC, Lincoln has pulled it off.