Betting on a Luis Suarez Bite: 167 Gamblers Cash In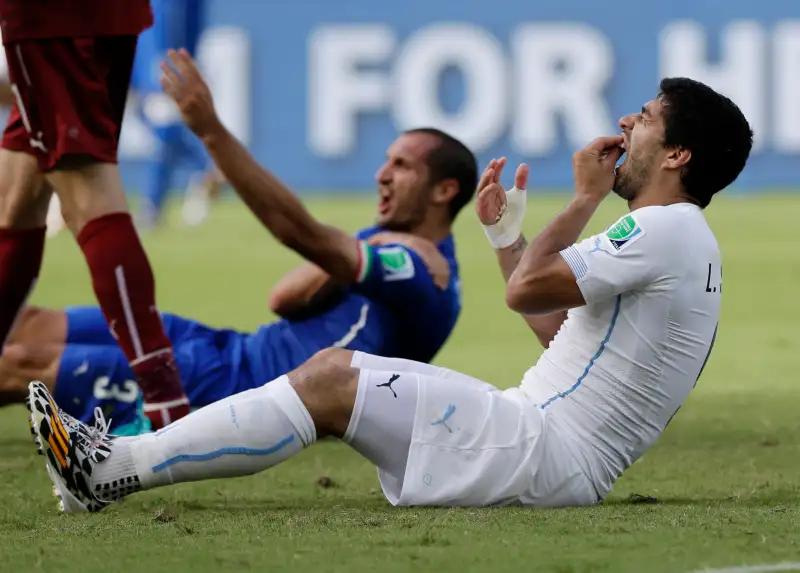 World Cup news on Tuesday was dominated by an incident in the Italy-Uruguay match, in which the notorious star Uruguay striker Luis Suarez—known for making racist remarks and more than one biting episode on the pitch—apparently bit Italy's Giorgio Chiellini, a split second before Suarez himself took a pathetic dive, pretending to be hurt.
The bite unleashed a stream of inevitable memes on social media, and even some of the world's big brands jumped into the action. Snickers, for instance, suggested that its candy bars are "More Satisfying Than Italian" on Twitter, while a Bud Light Tweet showed a Suarez-like set of teeth biting off a cap on the bottle of beer with the words "Relax, they're twist off."
The minor league Fort Worth Vaqueros soccer team, meanwhile, has announced a Luis Suarez "Fangs Night" for its match on Sunday, June 29. The first 50 fans that show up to the barbecue before the game receive a free set of plastic vampire fangs—and anyone who arrives with their own fangs gets free admission.
More than 150 gamblers are cashing in on the controversy in a more direct way. It turns out that among the many weird and quirky prop bets concerning the World Cup, one involved the likelihood of Uruguay's Luis Suarez biting someone during the course of the tournament. A gambling site based in Norway called Bettson offered 175-to-1 odds on Suarez taking a chomp out of an opponent (or perhaps even a teammate, I suppose).
And according to ESPN, 167 gamblers took that bet. One Norwegian showed a photo of his bet on his smartphone: The wager of 32 kroner (a little more than $5) paid off to the tune of 5,600 kroner ($912). The biggest winner came away with roughly $3,300, thanks to Suarez's apparent inability to control his hunger in the match.