Why Forever 21 is Selling $220 Dresses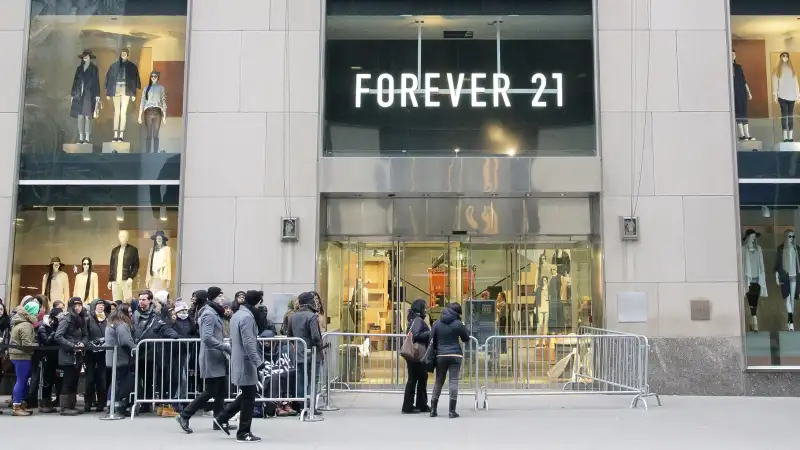 Matteo Prandoni—BFAnyc/Sipa USA/AP
While browsing for gifts online this holiday season, you may have come across some pieces with triple-digit price tags at your favorite "cheap clothing" shops.
At Forever 21's website, for example, you'll find dresses selling for $220 next to the expected $20 ones. American Eagle offers $289 shoes alongside $25 flip-flops. And H&M took the trend to new places last fall, when its partnership with Kardashian favorite Balmain debuted items surpassing the $500 mark.
So what's going on? Why are your favorite affordable mall brands suddenly stocking costlier goods?
Retail experts explain what's behind the phenomenon—and why you can expect to see a lot more of it in 2016.
Brands want new buyers
Stores are always looking for growth in new places, says Marshal Cohen, chief industry analyst of the NPD Group and author of Buy Me! How to Get Customers to Choose Your Products and Ignore the Rest. The easiest way to do that: attract new customers. By stocking different brands, retailers are signaling to buyers who may have passed them over before that this can be their place as well. "Increasing the portfolio of brands means you can draw in a broader cross section of consumers," Cohen says.
Stores are also protecting themselves from increased competition from other "fast-fashion" affordable retailers, like U.S. newcomer Primark. "They can't keep fighting the bottom line, as lower prices mean less money, so they start fighting for buyers at higher price levels," Cohen points out. Of course, when you're known for cheap clothing it's not easy to suddenly alter your brand—but you can sell existing brands that are already going for those higher price points, as Forever 21 is doing, or partner with designer brands to create a "premium" collection like H&M has done.
There's little risk to selling it online
Thanks to the infinite space the web provides, stores can experiment with selling higher cost items online without making a commitment. None of the merchandise needs to be displayed in stores, and very little product needs to be ordered or warehoused.
"If there is no traction, they can quickly take it down and try something else," says Paco Underhill, author of What Women Want and Why We Buy: The Science of Shopping. Adds Cohen, "It is a much more nimble approach that gives retailers security to try new things without being misunderstood by core customers."
Pricier goods act as an anchor
"We constantly use surrounding merchandise to orient ourselves and set expectations," says consumer psychologist and Money contributor Kit Yarrow. When shoppers see a dress selling for $100, they suddenly think a comparable one priced at $35 is a bargain, whereas if all the dresses in the shop were priced at $35, then that one wouldn't seem like such a good deal. Because the higher priced item unconsciously "anchors" your experience, it skews your perceptions and affects your buying decisions. (Many stores will use a similar tactic by inflating the "original price" of an item so when it goes on sale it appears to be a better deal.)
By comparison with these higher-priced guest brands, the retailers' own merchandise looks like an even better deal.
High-low price mixing doesn't alienate long-time customers
While these higher priced goods can elevate the status of cheaper items, stores have to be careful that they don't ruin their reputation for affordable clothes, says Yarrow. "That's why the pricey goods are clearly differentiated as merchandise from different brands. These stores get to be cool and keep their reputation as inexpensive."
And as long as the shops continue to stock items at the price points people have come to expect, they don't need to worry about losing core customers. "Adding to existing merchandise creates a sense of adventure for shoppers as they get to see something new," says Cohen.
The strategy is a win-win for retailers. "They seem cooler and cheaper," says Yarrow, "and the alternative brands they're stocking like it too, because they get floor/site/mind space from a potentially new consumer group."